Whenever you hear about the Philippines, you can't help but think of those beautiful islands and beaches. It sure sounds like a nice location for your next vacation, but have something in mind – you'll need to use a VPN if you plan on going to the Philippines. For a few years, the country is constantly on the verge of deteriorating its internet freedom, so having your privacy concealed is the first thing to do there. Luckily for you, we have a couple of options that are working perfectly in 2021. 
Why You Should Use a VPN in the Philippines?
With its 61/100 ranking on the Freedom House, this country is "partly free." This means that you'll come across censorship and surveillance that will ruin your privacy and anonymity online. Here's why using a VPN in the Philippines is a smart idea:
Staying Safe While Using Public Wi-Fi Networks
Believe it or not, the Philippines holds the 10th spot on the list of the highest rate of cyberattacks in the world. This means that your safety is greatly endangered if you're not using something to alter your IP address.
To make matters worse, connecting to public Wi-Fi is all but a good idea. These networks are unencrypted, leaving space for the hackers to come in. You never know what lurks around the corners in these public places, so if you don't have a VPN, don't use them.
Just to remind you, this service will encrypt your connection, making it impossible for anyone to track you.
Avoiding Libel Charges
A few years ago, the government here criminalized online libel. In recent years, the online libel cases started growing exponentially, to the point where journalists began self-censoring themselves. On the other hand, this made the situation in the country slightly "better", as online activism saw a dramatic decrease.
The government allowed all ISPs to collect and keep data for up to half a year if the government says so. This means that, if you said something two or three months ago, it can come back, bitting your butt later.
More and more people started getting aware of this problem, so even ordinary people carefully choose what they post on social media. Despite being completely accessible, Instagram, Facebook, Twitter, and YouTube had all became minefields because of this law.
A VPN will obfuscate your IP, rendering you invisible to the ISP, so you won't have to worry about this issue while in the Philippines.
Bypassing Geo-Restrictions
What about accessing platforms like Netflix, Hulu, and HBO GO from here? Disappointingly, you can't do it without a Virtual Private Network. Sure, you can enjoy the Philippinian catalog on Netflix but it's bare-bones when compared to the US one.
The same applies to other streaming platforms that just won't let you access the site. For this purpose, you can change your online location and watch US Netflix as if you were from the United States. Needless to say, the same applies if you want to access local Philippinian content from abroad.
Not all providers can do this efficiently, though. Below are the providers that can so pay close attention.
Best VPNs with Servers in the Philippines?
Traveling as a Philippine abroad often means missing your favorite shows from your homeland. That doesn't have to be the case with these providers:
ExpressVPN: ExpressVPN has a couple of servers in this beautiful country. This is the best VPN provider in 2021, so it's good to know that the residents of the Philippines can enjoy it to the fullest. If you want zero compromises, this is the one to go for.
CyberGhost: It is a Romanian provider with 6,200+ servers worldwide, of which 48 of them are in Manila. Even though these are virtual servers, they support P2P and can bypass geo-restrictions.
HideMyAss: HideMyAss isn't the largest provider but it has 2 servers in Baguio. This is enough for enjoying DWWX-TV or DZBB-TV abroad, while on your vacation.
Do you know what a VPN is or how to set it up? We have plenty of guides here. For now, just choose the provider you want, pay a subscription, get the apps you need, and enjoy limitless possibilities.
Best VPNs for the Philippines
Now, let's see what the Philippine residents can use if they just want top-notch performance and no cut corners:
ExpressVPN
NordVPN
CyberGhost
Let's review these briefly and see why they're so good:
1. ExpressVPN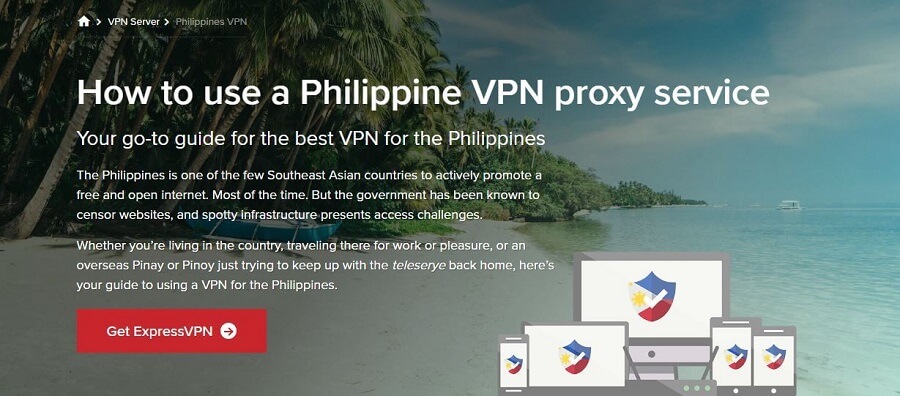 ExpressVPN is the fastest VPN in the Philippines and it offers 3,000+ servers in 94 countries worldwide. With this number of servers, you'll never be out of options. Of course, it can unblock Netflix and due to its rock-solid security, staying under the government's radar will be a piece of cake – even in the Philippines.
You get a no-log policy and military-grade encryption, accompanied by DNS and IP leak protection. If the server accidentally crashes, there's an automatic kill switch to fix things. Although it offers just 5 simultaneous connections, the provider supports routers, so you can protect 16 to 32 devices in your home.
And if you have some issues, its 24/7 customer support is always there to help. As we speak, there's a 49% discount and 3 months free for the annual plan. This is a good chance to get this provider for a discounted price.
Get a 49% Discount on ExpressVPN >
2. NordVPN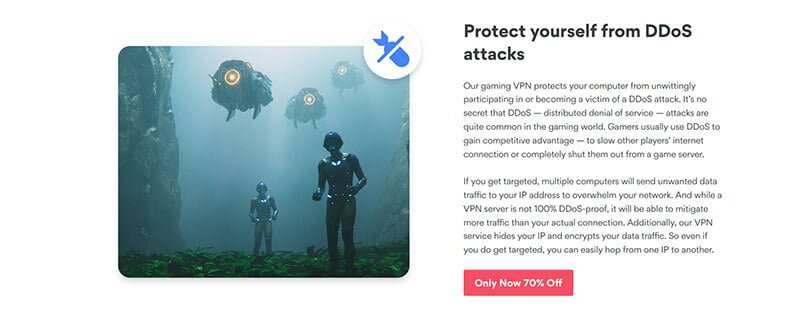 NordVPN and ExpressVPN are battling it out for the top spot. But, with ExpressVPN beating it by a small margin, this provider remains among the top choices for this country. Being from Panama, you get some neat security features.
A no-log policy, CyberSec, Double VPN, Onion Over VPN, 256-bit encryption, DNS leak protection, and so forth. Bypassing geo-blocks is easy as a feather, too. You can now unblock Netflix or enjoy sports streaming with DAZN.
In terms of speed, you can have your expectations sky-high, as it won't disappoint you. With 5,500+ servers in 61+ countries around the globe, your potential will be limitless, as will your internet access!
Enjoy NordVPN's Security Features >
3. CyberGhost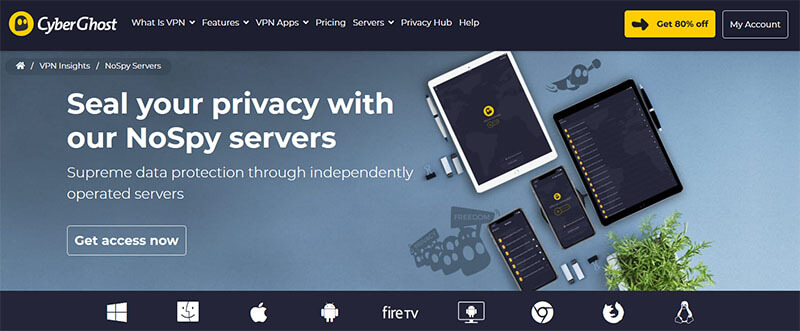 CyberGhost is a prime example of a cheap provider that stands its ground against the more expensive ones. We often recommend it for newbies because it's cheap and simple to use, so the same principle applies now.
Aside from being simple, you get a plethora of features with this VPN usable in the Philippines. Fast speeds, tight security, and the ability to bypass geo-restrictions. Yes, you can enjoy late-night Netflix streams and yes – the government won't be able to detect you because of the no-log policy!
You also get dedicated servers for streaming and torrenting, ramping up the already great experience you'll get with CyberGhost. All in all, a great no-compromise money-saving option for the Philippines!
Why You Should Avoid Free VPNs?
If you're like us, you hate limited services. Slow speeds and limited bandwidth don't sound too good to you, right? Or perhaps, the lack of zero-log policy, which is the main reason we don't recommend free providers.
They usually store logs and these logs contain important information about you. For instance, your IP address, timestamps, cookies, and so forth. These providers can sell this info to third parties and earn a revenue, which is to us, a terrifying thing.
In this country, this is the last thing you want to experience. So, avoid wasting time on free providers and instead, buy a premium VPN that will make your online time a breeze while in the Philippines.
Summary
We saw that the Philippines is a mixed bag in terms of internet freedom and privacy. That's still a risky state that you'll need to remedy with a Virtual Private Network. Our recommendation is ExpressVPN, a provider from the BVI that won't ever leave you hanging.
If you want to save some cash, using NordVPN or CyberGhost is a good idea. But, just know that ExpressVPN is our top choice, as you can see in our list of top 10 best providers.