Finland is one of the freest countries in Europe, both when it comes to freedom of speech and online. The government respects your privacy, so government surveillance isn't as prominent. Furthermore, you can access sites like Instagram and Facebook, making it seem like everything is perfect. Well, it isn't! Especially if you love torrenting or streaming on foreign streaming platforms. A proper VPN will help you bypass these problems easily, so let's see what are your best options for Finland.
Why You Should Use a VPN in Finland?
Using a VPN service in Finland will grant your privacy and security online, and generally, we recommend using it always. But, as every country is different, there are different reasons why you may need it. Here's why you should use the best VPN for Finland:
Engage in P2P/Torrenting Safely
In the European Union, there's one trend that's constant – forbidden torrenting. Many countries suffer from this issue, including Germany, Italy, Spain, France, Denmark, Sweden, and many others.
Finland is no exception, as it has strict anti-torrenting laws that will prevent you from enjoying P2P activities.
The main issue, for us, is that the government deems torrenting and violating copyright the same. So, even if you download royalty-free stuff from torrent sites, you can still get caught and fined. Without the best VPN by your side, your ISP can track your online activity and if it spots something suspicious, report it to the officials.
While the country doesn't stand very firmly when it comes to this law, there were some cases in the past when people got fined for torrenting. And even if you live a risky life, you don't want to risk it because fines are pretty high, usually more than 1,000 Euros.
To remain safe while torrenting, use a Virtual Private Network. It will obfuscate your IP address, making you invisible to your ISP. That way, it can't impose any restrictions, letting you roam the internet freely.
Unblocking Streaming Platforms
People from Europe aren't strangers to streaming. We all love it and you can't dispute that. Unfortunately, our local televisions often broadcast some old, already watched shows that we aren't interested in. And if you want to access Netflix from Finland, you'll see how small its catalog is.
For comparison, this catalog is around 40% smaller than the US Netflix catalog, and that's quite a lot. The same can be said for other streaming platforms that will forbid you access right away. These platforms are Disney+, Hulu, and HBO GO.
So, how do you unblock them in this country? Easily. Just change your IP to an IP of the country from where the platform is available and you're good to go. You can actually do the same to access Finnish local TV channels such as YIe TV1, MTV3, Sub, TV5, and Liv.
Avoid Cybercrime on Public Wi-Fi Networks
Despite its well-developed internet infrastructure, this country isn't invincible to cybercrime. Users who often connect to public Wi-Fi networks are the prime victims, as public networks aren't encrypted. Now, you'll say that they have a password, which is true, but that's not encryption.
So, even if a network has a password, hackers can still blast through it and steal people's data. When you connect to a particular network, your external IP is the same as the IP of that network. In that case, if it gets hacked, the hacker can easily jeopardize your privacy.
However, if you use a good VPN in Finland, you can change your IP, get a completely new one, and be invisible to hackers.
Best VPNs With Servers in Finland
If you're abroad, you might want to access some local content from your homeland. You can do it with these VPN providers that have servers located in Finland:
ExpressVPN: ExpressVPN offers the best speeds on the market, making it ideal for streaming and torrenting. It has a few servers in this country and 3,000+ servers worldwide.
NordVPN: NordVPN has 45 servers in this country and is a great option for those seeking maximum security and privacy. Finnish residents will love it for its speed and the ability to unblock streaming platforms.
CyberGhost: CyberGhost comes with 49 servers in Helsinki and is an affordable option for Finnish residents. These servers don't support P2P, though, so be aware of that.
Best VPNs for Finland
Residents of this country that don't travel a lot will need a good-performing provider for all purposes. Thankfully, we've come up with the list of top 3 VPNs for Finland.
Here it is:
1. ExpressVPN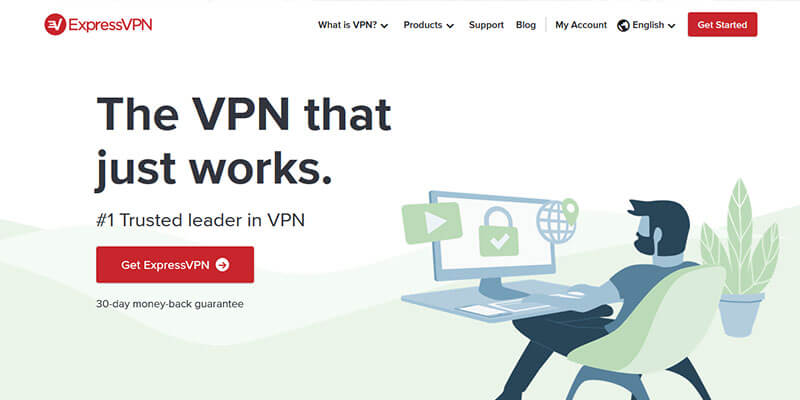 Compromises always have to be made, except if we're talking about ExpressVPN. With this provider, you'll quickly forget about them, given how all-around it is. As we mentioned, it comes with super speeds that are great for watching Netflix or Hulu from abroad.
Speaking of these platforms, ExpressVPN is a master of unblocking them. We managed to unblock even DAZN with it, as well as ESPN and 10Play from Australia. The provider is also good when it comes to security, as it offers 256-bit AES encryption.
To that, you can add a kill switch and a zero-log policy, and you get a winning combination. ExpressVPN allows for up to 5 simultaneous connections, has unlimited bandwidth, and 24/7 live chat support that's always there for you.
Last but not least, it offers a 49% discount and 3 months free for an annual subscription plan. In case you don't like it, a 30-day money-back guarantee is available to all new subscribers.
Enjoy Privacy and Security in Finland With ExpressVPN >
2. NordVPN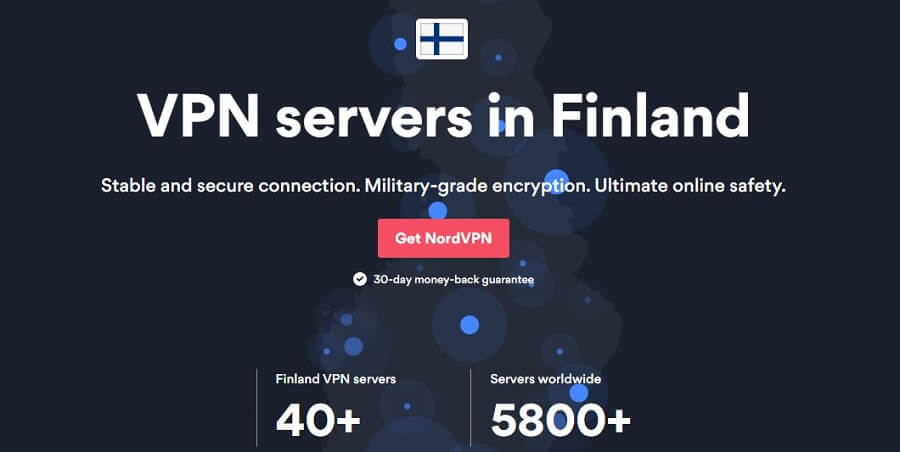 NordVPN is yet another top-grade provider with tons of good stuff about it. Apart from its 5,700 servers in 59 countries, the provider offers amazing speeds and among the best securities on the market.
Being from Panama, NordVPN doesn't store logs, and on top of that, it gives you a lot to like about. For the start, it unblocks Netflix US easily, and with its SmartPlay feature, it makes sure that you're safe while streaming.
Furthermore, this very good VPN usable in Finland, includes an ad-blocker that's actually working well – CyberSec. It offers intuitive apps for all major platforms and there is a free extension available on Chrome. Finally, NordVPN offers support for routers, so you can protect all devices in your household.
In short, it's an affordable provider that won't disappoint even the pickiest user.
Get NordVPN for more safety in Finland >
3. CyberGhost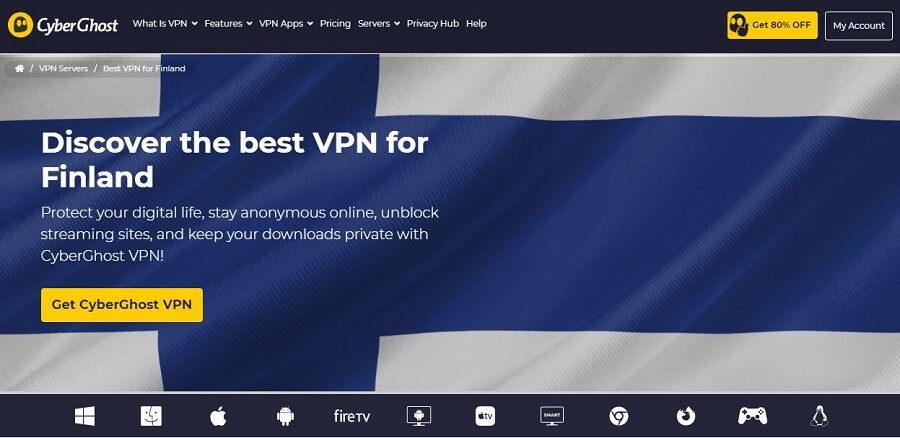 You know what else is affordable? CyberGhost! For a silly monthly price, you get to access and watch Disney+, Netflix, Hulu, HBO GO, and many other platforms. Finland isn't a poor country and affording a VPN this cheap will be a breeze!
CyberGhost packs 7,000+ servers in its network and is the largest provider on the market. Its dedicated servers are here for streaming and torrenting, and the zero-log policy keeps your data intact. We also like its intuitive and simple interface, which is great for beginners.
The provider offers 256-bit encryption and if you buy it, you get a 45-day money-back guarantee for a 3-year plan. Basically, you get to use it for FREE for a month and a half! Don't say that's not generous.
Unblock the Internet in Finland With CyberGhost >
Summary
Whether you're Finnish or you're planning your trip to that country, a Virtual Private Network will be a loyal companionship for privacy and security. If you want only the best for yourself, our recommended choice is ExpressVPN.
With its fast speeds and impeccable security, it's hard to dislike it and even harder not to completely fall in love with it! Get your discount and enjoy online freedom at its finest 😉