X-VPN has an interesting premise. It claims that it's "the most powerful VPN that works for you" and saying something like that will definitely raise people's expectations. But, knowing that this is mainly a free provider, you shouldn't expect it to be on the level of ExpressVPN. And the truth be told, the provider isn't as great as you might've thought. We suggest you stay with us till the end of this X-VPN review and test to see what we liked and disliked about it.
What is X-VPN?
In the past couple of years, a good number of VPN companies emerged on the market. These newbies were rarely good, except for a few providers we really like. Well, X-VPN is another freshly-sowed provider from Hong Kong that promises a lot to its users.
Its website looks really nice and it looks like we're talking about a serious provider. But, what will make many people worried about is its Hong Kong jurisdiction. We already reviewed one provider from this Chinese region, PureVPN, and it turned out to be one of the worst providers we ever tested.
The question is – will X-VPN justify its "the most powerful VPN that works for you?" We'll find that in our 2021 review of X-VPN. And in case you want truly the best Virtual Private Network on the market, we suggest ExpressVPN.
Compatible Devices and Ease of Use?
Okay. First things first. The best providers on the market are known for their extensive device support. We tested many cheap providers and they seem to offer only four basic platforms, which often isn't enough for the money.
Simply put, the more devices it supports, the better the provider is. Let's see what we can expect from X-VPN:

As you can see, we're already off to a good start. This provider supports Windows, Mac, iOS, Android, Linux, Chome, Routers, and Amazon Fire TV. It's nice when device support is so extensive, meaning that you can protect almost any device in your home.
While many providers offer "fake" apps for Amazon Fire TV, this one is indeed a genuine one. By fake, we mean that they support the platform by connecting a VPN to the router and then, connecting your Fire TV to that router.
Here, that's not the case. X-VPN's app is on the Amazon website and it's free.
Computers
Computers are first on the line. If you're going to enjoy the app on your PC, know that the provider supports Windows, Linux, and Mac. We use a Windows PC, so we're going to conduct a test on that platform to see how easy it is to install and use X-VPN.
We downloaded the setup file, double-clicked on it, and saw this installation screen:
The provider goes straight to the point, letting you install the app in just a single click. Choose where you want to install it and click Install.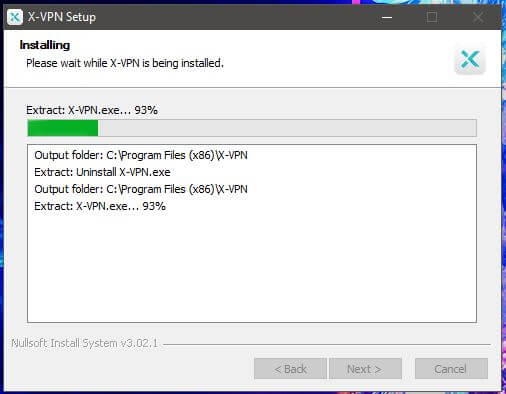 On our SSD, the installation took merely five seconds to complete. After that, you're ready to launch the app, so let's see how it looks.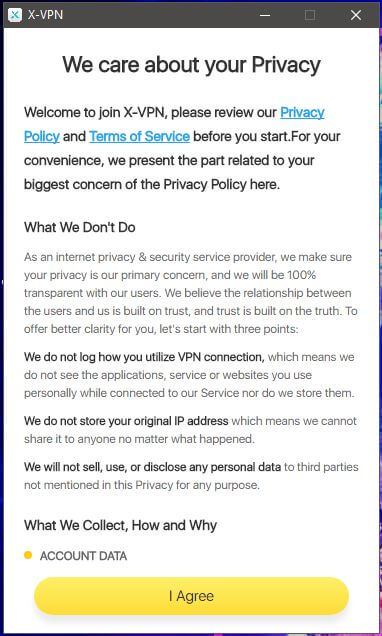 The first thing you're going to see is this short privacy policy. Basically, they say that they're a zero-log provider, blah, blah… After all, we're going to check their policy later on this X-VPN review, so just click on "I Agree" and you'll get to the app's home screen: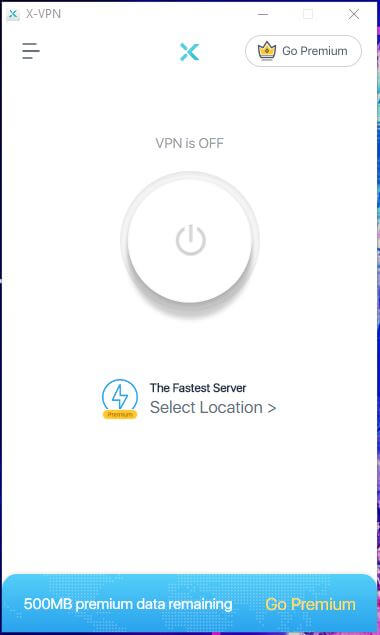 If you click on the connection button, you'll instantly connect to the faster server. But, for the purpose of this review, we'll show you the server list offered by X-VPN: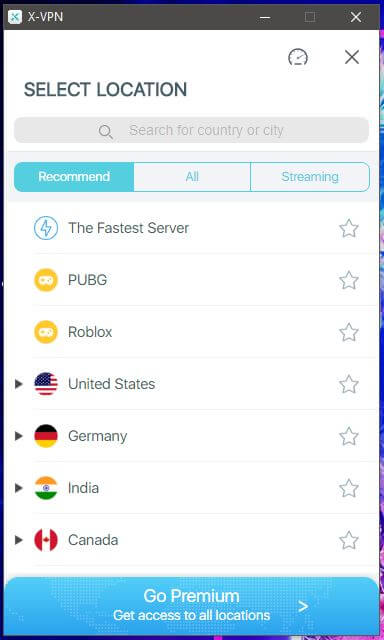 Interestingly, the provider offers gaming dedicated servers. PUBG and Roblox are here, but since we don't play these games, we connected to the US server and it looked like this: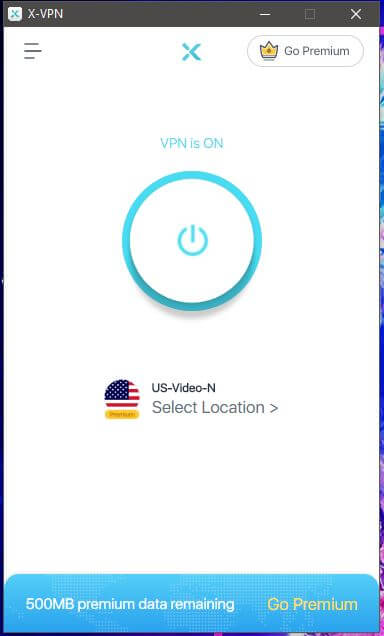 As you can see, the app is easy to use and you won't have problems getting acquainted with it. We shall see if the smartphone app is the same.
Smartphones and Tablets
Did someone mention smartphones? Oh, we did! Those who use their smartphones often (and who doesn't, duh…) will like to use X-VPN on that platform. Well, that's not a problem since the provider has dedicated apps for both iOS and Android. As we always do for each review, we'll use our Android device to do the testing of the X-VPN mobile app.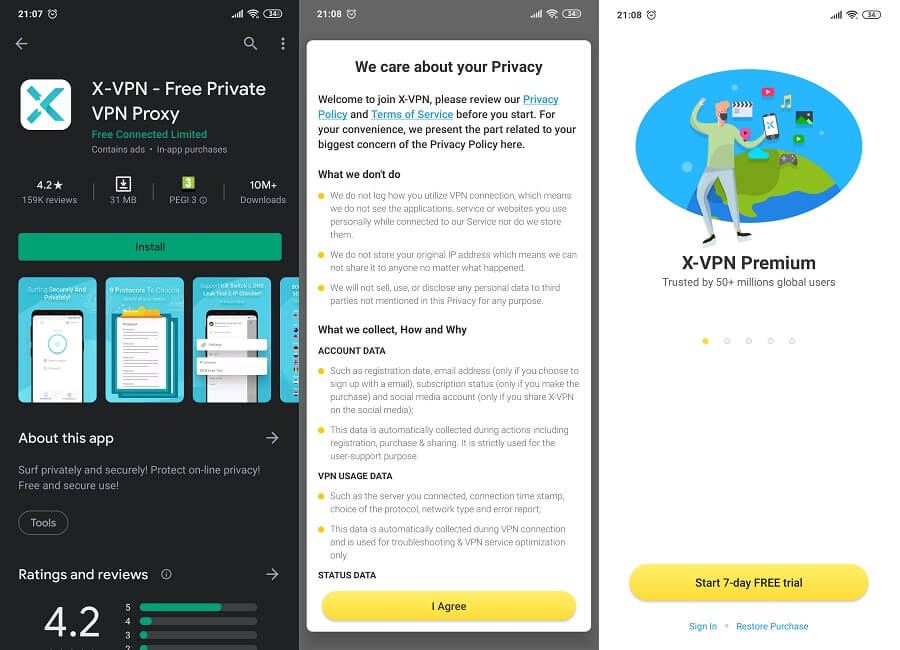 In the first image, you see how the app looks on Google Play. Download it from here, open it, and you'll be greeted by this short privacy policy – even on a phone. When they have to literally shove it up to your face every time, you start questioning if they're really what they represent themselves to be. Nevertheless, the third image offers us a 7-day free trial.
Of course, only if you enter your credit card info. You can skip it and proceed to the app right away: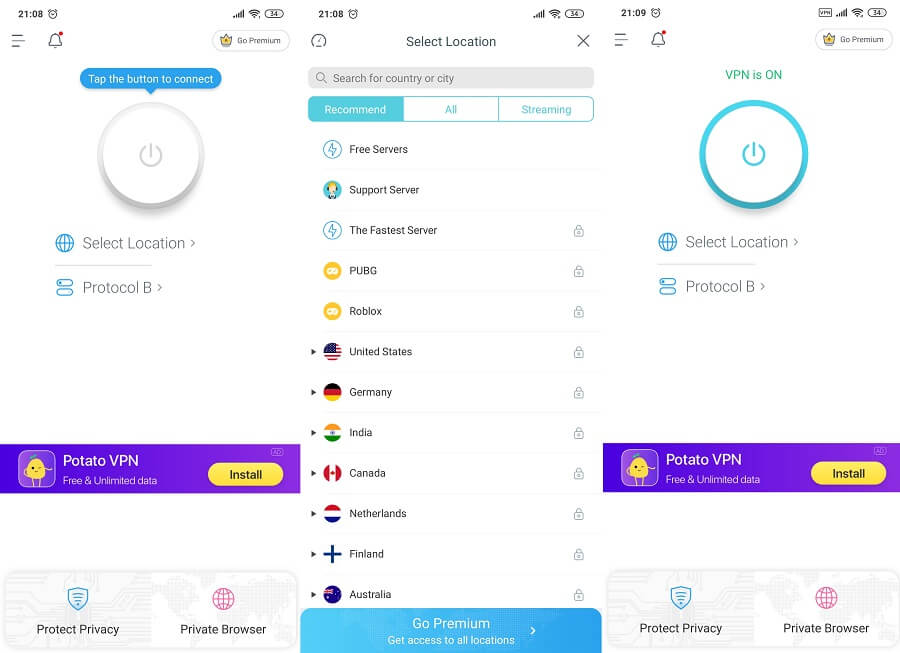 The fourth image here shows us how the home screen looks. We used the free version to represent the apps and you already see that it's jam-packed with ads. To open the server list, tap "Select Location" and in the fifth image, you can see how it looks.
Choose the server, tap the connect button, and the connection will be established. The app doesn't show you which server you're using, which we don't like. Other than that, it's pretty easy to use and looks decent.
Other Devices
Not only does X-VPN support other devices but it also has dedicated pages to them. For example, a dedicated page for routers:

When you connect a VPN to a router, you can protect pretty much every device in your home. This includes Apple TV, Roku, Google Chromecast, and so forth. We always appreciate when a certain provider supports routers, especially if it's not a well-known one.
Albeit, if you want the best support for routers, you can try NordVPN. We advise you to read our NordVPN analysis to find out more about it.
How Fast is X-VPN? We Checked Its Speed!
In most cases, a fast provider is a good provider. This is especially true when we talk about ExpressVPN. Now, not many providers can pride themselves on having fast speeds. In our tests, not more than 5 providers managed to impress us.
But, it's time to see if X-VPN is as fast as it seems to be. For the start, it's important to mention that all providers will reduce your speeds to some extent. Some will do it by a tiny margin and less-quality providers will go up to 80% in reduction.
Since it depends on many factors, we need to explain how we did our tests for this part of our X-VPN review. We did 3 tests in the morning, 3 in the mid-day, and 3 in the evening, for 3 different locations. Also, we kept the best score and used the best location when that was possible.
Our physical location is in the USA (non-VPN test) and we used these 3 testing locations:
The United States
The United Kingdom
Australia
Without using a VPN, our native internet speeds are:
Ping: 11 ms
Download Speed: 211.88 Mb/s
Upload Speed: 202.20 Mb/s
Now, when using X-VPN, our ping, download, and upload speeds respectively, for 3 testing locations, are:
US Server: 96 ms / 67.82 Mbps / 79.41 Mbps

UK Server: 175 ms / 48.95 Mbps / 30.41 Mbps

Australian Server: 359 ms / 18.15 Mbps / 9.63 Mbps

We can see that X-VPN did… well, not a very good job. Even when using a server in our country, the United States, we see a drastic speed reduction and increase in ping. However, it was still barely serviceable.
But, as soon as we switched to the Australian server, things started to become quite obnoxious. Waiting for a few seconds for the pages to load, unable to enjoy HD videos, and so forth – you know how it goes.
It's obvious that X-VPN offers very slow speeds which will hinder your overall online experience.
How Good is X-VPN for Streaming?
The streaming test is one of the most robust tests we do. We test a couple of popular streaming platforms to see if the provider can unblock them. The more it unblocks, the better it is – that's how it goes with VPNs.
Let's start with meat and potatoes e.g. Netflix. This platform has strong anti-VPN measures that prevent even some premium providers from unblocking it. For example, Hide.me can't unblock it but surprisingly, X-VPN unblocked Netflix US easily during our review of the service: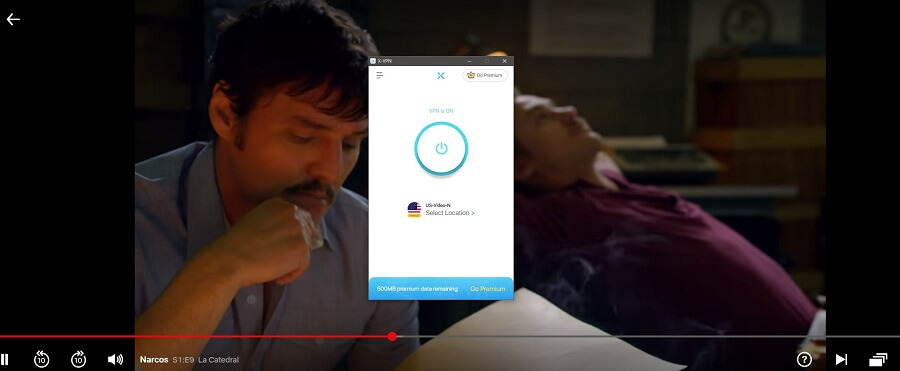 You can see that we're watching Narcos without any problems. Now, DAZN is geo-restricted to and it's quite a tough service to unblock. Let's see if X-VPN will do any "damage":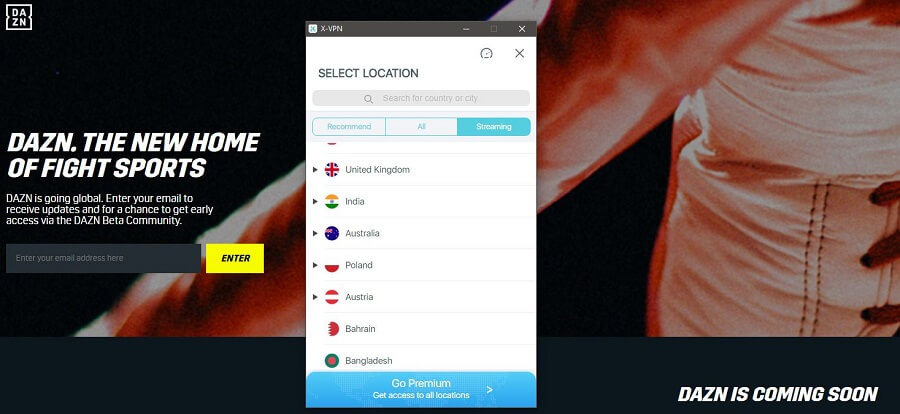 X-VPN can't unblock DAZN. What about HBO GO?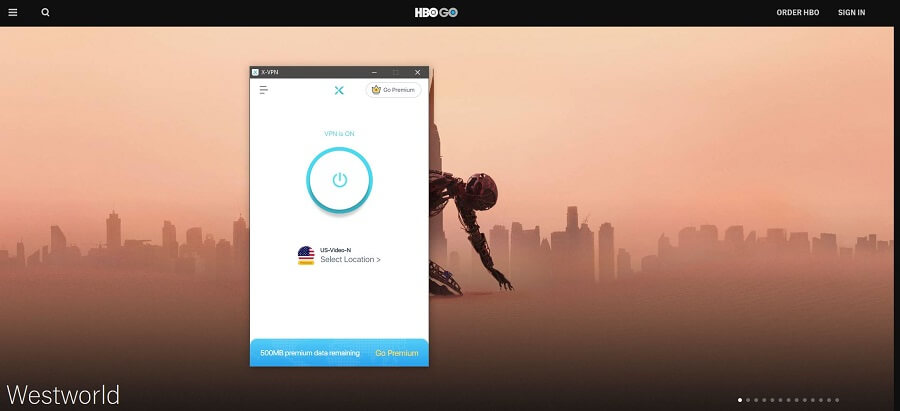 As expected, HBO GO works flawlessly. Next on our list is Hulu, so let's see what we can expect: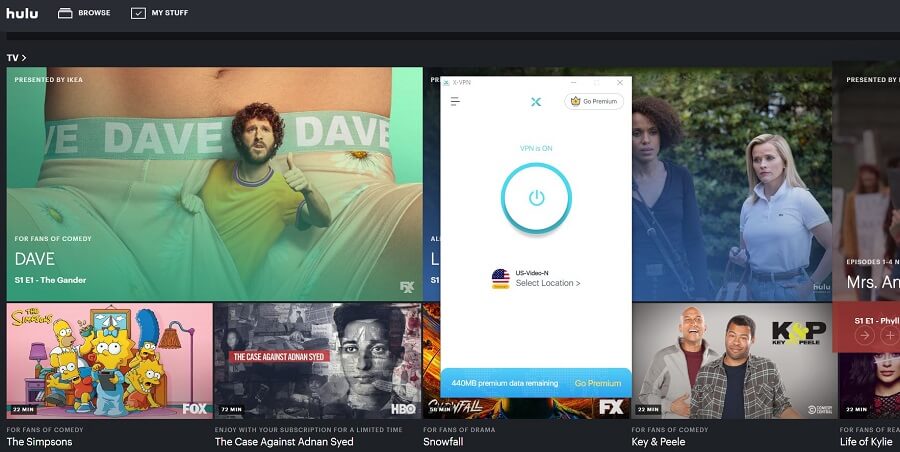 Much to our surprise, X-VPN unblocked Hulu using the dedicated US streaming server. So far, so good.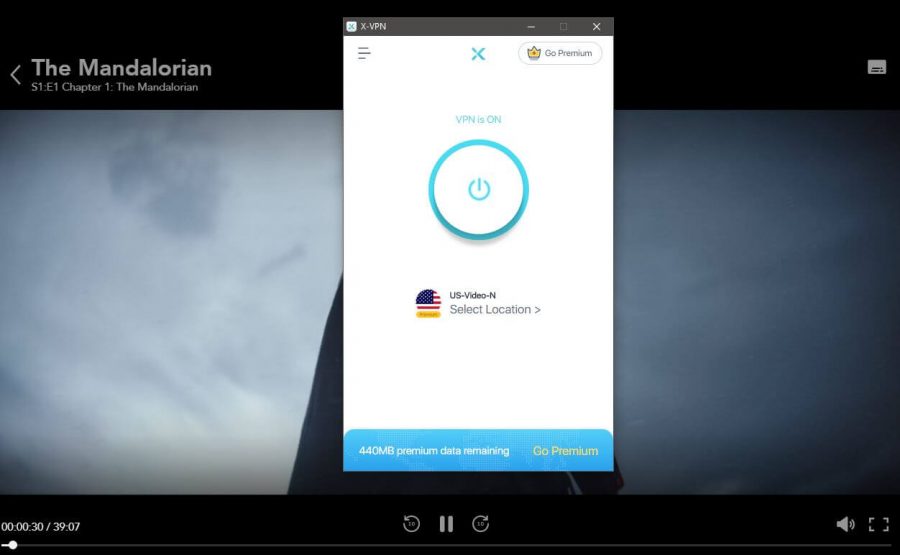 We could also watch The Mandalorian on Disney+, which is some great news. And also a great movie, by the way!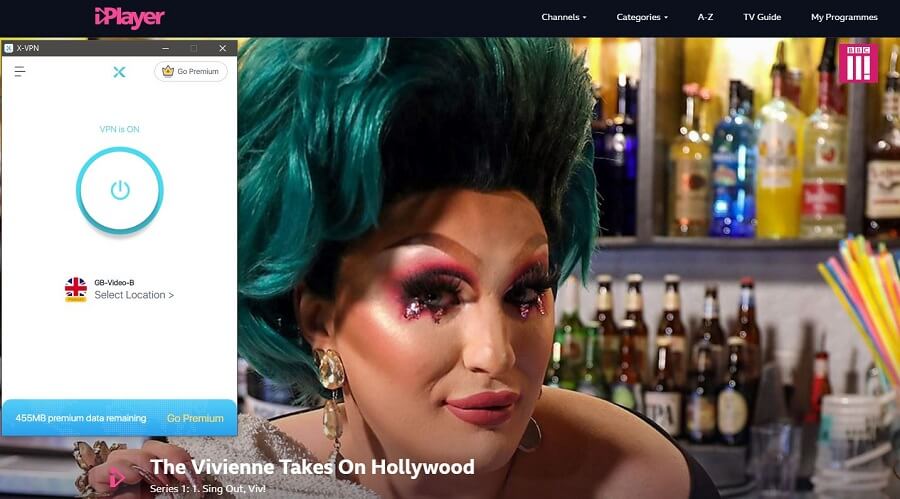 Finally, we have BBC iPlayer that works easily on this dedicated UK streaming server.
So, how good is X-VPN for streaming? Well, better than we expected, to be honest. In our test, the only platform it couldn't unblock was DAZN and that's forgivable. As for Netflix, HBO GO, Disney+, Hulu, and BBC iPlayer – they work flawlessly.
We'd say that it's excellent for streaming but it isn't, due to its snail-slow speeds. You'll be able to unblock platforms but don't expect a top-grade streaming experience. For that, you'll need ExpressVPN.
Confidentiality, Security & Logs
X-VPN shoves its privacy policy right up to your face. Now, it's time for us to shove them back if they lied about being safe and secure. Without further ado, let's see what the most important part of its policy says: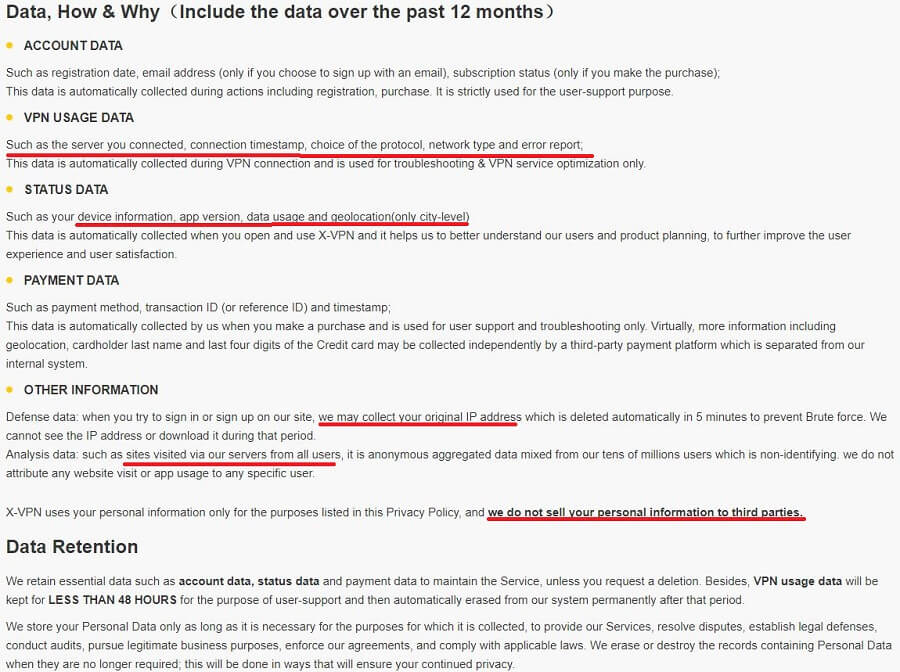 The first thing you see is that they collect your data over the past 12 months. Okay. That's not a problem if the data they collect isn't compromising. Let's start with the first red line which is also a red flag for the provider.
They store data about the server you're using, timestamps, which protocol you use, network type, etc. It's definitely more than we like. And now, if we scroll down to Status Data, we can also see that they collect device information, data usage, app version, and GEO-LOCATION – uh-oh!
What about other information? Here, they "may" collect your original IP address, but as they say, it's deleted after 5 minutes to prevent Brute force. One thing we didn't like is that they see which sites you visited when using their servers… why, just why?!
And they say that they don't sell your personal information to third parties. At least something good came out of it! We want to mention that this data about visited sites is in the anonymized form, which is a bit of relief. However, collected data is still collected data, in whatever shape or form it is.
If you're not concerned about your privacy, you may find it 'okay' but for us, it's an instant no-go. Let's check if the IP leak test will give better results: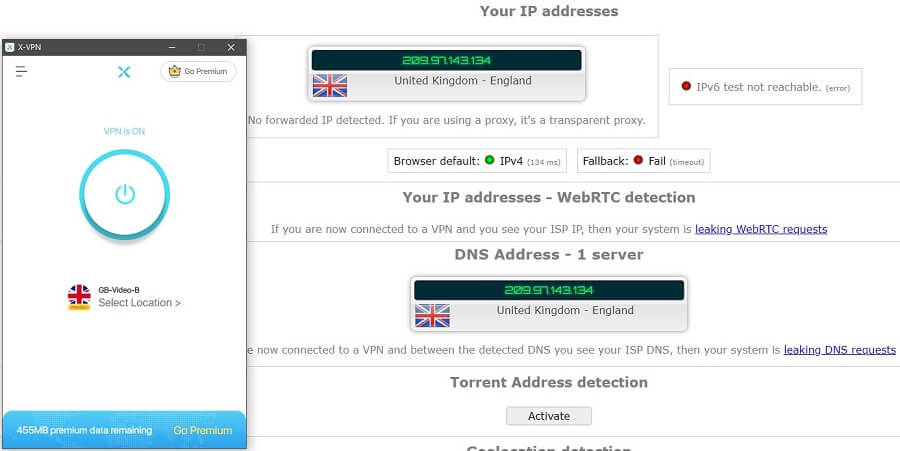 We had no IP leaks, so it's secure enough. Oh, and there's also an automatic kill switch in the settings: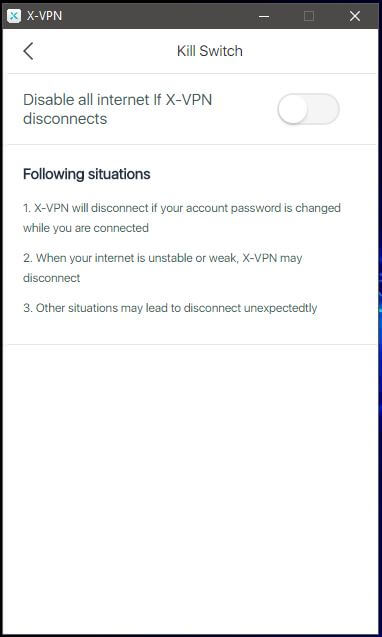 A kill switch is always a welcome addition, especially when paired with 256-bit encryption, as is the case here.
Wait, there's more.
What the heck is this?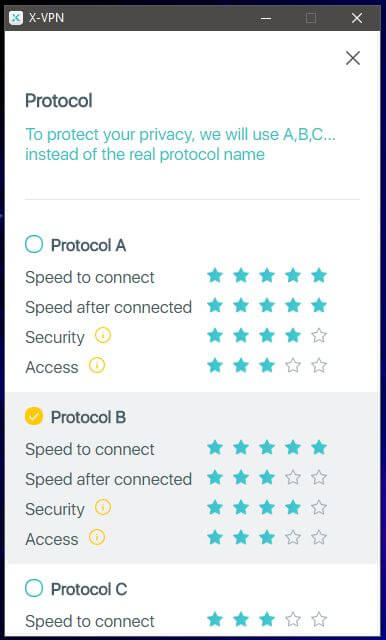 X-VPN uses a very strange nomenclature for its protocols. For them, there aren't OpenVPN or IPSec protocols but Protocol A, B, C, D, etc. You can see that it's for "our privacy" but we simply don't see the reason why hiding your protocol names contribute to our privacy.
Can I Do Torrenting Safely With X-VPN?
X-VPN claims that it doesn't store logs, although we saw that it does. Is that a red flag when it comes to torrenting? Well, it is but not because of that. It's because of their DMCA policy. Here's what it says: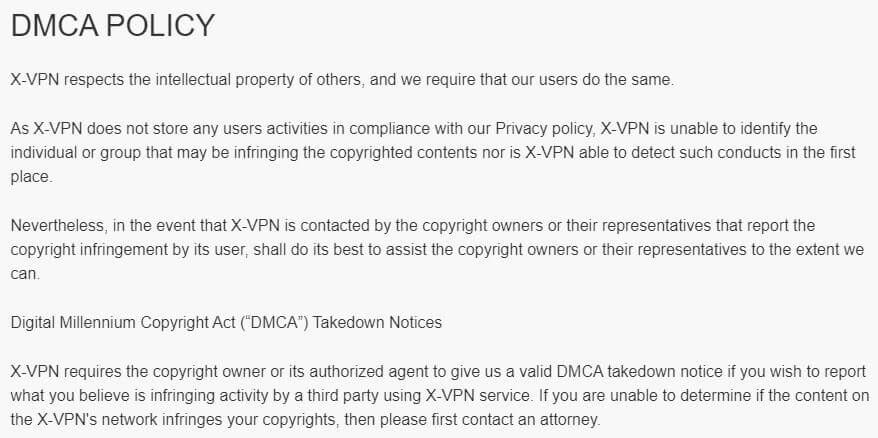 First, they say that they don't collect any data (which is a HUGE lie as we've seen just before in our review) and that they can't identify which person(s) made the copyright infringement. But, as they say, if a certain copyright owner contacts them because of copyright violation, they'll do their best to assist them.
Basically, they point a middle finger to users who want to enjoy torrenting. Sure, you don't always need to violate copyright when downloading torrents, but let's be real – you probably do it more often than not. People often download games, movies, and music that is copyrighted.
So, if you want to avoid potential troubles, do NOT use X-VPN for torrenting.
Can I Use X-VPN to Bypass Censorship?
Bypassing censorship is getting tough these days, as countries update their firewalls. The Great Firewall of China is still a deadly foe for VPNs on the market, and as such, it's an Achille's foot for many.
Even some premium providers don't work in China and can't bypass censorship, let alone this provider. Logically, X-VPN was immediately blocked by the Great Firewall of China in our tests, so it doesn't work there.
We also don't recommend it for any other censored country, including the UAE, Russia, and Iran.
Pricing and Plan Options
X-VPN prides itself on being a free Virtual Private Network but also giving its users some premium plans. Let's review X-VPN pricing and see if it's worth your hard-earned money:

There are two basic plans here – a monthly and an annual plan. The monthly plan is very expensive, costing $11.99 a month. Is the annual plan any cheaper? Well, it's definitely cheaper but still very expensive for an annual plan, costing $5.99 a month.
On an annual basis, it's $71.88. Now, if we compare the prices to some of the better providers on the market, we can see that X-VPN falls flat on its face. Why? Here are much better options at this or similar price range:
Is it clear now why X-VPN isn't worth a buy? Okay. If you still wanna buy it, here's how to pay: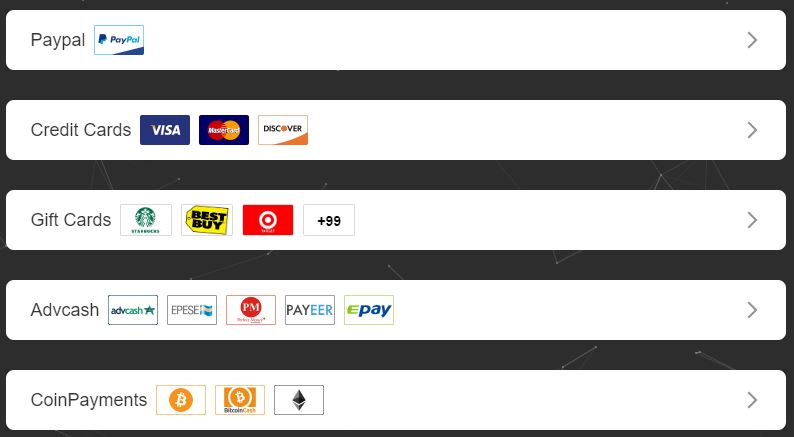 We have lots of payment methods here, which is great. Cryptocurrencies are also available, which is, guess what – also great. Now, what about refunds? Well, you get a 7-day refund period on any of the two plans, with no strings attached:

You can ask for a refund through X-VPN's customer support.
How Can I Contact X-VPN?
And speaking of that, how can you contact their client support?

The live chat option is here but with a catch – it's not available 24/7. In fact, it's not available every day of the week, too! It works 6 days a week, with it not being available on Sunday. As for email support, we also aren't satisfied.
They take more than a few hours to respond, so you'll be better off with live chat in most cases. Some problems do need to be solved via email and if that happens… well, you're gonna have to wait for a bit longer.
You'll ask what these Twitter and Facebook icons are. They're also means of contacting them but they're even slower, so we don't recommend them.
The Special Functionalities
As we always say, the special functionalities are here to enhance an otherwise basic experience that a VPN can give you. X-VPN doesn't offer a whole lot of them but there are two features that might be useful for some users. Here they are:
Dedicated Servers
We already mentioned dedicated servers but here, X-VPN took another step forward, giving you dedicated gaming servers for Roblox and PUBG. Apart from that, there are dedicated servers for streaming and as you saw earlier, they work great for unblocking streaming platforms.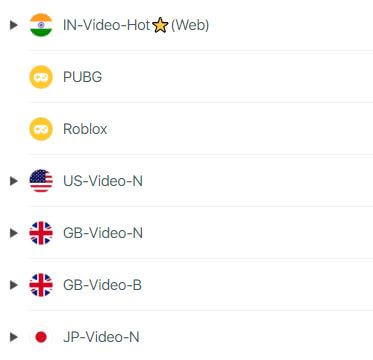 In the image above, you can see a fraction of these servers.
Ping Test
X-VPN also has a feature we didn't mention in the review – ping test.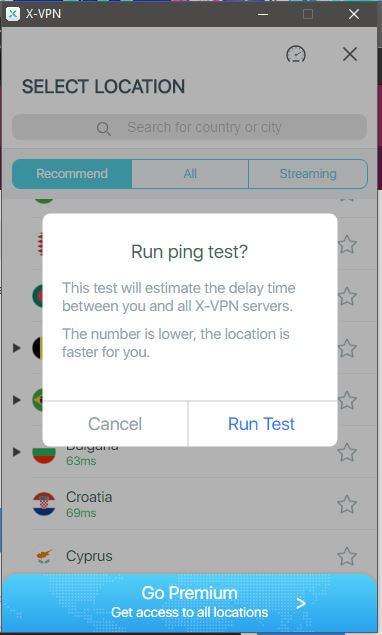 You can access it by pressing on the icon next to X above. It's here to measure the ping between you and the provider's servers, making it easier to choose the lowest one.
Other Things You Should Know
There are still a few more things we haven't talked about in our X-VPN review. Let's go over them now:
Number of Servers
When you see the server count of X-VPN, you'd think that this provider heavily beats CyberGhost. Just look at this and tell us if you believe in it:

They claim to have 8,000+ servers worldwide, which is just insane. If that's true, and we doubt it, then this is the largest provider on the market. But, if it's a lie, and it won't be the first time, it's just a question of how different the real situation is with this in the image.
Number of Countries
We struggled to get info about the number of supported countries and we couldn't find it anywhere on the site. However, we found out from our sources that it has servers in 50+ countries.
Number of Simultaneous Connections
The number of simultaneous connections is 5 and you can see that in the image above. It's okay, given that ExpressVPN offers the same, and since both support routers, you can easily increase the number.
What Do Other Users Say About X-VPN?
Before wrapping up our comprehensive review, it' time to see what other users think about X-VPN. Let's start with Reddit, where we couldn't find almost anything:

One user in the Netflix part of Reddit asked if he can unblock this platform with X-VPN. This is a response from the user that said that you need to use a US server. On Reddit, this provider isn't very popular as on the Google Play Store, where it has millions of downloads. Let's see a review from there:

Feedback from 2021 isn't very good. This user says that the app takes a whole lot of storage and slows down the Android device. Furthermore, he mentions that the app turns itself off and after trying to boot it up again, it doesn't load. That's definitely a bad experience. Let's move on to the Apple Store: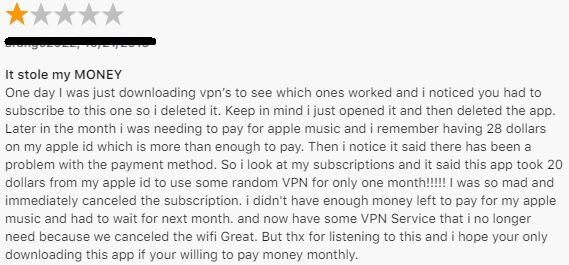 The user from the Apple Store mentions that X-VPN stole his money. In his words, he just opened and deleted the app, and the provider still charged him $28 for some reason. We won't paraphrase everything, so take a read. It's quite an odd situation. And finally, there's a review from Trustpilot:

This user actually likes X-VPN but complains about "crashing every PC", whatever that means. Apparently, every device in his house "crash" because of the provider. But, he also mentions that X-VPN is good at unblocking sites, which is definitely true.
Conclusion: Should You Take It?
It's time to wrap up everything that we said above in this review and test. So, is X-VPN a good provider? We'd say it has good device support and is good for unblocking streaming platforms and… well, that's pretty much it.
Apart from that, it has very slow speeds, murky zero-logs policy, doesn't let you see which protocol you're using, and is quite expensive for what it offers.
All things considered, X-VPN is NOT worth buying.
Instead, you should buy ExpressVPN, as it is the best provider on the market.