If you're packing your stuff and preparing for traveling abroad, you'll find it hard to keep up with the latest episodes of your favorite shows. Shows like River Cottage Australia or MasterChef Australia are great, yet inaccessible abroad. However, there's a solution for that. By using a VPN, you can change your IP, allowing you to enjoy Australian TV content from anywhere in the world! Today, we're going to learn how to do that and which VPNs to use. Strap up and let's proceed.
Why are Australian TV Channels Inaccessible Abroad?
There is one question that needs to be answered right from the start – why can't I watch Australian TV channels from abroad? Well, the answer to that question is obvious. Every country has its local channels on which it shows local TV shows, local news, and so forth.
These channels are licensed to display the content in that particular country. For example, Channel 4 is very popular in the United Kingdom and is available only there. In Australia, we're talking about Channel 7, ABC Comedy, ABC HD, SBS, Seven, 7HD, 7lix, 9HD, 10 Bold, and many more.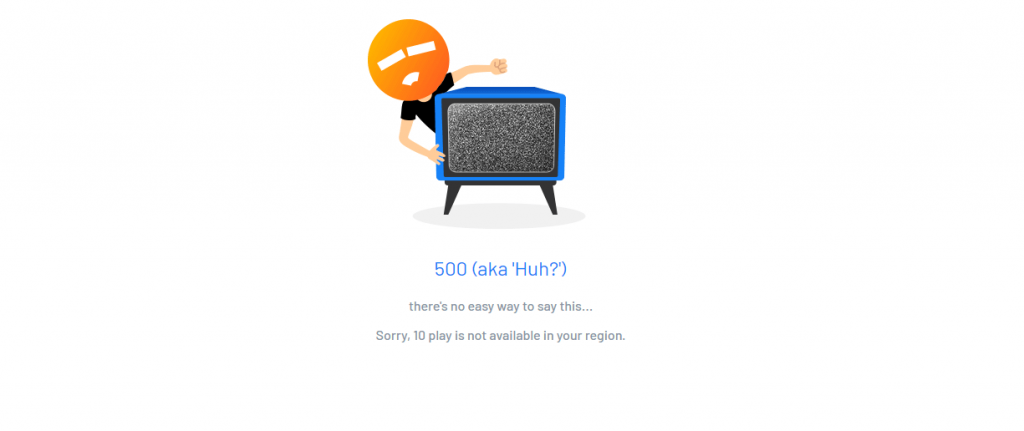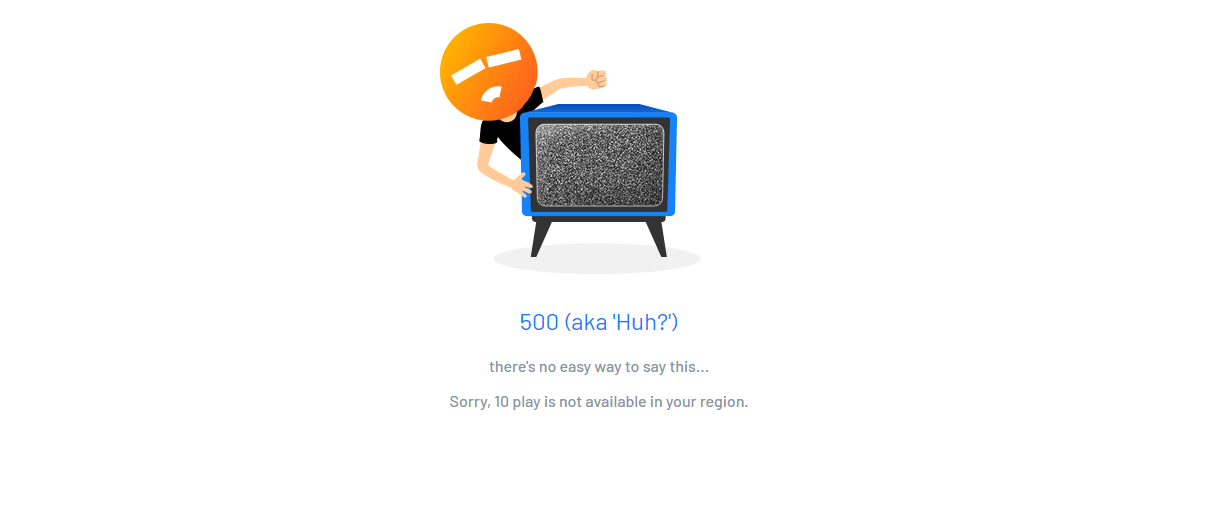 All of these channels are locked strictly to this country, hence you can't access them from abroad. As we mentioned before, this happens due to licensing. A channel has a license to broadcast its content in a particular country and if it were to violate that license, it could be sued and could lose millions of dollars.
But, as much as it seems impossible and complicated, you can bypass this problem of geo-restriction. Wanna know how? Scroll down a bit.
How Can a VPN Help?
A VPN is a great tool for this purpose. In fact, it's the only long-term solution that will always work. People often use proxies but to no avail. This tool, on the other hand, works flawlessly in every possible scenario.
In short, a VPN will hide your real IP and position, making you invisible to the watchful eyes of your ISP. Hiding your IP means changing it to the IP of another country – in this case, Australia. Now, any site online will see you as if you were from that country.
The quickest way to test it is to visit 10Play, an Australian streaming channel focused on sports. Does it work? If so, you've successfully obfuscated your IP and hidden your location. The best thing is that you can do this in only a few clicks.
Even if you aren't a tech-savvy person, you'll get it right. You know why? Because we have a guide on how to do that. Check it out below.
How to Use a VPN to Watch Australian TV Channels from Anywhere?
Are you hell-bent on accessing favorite shows from your kangaroo-laden homeland? Say no more. Follow our steps below to do that easily:
1. Get a Subscription
When buying a Virtual Private Network, for this case, in particular, you want the one with servers in this country. Although almost any provider has servers here, we found that ExpressVPN is the best choice due to its speed and security.
It currently offers a 49% discount and 3 months free for a 12-month subscription plan.
2. Download and Install the Respective Apps
After paying, you'll be prompted to download the apps. The provider offers a rich roster of apps, so don't hesitate to download the ones you need. Install them, log in with your email and password, and proceed to the next step.
3. Connect to the Australian Server
Connecting to the server in this country is very easy. Click on the country under the circular power button and find Australia. Since it begins with 'A', you should find it at the very top. Now, click on the server you want and then, click on the circular power button to connect.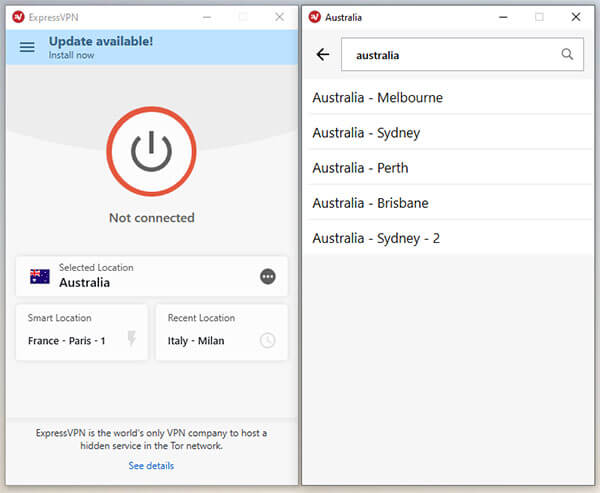 Your connection will be established in a few seconds and you'll be ready to go.
4. Enjoy Local TV Shows from Abroad!
Now that you're connected, enjoying Australian TV anywhere in the world will be a breeze. Don't miss any sports event or an episode of your favorite show anymore! And if you want to do it again, you'll need to use only the third step.
It's easy, we told you, right?
Top 3 VPNs for Accessing Australian TV Channels from Abroad
Out of tons of VPNs on the market, we found three of them pretty good for this scenario. Take a look at them below:
1. ExpressVPN
ExpressVPN is a provider that you surely know about. Remember that ad from YouTube in which the mother reads the internet search history of the son? Well, these guys made it – it's pretty funny! Aside from having a sense of humor, the provider is known for its fast speeds and 3,000+ servers worldwide.
This is important when streaming your favorite TV shows but also when playing online games or just browsing. ExpressVPN doesn't store any logs, so it's a great provider for staying anonymous and private online. Security is rock-solid and you get military-grade encryption for your connection.
In case things go south, there's a kill switch, and to prevent your IP from leaking, there's IPv6 and DNS leak protection. Those who want to talk with support can do it via 24/7 live chat. Just don't complain about recent break-up… please.
Last but not least, ExpressVPN supports routers and even has a few how-to guides related to them. That's a bloody good addition, as you can protect up to 32 devices simultaneously.
Enjoy Australian TV from abroad With ExpressVPN >
2. NordVPN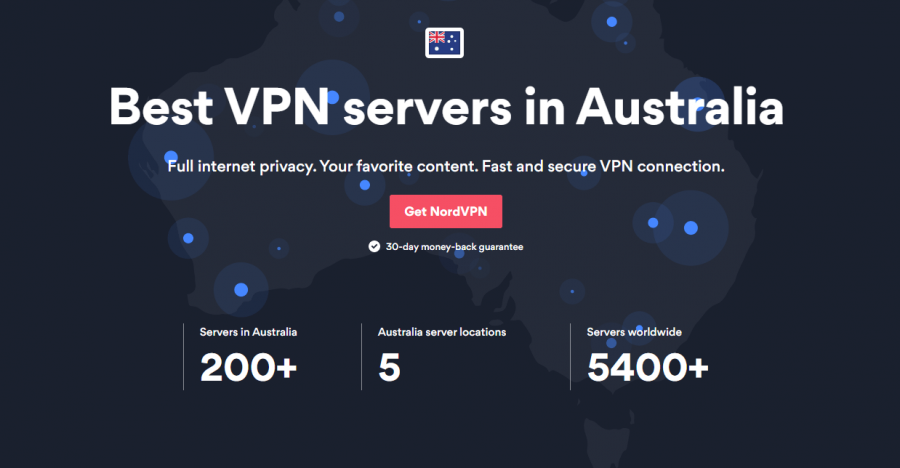 NordVPN is a behemoth in the world of cybersecurity. While not being exactly the cheapest, it's still cheaper than many low-quality providers, making it a great option overall. It has 5,600+ servers in 61 countries, of which 260+ of them are in Australia: Melbourne, Sydney, Brisbane, Adelaide, and Perth.
Jesus, that's a lot! All these servers support P2P and can bypass geo-restrictions such as this one easily. Aside from the local TV, you'll also enjoy Australian Netflix and 10Play, for some sports action.
Security-wise, NordVPN is a no-log provider that has 256-bit encryption and kill switch. You also get an ad-blocker called CyberSec and features like Onion Over VPN and Double VPN. The speeds are more than decent, thanks to its well-developed server infrastructure, leaving you to enjoy every activity online.
Finally, NordVPN offers a 30-day money-back guarantee and bonus features like NordPass and NordLocker.
Watch Australian TV Content With NordVPN >
3. CyberGhost

CyberGhost is a cheap and quality solution for Australians abroad. While you take a break from your beloved country, you can still enjoy local content, thanks to 6,200+ servers in 91 countries worldwide. To be precise, 104 servers are located in Australia – 10 in Brisbane and Melbourne, and 84 in Sydney.
Interestingly, these servers don't support P2P. On the flip side, they unblock even Australian Netflix easily, as well as the channels we mentioned above. We like dedicated servers that CyberGhost offers. These are for torrenting and streaming.
Furthermore, the provider has some decent speeds, even when using very distant servers. It supports OpenVPN for maximum speed and security and you even get NoSpy servers for making your connection even more secure.
This Romanian giant definitely knows how to please its customers. Cheap prices and quality services – what more to ask for?
Enjoy Streaming With CyberGhost >
Can Free VPNs Unblock Australian TV Channels?
There's a constant debate on whether free VPNs are worth your cash or not. We're here to tell you how they function, so you can come to a conclusion on your own. First of all, free solutions are limited. Speeds aren't great, meaning that you'll often encounter buffering while trying to stream.
What about bandwidth? Well, that's limited, too! Sure, Windscribe gives you 10 GB a month but is that enough? How much internet data do you consume on your smartphone? Probably more than that. And now, is this enough for watching a whole season of your favorite show? No, it isn't!
If these limits look good to you… well, be our guest. Also, we need to talk about their fake zero-log policies. They usually store logs that contain your sensitive information, such as your IP, location, device info, and so forth.
Some of them even sell this data to third parties for revenue. Hola VPN is known to do this but also PureVPN, although it's not a free provider. If you want to ensure maximum privacy and security, free solutions simply aren't worth it.
And since they can't unblock Australian TV channels from abroad, it'll be pointless recommending them.
Summary
Spending a few minutes on an article like this lets you learn something new. Now that you know what is the almighty tool (a VPN) that will help you in order to unblock and watch Australian TV Channels abroad, the only thing left to do is to get it.
We recommend ExpressVPN, an all-around provider with tons of great features.
Not only will it unblock Australian TV but also allow for torrenting, gaming, fast browsing, and gambling online without any restriction. With our helpful guide above, you'll have no trouble enjoying content from your homeland.
NordVPN and CyberGhost are great solutions, too. However, they're slightly inferior to this one. Whatever your choice is, we made sure that you can do what you came for!