There is a myriad of reasons why you may be looking for a virtual private network. Some are looking for anonymity, while others are looking for the most effective solution to unblock geo-restrictions. Whatever your reason, you should know that not every VPN provider offers the performance that you are looking for. Some are lacking in the security aspect, while others lack the ability to maintain a respectable server network.
For this reason, we have decided to review a little bit the provider, which is considered to be one of the leading names in the industry. Our idea is to discuss the service that it offers, as well as the major flaws that you may encounter while using its service.
Also, we will suggest a couple of relevant alternatives to CyberGhost that you may find suitable. Without further ado, let's get right to it!
What Is CyberGhost VPN?
Given the many options on the market, though, finding one that fits your needs shouldn't be that hard. This provider stands out as one of the most affordable on the market. However, this is only one reason that CyberGhost gets very good ratings from its users. Other reasons for this include its good connectivity and pricing options.
It has been around for just more than 7 years, and today, this VPN is highlighted by more than 6,000 server locations in around 90 countries. This means that you can find a server in just about any location. Why is the good? It can easily help you bypass restrictions.
Also, we are proud to say that the encryption and tunneling ability that CyberGhost offers is quite good. Highlighted by 256-bit AES encryption and OpenVPN as the industry-standard, this service is quite reliable. The connectivity offered is simply amazing, considering the fact that we had no time outs whatsoever while testing this provider.
Additionally, you can connect with any device, including iOS, macOS, Android, Linux, Windows, as well as smart TVs and consoles. Keep in mind that the limit of simultaneous connections is set at 7, which is impressively high.
However, there are a number of flaws that you may or may not find relevant, including historical performance and slow speeds. If you want to find out more about what is wrong with CyberGhost and why you should look at the best alternative possible, we suggest you read on.
Downsides of CyberGhost VPN
As we have mentioned above, no VPN is perfect. Thus, while this Romanian-based service has great potential for unblocking censored sites around the world, it is lacking in a couple of aspects:
Slow Servers
It is not a secret that your internet connection is going to be affected by the encryption and the proximity of alternative locations. However, there are a number of providers, including ExpressVPN and Surfshark, that are still able to offer good server speeds.
Unfortunately, this is not the case with CyberGhost. Considering its low pricing options, we expected a decrease in speed. However, we were not expecting such dramatic results. We had no speed issues with the EU servers, with the download and upload drop being around 20%. This was because of the fact that we are originally located quite close to the servers we connected to.
On the other hand, once we tried to connect to the server in New York, the ping spiked to just below 200ms. Meanwhile, our download speed was set back by 75%. The same goes for the upload speed, as well.
We were quite excited to see that it features a Hong Kong server. However, after we tried to connect to it, we found that it was almost unusable. The ping of 300ms, as well as the upload and download speed of 5 Mbps, is certainly not something that you can count on.
Plus, the server in Hong Kong is not able to bypass the restrictions imposed by the Great Firewall of China, which is very disappointing.
A controversial past
You are probably wondering what we mean by this flaw. While the provider claims to have a strict no-log policy, we are not sure of its parent company. The main issue is that CyberGhost was bought out by Kape Technologies Incorporated.
This company doesn't have a focus on ensuring anonymous browsing, but rather protecting from malware. This means that your connection and browsing data can be used for their own purpose. This strictly opposes the main idea of a VPN.
We contacted CyberGhost customer service on this issue and got an answer stating they maintain a no-log policy and 100% anonymity. However, given its parent company, you can't really trust this.
Our Favorite Alternatives to CyberGhost
Given the aforementioned flaws, one may want to look for a relevant substitute. Luckily, the market offers a number of reliable providers that beat CyberGhost when it comes to the security aspect, as well as server speeds. Let's take a look.
ExpressVPN
When it comes to providers that are highlighted by great speeds, this is the one you can count on. We recently wrote an article about the best alternatives to ExpressVPN, which you are free to check out.
It is based in the British Virgin Islands, which are free of any data retention policy. Thus, it is one of the safest providers on the market.
Keep in mind that, much like NordVPN, it offers thousands of servers in more than 90 countries. Also, it provides a good ability to unblock content in Saudi Arabia, China, Korea, and Japan.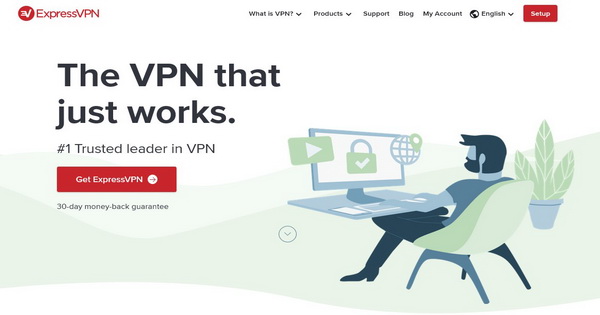 Why Choose This VPN Over CyberGhost?
The main motif certainly is the speed that highlights this provider. We enrolled in a 1-week trial session and found the speeds to be simply amazing.
Even with the servers that are set in the US, Canada, Australia, and Asia, we didn't have any huge drops. This made it quite simple to enjoy browsing and torrenting.
Why Is ExpressVPN Better Than CyberGhost?
ExpressVPN is slightly on the pricier side, but this is justified by its close to flawless performance.
We found that the increased security and privacy aspect is quite beneficial if you want to stay anonymous.
Get a subscription at ExpressVPN.com >
NordVPN
When it comes to reliable virtual private networks, this provider is on top of the list. Based in Panama, it is not subject to any data retention laws or the Five Eyes alliance.
Additionally, it is highlighted by an array of tunneling protocols and military-grade encryption. It is a global provider that offers services in more than 5,000 locations around the world.
This provider claims to effectively unblock over 150 streaming sites, including Netflix, Hulu, and Amazon Prime.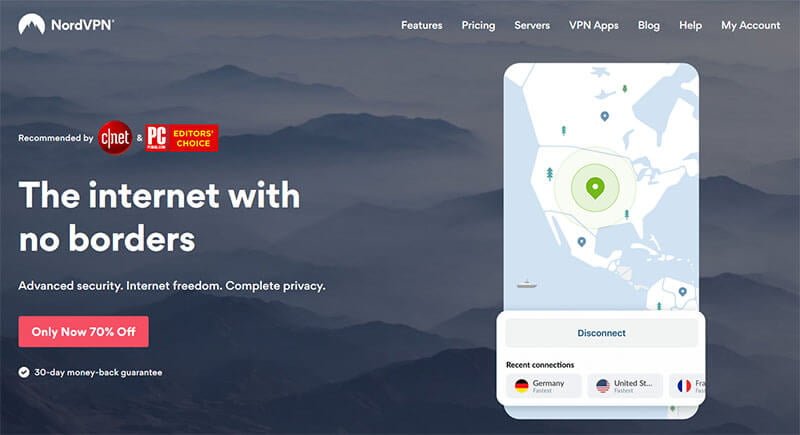 Why Choose This VPN Over CyberGhost?
The main reason is because of the aforementioned privacy and security concerns. NordVPN does a great job providing its users with a leak-free, malware-protected, anonymous browsing.
It is highlighted by a kill switch, CyberSec, as well as an innovative feature that will connect you to the safest and best-performing server. This makes it an offer that you can trust.
Why Is NordVPN Better Than CyberGhost?
We consider it to be more reliable not only because of the protection but also because of better server speeds. Plus, it can be used to bypass the Great Firewall of China.
It also features an indisputable ability to unblock streaming platforms everywhere. This includes the US, Canada, Europe, South America, Australia, Africa, and Asia.
Lastly, it is as affordable as CyberGhost, with the annual plan costing $6.67 per month. The three-year option comes at just below $4 for every 30 days.
Get a subscription at NordVPN.com >
Surfshark
The last alternative to CyberGhost we can recommend is Surfshark. The only apparent issue with it is the lack of transparency when it comes to the physical location of the company.
Even though it's not the fastest VPN provider, it still offers decent speeds. Additionally, with more than 1,000 servers, you are sure to enjoy a global service that will allow you to access blocked content.
Perhaps most importantly, this provider is highlighted by a strict no-log policy. It also has a camouflage mode that is especially beneficial for accessing content in China.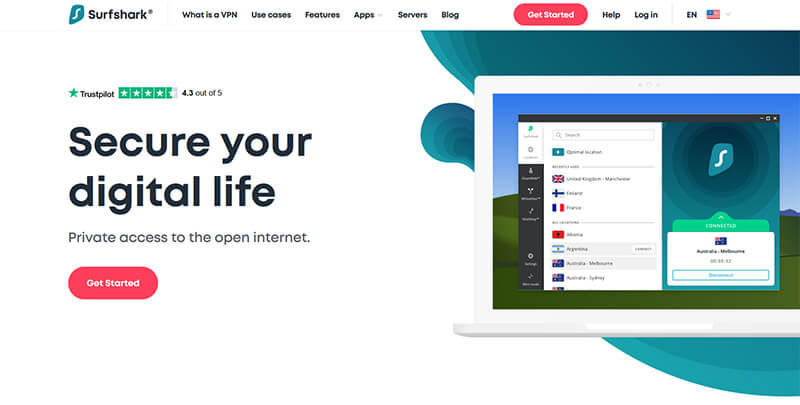 Why Choose This VPN Over CyberGhost?
Much like NordVPN, Surfshark can stand up to par with CyberGhost when it comes to its pricing options. Furthermore, it offers the most affordable subscription option out of all listed providers. It costs only $1.99 per month if you decide for the 2-year plan.
Keep in mind that Surfshark has a tremendous ability to unblock streaming sites, and it features 15 Netflix libraries. Frankly, it doesn't lack anything when it comes to overall performance. It offers great connectivity, and P2P transfers and TOR browsing are supported.
Why Is Surfshark Better Than CyberGhost?
While both VPNs are quite good, we would still opt for Surfshark due to its great usability. It also has an excellent privacy policy (no-log) and an indisputable ability to unblock censored content.
Meanwhile, it manages to stay on the more affordable side of the spectrum.
Get a subscription at Surfshark.com >
The Best Free Alternative
The aforementioned providers are quite good for anyone who was planning to pay for their VPN service. However, we are aware that there are those of you looking for a free service.
Windscribe
Much like any other free VPN, this one comes with the risk of your data and connection logs being sold to a third-party website for a profit. However, Windscribe claims a user-friendly privacy policy, so it is up to you to believe them or not.
This provider is quite good in terms of usability and ability to access streaming platforms, given the fact that you are not paying anything. Keep in mind that there is a 10GB limit for every 30 days that you use this VPN.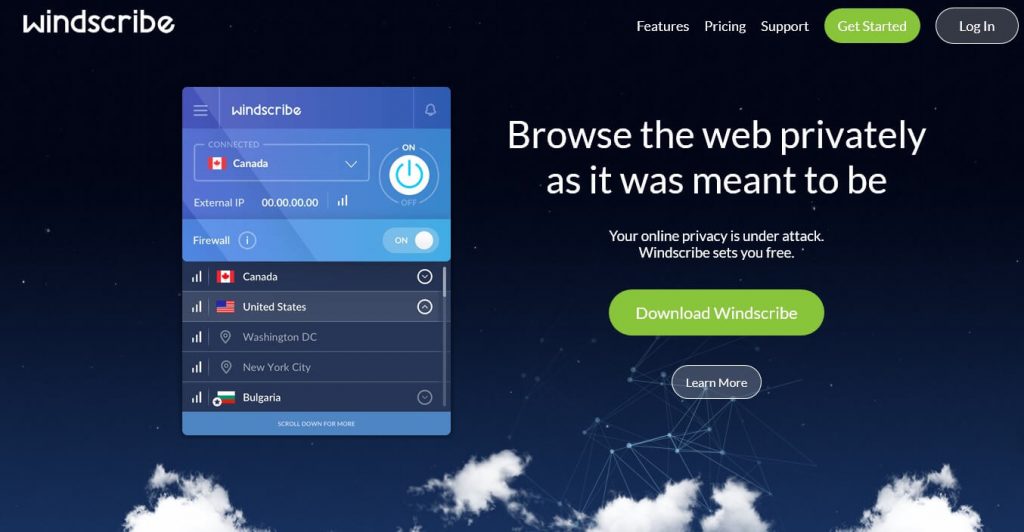 Why Choose This VPN Over CyberGhost?
The main reason is that Windscribe actually offers better server speeds while staying completely free. However, you should know that only 14 locations are available with their free plan.
Why Is Windscribe Better Than CyberGhost?
Apart from the fact that you are not going to pay anything, this service is quite reliable when it comes to browsing. Plus, it is excellent for torrenting and streaming content across the globe.
Wrap-Up
For the given price, CyberGhost offers a good unblocking ability and overall performance. However, the aforementioned flaws call for a relevant alternative.
We did our best to highlight the most reliable options, including ExpressVPN, NordVPN, and Surfshark. We now leave it up to you to make an educated decision!