Whether you are a US citizen or a resident out visiting beautiful Australia, there is one thing that you may be lacking. Yes, we are talking about US TV entertainment and other streaming content. In case you are paying a full Netflix, HBO Now, or Hulu subscription, chances are you will want a way to unblock the relevant content. The same goes for watching US TV channels for free, including ABC, CBS, ESPN, and FOX, that most come with certain geo-restrictions.
Luckily, there is an effective solution, and we will look at it today. Without further ado, let's get right to why you may be having an issue streaming content outside of the US and how to solve it.
Why can't I watch US TV in Australia?
Among the most common questions that we find are related to why we can't stream US Television outside of the country. Well, the answer can be both quite complicated and simple, depending on what you are looking for.
Frankly, it all comes down to licensing. Thus, the relevant TV channels, as well as the aforementioned streaming platforms, limit the access to the US location and ensure a more substantial profit.
What this means is that it is close to impossible to watch ABC, CBS, and Fox for free, if you are outside of the US, especially in Australia. This is quite a shame because these are the channels where you can find some quality news and sports content.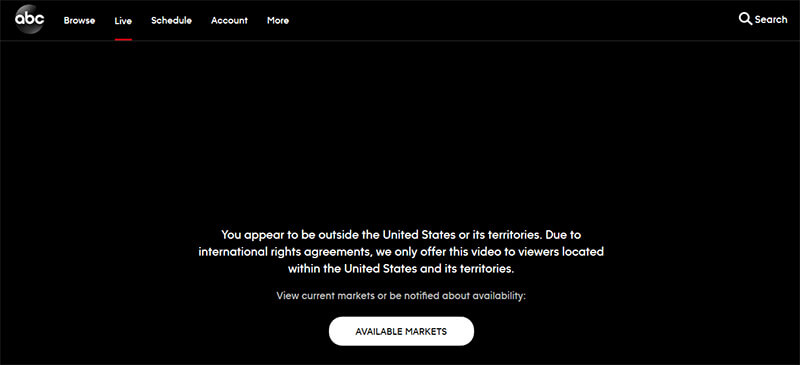 How does geo-restriction work? Well, by registering your IP address and determining whether you are located within the relevant borders or not. Another way is to ask for the info about your TV cable operator and thus find out if you are currently in the US or not.
With this in mind, you will want to find a way that will allow you to watch American TV channels even while you are outside of the country. The most effective solution is a Virtual Private Network.
Solution – Use a VPN
US Television does have quite to offer, and if you are a US citizen/resident, you will not miss out on it while you are in Australia. Luckily, there are a number of VPNs that may help you with this matter.
Frankly, by using a top-rated VPN, you'll be able to unblock Netflix libraries outside of the US. However, before we go ahead into what provider is your best bet, we want to briefly discuss how it works in the first place.
As we have mentioned above, the geo-restriction is founded on detecting your IP address and blocking the content if you are not within the relevant location. The obvious solution is to connect via an alternative IP address that will trick the algorithm into thinking that you are in the US, while you actually aren't. To do that, just connect to a server located in the United States (as shown below).
Virtual Private Network does precisely this by tunneling your internet connection and encrypting all the data. With a good Virtual Private Network, you will get to choose between a number of servers that offer alternative IP addresses.
The main benefit of a VPN is that it not only hides your original IP address and allows you to work from an apparently another location, but also keeps you away from hijackers and third parties.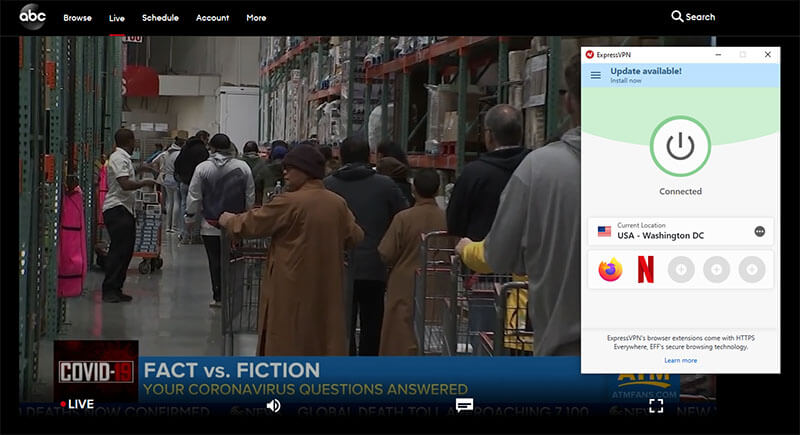 This is, of course, if you install a worthy Virtual Private Network. But how to know which one? That is something you can read down below.
VPN to Choose to Watch US TV in Australia
While the VPN market does offer hundreds of different locations, in our opinion, most simply don't stand up to the expectations. This especially goes when it comes to offering service in Australia. This is because, with most, you will have an issue with high ping and slow internet connection.
However, there is a couple of names that we do consider worthy choices. Let's take a look.
ExpressVPN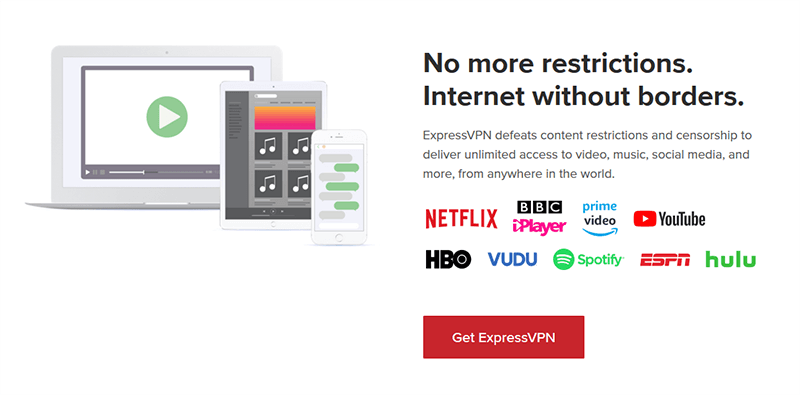 Apart from unblocking US TV, you might also want to use your VPN with an Australian IP address to watch MotoGP for free. This is something that ExpressVPN is just ideal for.
What you are looking at is a fast, secure, and safe service. It comes with more than 3,000 servers in just below 100 countries. Of this number, around 20% are set in the US.
One of the best things about this VPN is the fact that connecting from Australia to the US, you will not experience a drop higher than 15 to 20%. This is quite good considering what most other providers can offer. Also, the ping will stay within the acceptable range (around 150ms).
This will ensure that you can have a stress-free streaming experience. ExpressVPN does offer a fast and reliable overall performance and also great privacy and security aspects.
By subscribing to this premium VPN, you are sure to enjoy all the proclaimed abilities.
NordVPN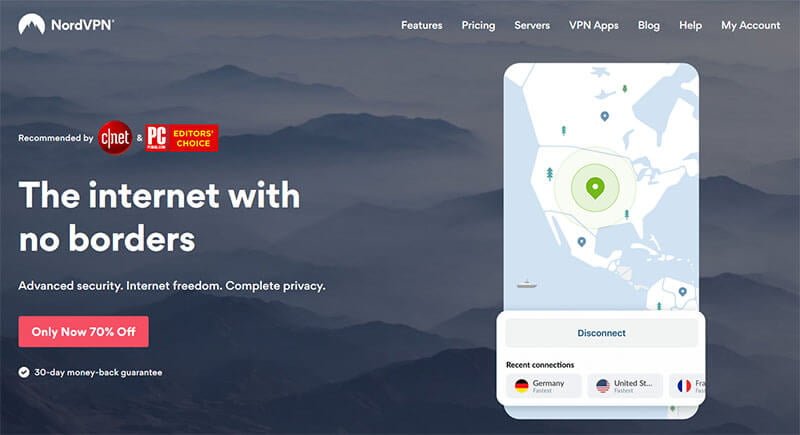 In second comes this Panama-based provider, which is considered to be the most reliable option on the market. It does come with more than 5,500+ servers in total, covering a decent 59 countries.
Out of thousands of servers, hundreds are set in the US. Why is this important? Well, this significantly adds to your success rate when it comes to unblocking US television from Australia or elsewhere.
Not only that, but this VPN is known for its ability to access more than 150 streaming sites without any issue from Australia. This is something that many providers aren't able to offer, which is the reason enough to go ahead and install it.
Also, it does come with a phenomenal security aspect. It includes several tunneling protocols (OpenVPN, IPSec, L2TP), as well as a military-grade 256-bit AES encryption. Additionally, a strict no-log policy to keep your privacy concerns at bay.
Lastly, it is incredibly easy to install and comes with an effective customer service that will get any of your issues settled asap. Check out more of what it has to offer below.
CyberGhost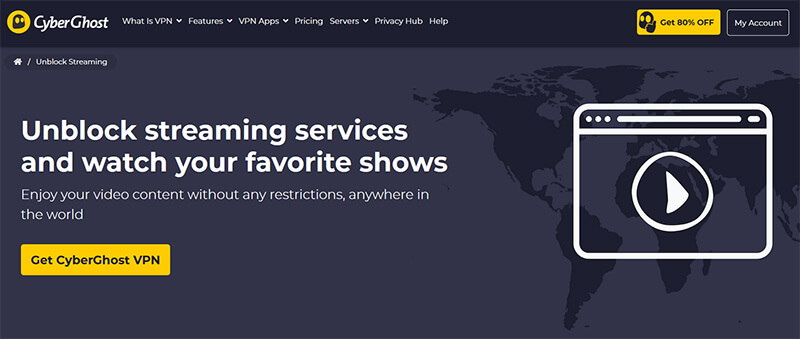 Our last choice would be this Romanian-based VPN that is considered to be the most user-friendly option on the market. This is for a couple of reasons.
First, the price is just amazing. It is set below $3 per month if you decide to go for a 3-year plan. When it comes to accessing US TV channels from Australia, this option is quite reliable.
This is due to the number of servers that it offers for East and West Coast and Central US. CyberGhost is highlighted by more than 7,000 servers in just above 90 countries in total.
Much like NordVPN, it is quite easy to use and offers excellent overall connectivity. Because of this, you will have nothing to worry about when it comes to watching your favorite content for free from Australia.
It does offer more than just an unblocking ability, given its strong encryption and tunneling. Overall, a great choice for any VPN use, so subscribe to it now.
Wrap Up
These 3 VPN providers are the people's favorite in Australia. We think that by subscribing to one of the options mentioned above, you are sure to get your money's worth. Plus you can enjoy every single second of it with buffer-free viewing.
Thus, if you want to watch unlimited US TV content for free even when you are off visiting Australia, go and get ExpressVPN, NordVPN, or CyberGhost!