It's good when the VPN providers use descriptive names to describe themselves. For example, ExpressVPN, which is really… well, express! On the other hand, we have this lesser-known provider called the FastestVPN that threatens to take the title of being the fastest from the aforementioned provider. Is this truly the fastest provider in the game? Is it game-changing? Or perhaps, will it give you an experience of your life that no other provider can? We'll see that in our in-depth review of FastestVPN.
What is FastestVPN?
FastestVPN is a provider from the Cayman Islands that presents itself as being the fastest on the market. It's a relatively new provider in the business and as such, expecting much from it is pointless. But, given its location, we expect at least a clear zero-log policy and no privacy and security issues.
The Cayman Islands are far away from the 14 Eyes jurisdiction, hence it leaves a lot of space for privacy-oriented features. Will it have an impact on the provider? Well, we hope so. Before we proceed, you might want to check our detailed test regarding the fastest VPN out there – it might tell you a different story than this provider.
For now, let's pump out this FastestVPN review in our ordinary fashion!
Compatible Devices and Ease of Use
For a Virtual Private Network to be enjoyable to use, it must have thorough device support and easy-to-use apps. After all, not all of us are tech-savvy persons and we don't want to check every nook and cranny to find what we need. Let's start with device support, and we must admit right away – it is outstanding! Take a look: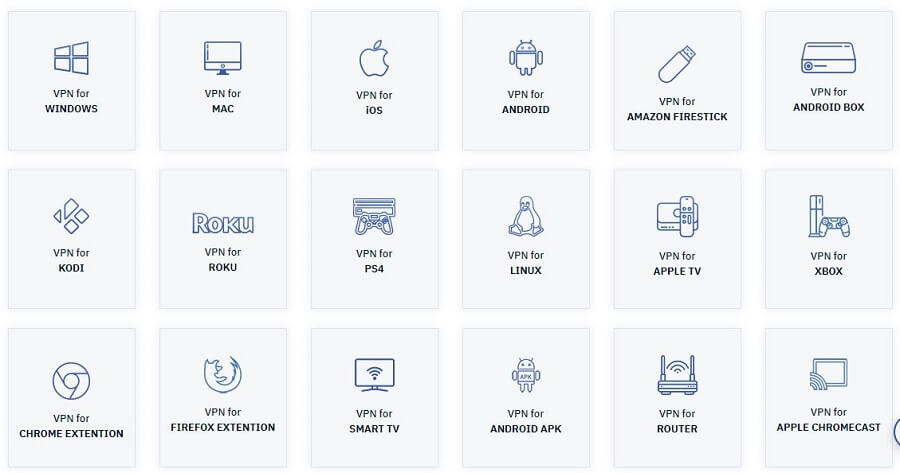 Just look at this "mess!" We have 18 different platforms to choose from on the FastestVPN website. Aside from the standard Windows, iOS, Android, Mac, and Linux apps, there's Chrome and Firefox extension, apps for Firestick TV, Apple TV, Smart TV, Chromecast, and so forth.
FastestVPN really went out of its way to provide support for all of these devices. Sure, many of these apps are supported thanks to one platform – a router. We'll talk more about it later. The important thing is that you can protect literally every internet-capable device in your home – thumbs up!
Computers
Should you decide to install the FastestVPN app on your computer, you can do it on Mac, Windows, and Linux operating systems. We use a Windows computer in our office, so we're going to test it using our loyal companionship. Downloading the app after subscribing is very easy and once you open the setup file, you'll get this screen: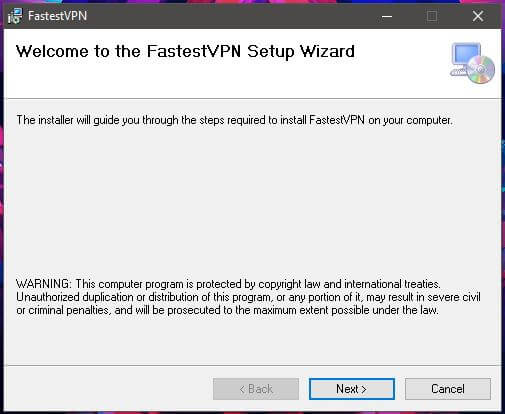 To proceed, click Next: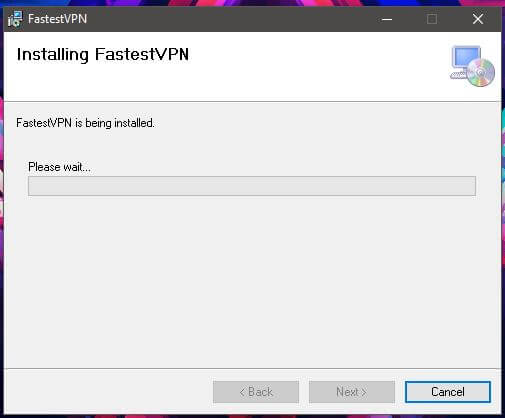 Choose where you want to install the app, and then, the installation will begin. The installation process is blazing-fast and you'll have to wait merely for 5 seconds. After it's done, it's time to launch the app.
Uh-oh! It needs a restart. Well, we'll not be running that app anytime soon, huh? Just kidding. After a quick restart, we're back on the login screen. We entered our credentials and signed in a split second.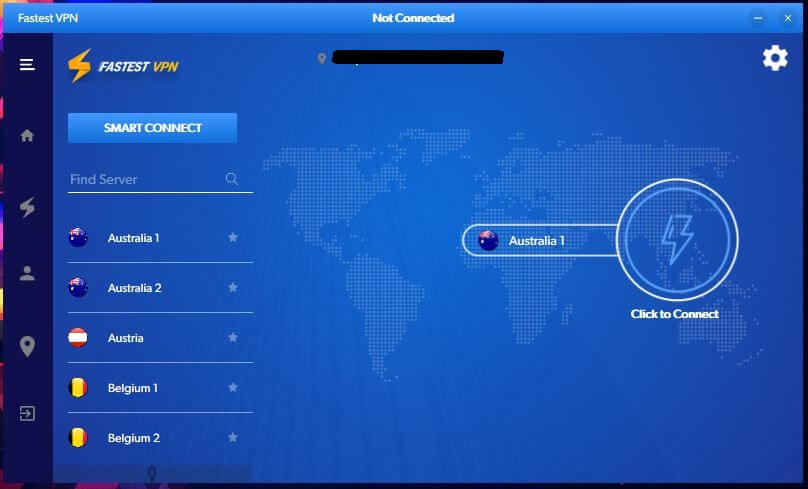 The app appears out of the blue (pun intended)! As you can see, the interface is quite simple. You got your servers list on the left and the connection button on the right. On the top, it's our real-life location and the IP, which we can't show you for obvious reasons. So, how do you connect? Well, you choose a server from the server list and click on the lightning on the right: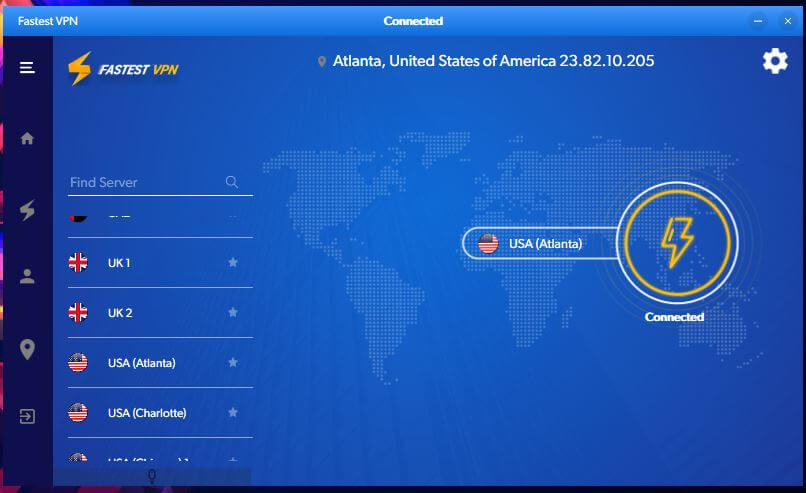 We're now collected to the US server located in Atlanta. All in all, the app is very easy to use and you'll have no problems navigating through its home screen, which is the only screen you need to connect to the server of your choice.
Smartphones and Tablets
What about our pocket buddies – smartphones? You can't fit a tablet into the pocket but that's the same as the smartphone, only a bit upscaled. Nevertheless, FastestVPN supports iOS and Android and as always, we'll use our Android phone to show you how the app looks.
To install the app, you'll have to visit the Google Play Store, as shown in image 1: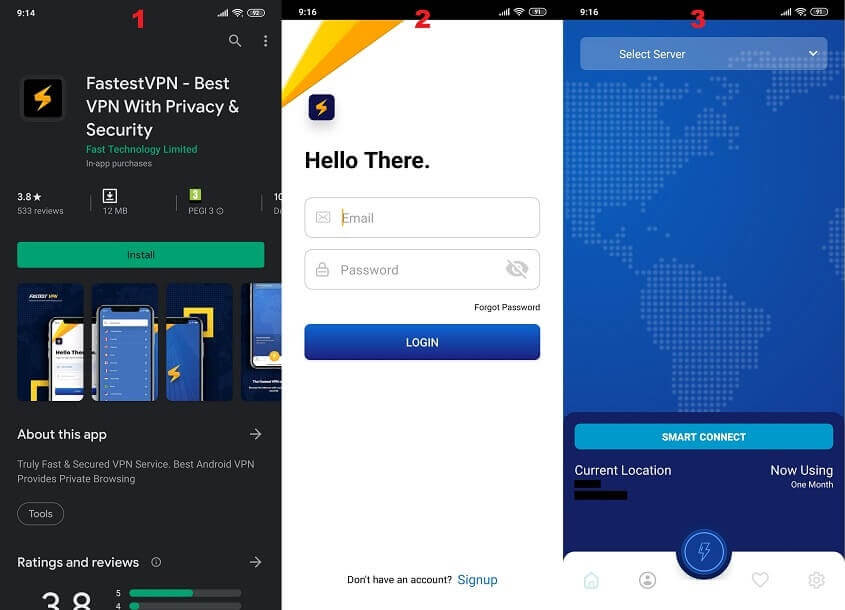 Click Install and in a few seconds, the app will be on your phone, chilling. Open the app, and you'll see the login screen shown in image 2. Type in your credentials and click Login. Finally, you'll arrive at the home screen, which looks also blueish, yet not very similar to the PC version, as you can see in image 3.
To open the server list, click on Select Server in the upper portion of the home screen. The server list, shown in image 4, will now open. We choose Belgium because – why not? And in image 5, you can see how the screen looks with the connection established.
Nothing special to say here. The app behaves like a well-trained dog, so you can expect a smooth and enjoyable experience with it.
Other Devices
We mentioned briefly other devices and there are lots of them. We aren't going to talk about each of them individually but we need to say how good the router support is. They even have a dedicated page to it: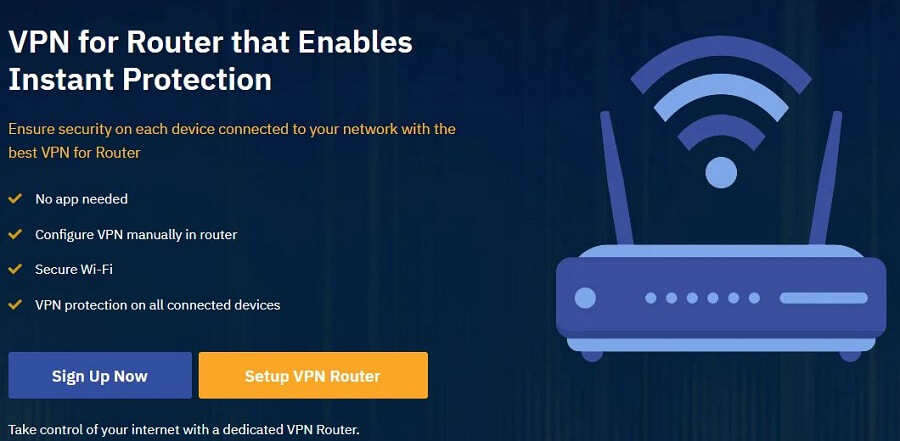 And they even let you buy a dedicated VPN router, as you can see in the image above. If you scroll down, you'll see an array of routers that you can buy, that will support FastestVPN out of the box. In case you didn't know, a router supports up to 32 simultaneous connections.
So, that's going to be the number of devices you're going to protect in case you use a FastestVPN on the router. Apple TV, PS4, Kodi or Roku – they'll all have their share of protection!
How Fast is FastestVPN? We Checked Its Speed!
This is why you clicked on our FastestVPN review, right? Feel the Need for Speed! You'll notice that the best VPNs are usually the fastest ones, meaning that this part is quite important. But, we need to get something out of the way. To make things clear, ALL providers will reduce your internet speed to some extent.
However, there's a difference in slight and severe reduction, that you want to avoid. Free providers are slow, thus reducing your speed by a huge margin, for example. The speed depends on the quality of the network, server load, server distance, level of encryption, and so forth.
Because of that, getting to know our testing method is crucial. We did 3 tests in the morning, 3 in the mid-day, and 3 in the evening, for 3 different testing locations. We kept the best score and use the best location when it was possible. Our physical location is in the US (non-VPN test) and we used these 3 locations for testing:
The United States
The United Kingdom
Australia
Our native internet speeds are:
Ping: 11 ms
Download Speed: 211.88 Mb/s
Upload Speed: 202.20 Mb/s
When using FastestVPN for this review, our ping, download, and upload speeds respectively, for 3 testing locations, are:
US Server: 51 ms / 179.55 Mbps / 137.14 Mbps

UK Server: 105 ms / 84.33 Mbps / 71.49 Mbps
Australian Server: 397 ms / 12.76 Mbps / 18.29 Mbps

Surprise, surprise! FastestVPN has solid speeds when using the US server. We were actually quite surprised and we thought that trend will continue when using the other two servers. Unfortunately, our expectations hit the wall at 200 mph and smashed into pieces.
The UK server quickly boosted our ping to 105 ms, greatly reducing our speeds. The surprise we talked about wast the Australian Server – just ~13 Mb/s download speed and whopping 397 ms ping…
Really?
We didn't expect it to be THAT slow, especially compared to providers that aren't strictly advertised as being the fastest. Despite being fast in our country, we can't say it's very fast because as soon as we increased the distance between us and the server, things started going south.
We can compare FastestVPN with the card tower – it looks good but if you touch it, it'll fall apart.
How Good is FastestVPN for Streaming?
Can you, at least, enjoy some streaming with this provider? Let's see.
Our Netflix tests showed not so good results from the get-go. Our testers from abroad tried to unblock Netflix US but with no avail. Not a single server will unblock Netflix reliably. Such a shame. It's not the time to mourn but to proceed to other platforms, so let's go with our warm-up round, HBO GO: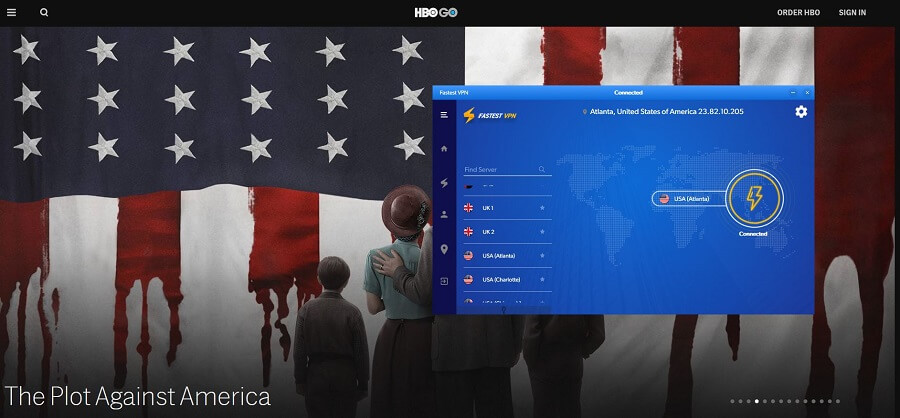 HBO GO works, which is nothing strange, given that 99.99% of VPNs unblock it. Let's warm up the floor under FastestVPN's feet with Disney+: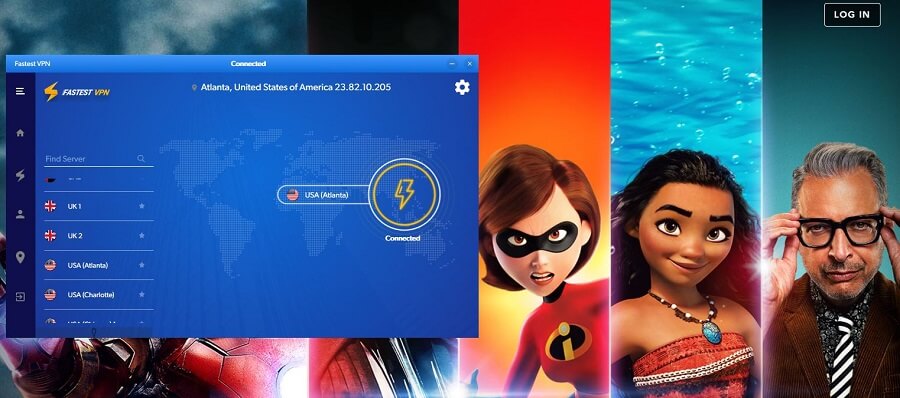 When we click on the Login button in the upper right corner, nothing happens. That's because Disney+ doesn't work. Now, let's check DAZN: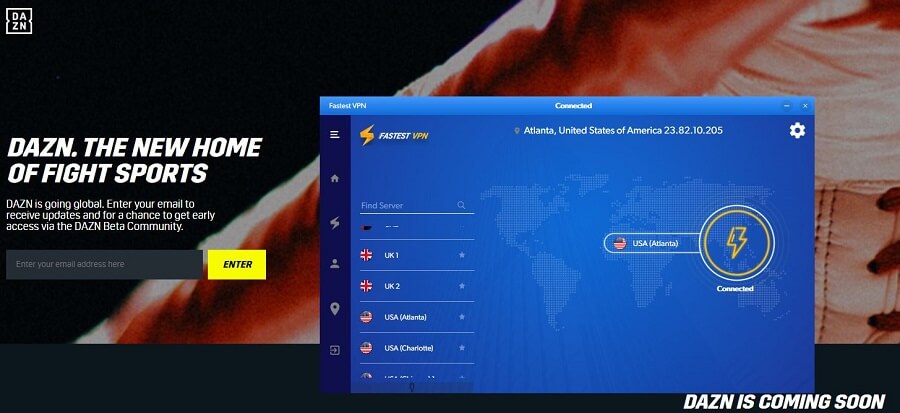 We also expected this – DAZN didn't work. For that reason, we don't think that this VPN can unlock free TV channels that will broadcast the MotoGP championship or F1 championship for that matter. Finally, we have to check BBC iPlayer: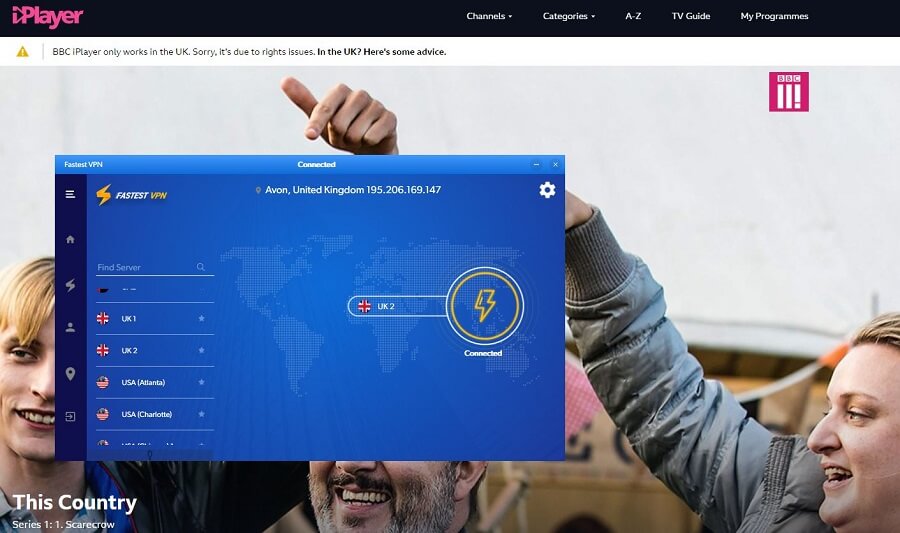 Aaand it doesn't work.
As you can see with this complete review, FastestVPN isn't exactly the best provider for streaming. If it unblocked Netflix US, we could consider recommending it, given that it has serviceable speeds if you're using a server close to you.
But, with these poor results, recommending it for streaming is pointless. It couldn't unblock anything except HBO GO from our streaming test. And with that, we'll conclude the section by telling that FastestVPN isn't very good for streaming.
Confidentiality, Security & Logs
Well, well, well – this is where these beautiful, sunny, and beach-laden Cayman Islands will come into play. If you know a thing or two about this location, you know that it's located in the Caribbean Sea, between Cuba and Jamaica.
Being isolated in a sea so big, no other country will interfere with its laws. That's great because FastestVPN is free to operate however it wants, keeping your privacy and online identity intact.
When we checked its privacy policy, we confirmed that pretty quickly: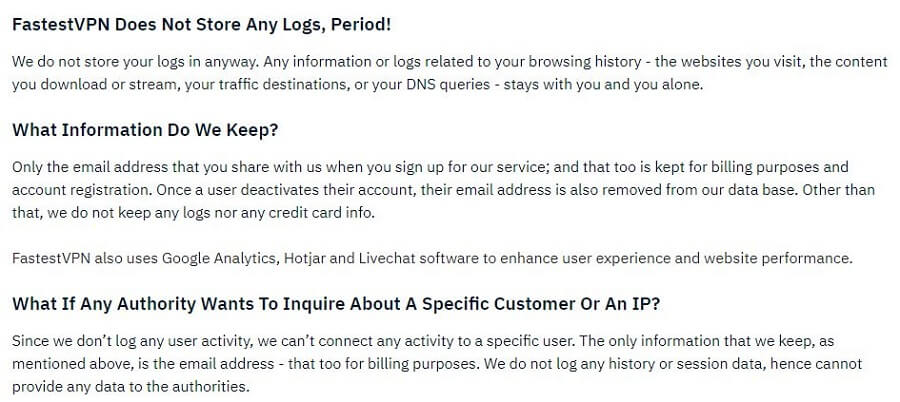 This is actually almost the whole privacy policy – short and to the point, just how we like it. Basically, FastestVPN immediately states that it doesn't store logs and that it keeps only your email address for billing purposes.
The last paragraph is what we always like to see. If the government wants it to hand over the data, they won't have anything to hand over because they DO NOT collect any info. Without a shadow of a doubt, FastestVPN is safe.
Let's see if it's secure, though:

As you can see, no IP leaks in our IP leak test. The interesting thing is that the provider doesn't support OpenVPN protocol from the get-go: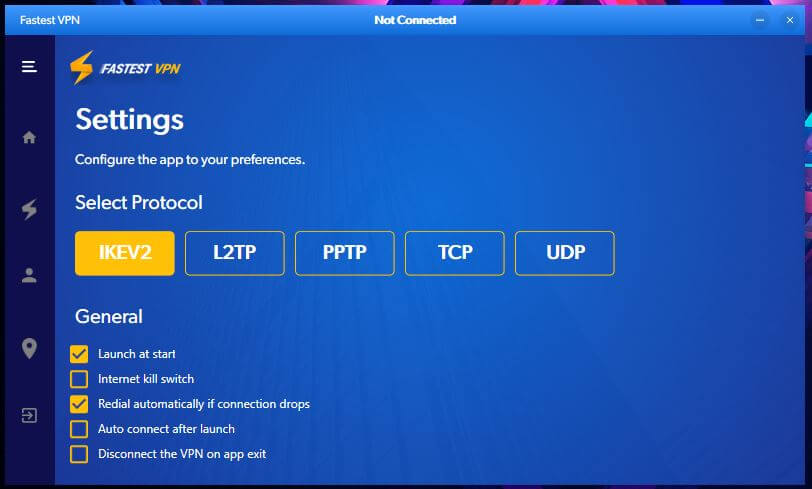 That's a big flaw since OpenVPN is, in most cases, the best solution for your VPN connection. On the contrary, the provider has an in-depth guide on how to install it but if you're not a tech-savvy person, you'll not find it very easy.
Apart from that, it offers an automatic kill switch, 256-bit encryption, and IPv4 leak protection (not the IPv6 one!). All in all, FastestVPN is safe, although we'd like a bit more security.
Can I Do Torrenting Safely With FastestVPN?
FastestVPN supports torrenting and P2P activities right away. Thanks to its zero-log policy, the government won't be able to get any info from the provider, leaving you to download torrents to your heart's contempt. We tested it with the 1337x website:

We downloaded the game with no problems and didn't get any copyright infringements. In short, FastestVPN can be a solution if you want to torrent anonymously, just be aware that its speeds won't impress you.
If you want a really fast provider, buy ExpressVPN instead.
Can I Use FastestVPN to Bypass Censorship?
Bypassing censorship in China or Russia is a bloody hard task these days. The Great Firewall of China still annihilates VPNs on the market and we're left with a handful of them that will really work.
Should you try to use FastestVPN in China, you'll see that it won't work, hence it can't bypass censorship.
Furthermore, it doesn't have any special protocol that will allow the provider to do it. You can experiment with the protocols shown above but even FastestVPN's support will not guarantee that it will work.
Pricing and Plan Options
With everything we said above in our review, it's time to see if FastestVPN is worth your hard-earned cash. Let's examine its subscription plans and pricing:

Starting from the left, we have a monthly plan at $10, which is an okay price for a short-term plan. The annual plan on the far right is VERY cheap, costing only $2.49 a month or $29.95 annually. Finally, we have a 3-year plan at $1.11 or $39.95 triennially.
We must admit that these are some very cheap prices that are far cheaper than any VPN on the market can offer. While CyberGhost offers its 3-year plan at $2.75 a month, it's a far better option but it's also a bit more expensive, albeit, very cheap, too.
Furthermore, you can buy more, as they call it, 'Multi Logins' for a dollar per each one. By default, you have 10 of them. As for the payment methods, you see them below, and there's no Bitcoin, which we don't like.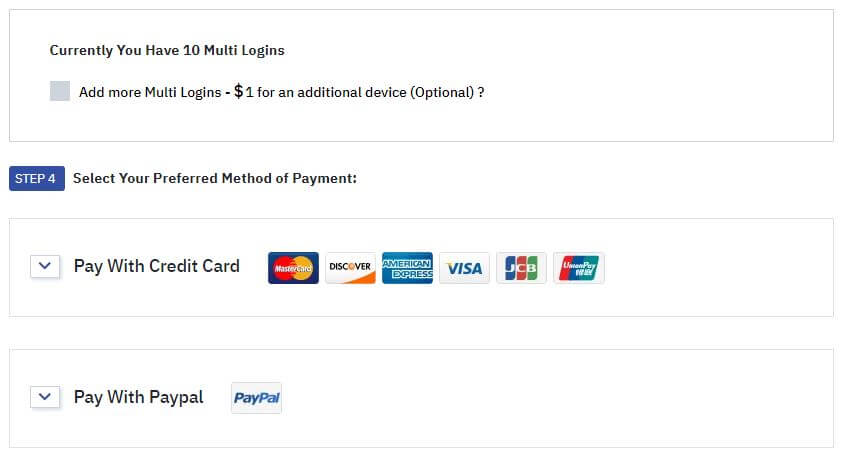 Every plan is accompanied by a 15-day refund period and in case you want a refund, here's how to get it: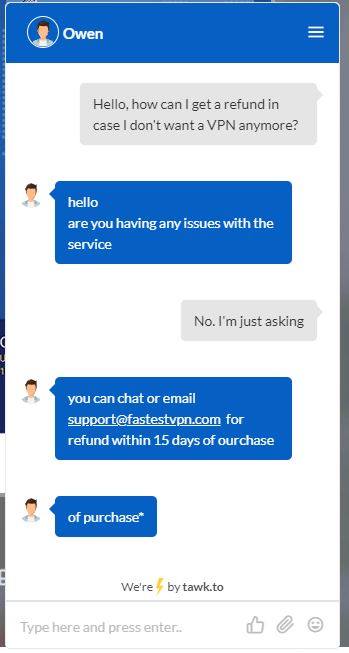 Owen was nice enough to explain to us how to quickly get a refund in case we want it. Also, the refunds don't have any strings attached to them. You can use an unlimited amount of bandwidth before asking for a refund from FastestVPN. You just need to do it in the first 15 days of the purchase.
How Can I Contact FastestVPN?
If you want to contact the support team, you can do it using one of these two methods:

The arrow pointing to the left is the email support. There isn't a ticketing system, so you'll need to send an email directly, which is okay in this case. On the far right, there's the live chat feature we used above.
When using the live chat, support is responsive enough. We contacted them on Sunday in the afternoon and got a response in less than a minute. If you want to inform yourself and learn more about the provider, you can open the FAQ section we highlighted in the image above.
Support was great for our needs, so we have nothing to complain about in this part of our review.
The Special Functionalities
This, on the other hand, is where we NEED to complain. Do you know what special features you get here? It's a 7-letter word, can you guess it?
Nothing!
Yep, you get NOTHING special from FastestVPN. You can't make a serious and reliable VPN without at least one special feature. Usually, we get dedicated servers for streaming and torrenting, but that's not here. Every server is just "normal" and doesn't let you know if it's good for streaming, torrenting, gaming or whatever.
If you scroll back to our 'safety & security' section, you can see that the Settings menu looks pretty boring and offers no special options and tweaks.
We understand that the price is very low but hey – including dedicated servers or split tunneling isn't rocket science!
Other Things You Should Know
Let's talk a bit more about the other things we didn't mention in our FastestVPN review:
Number of Servers
FastestVPN is a new provider, so don't expect it to have an array of high-speed servers at your disposal. Here's what it offers: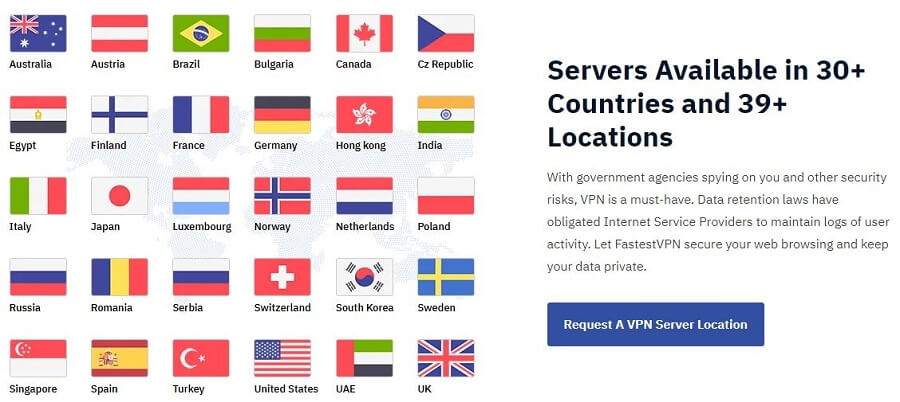 The provider has slightly over 50 servers, which you can't exactly see on this image. This is because they've hidden it for some reason and that reason might be because they aren't so proud of that fact. Nevertheless, it's a very small server network that won't give you a lot of possibilities for bypassing geo-restrictions.
Number of Countries
Once again, if you take a look above, you'll see that the provider offers servers in 30+ countries and 39+ unique locations. There's even a server in Russia, which we don't like since this country has data-retention laws that often apply to VPNs with servers in the country.
Number of Simultaneous Connections
We mentioned this above but we'll mention it again – FastestVPN gives you 10 simultaneous connections upfront. In case you want more, you're going to have to pay $1 a month for every additional connection.
What Do Other Users Say About FastestVPN?
Before wrapping up our review, it's time to see what other users have to say about this provider.
As always, we'll start off with Reddit, a platform great for finding valuable information about VPNs:
This user is seemingly satisfied with his 3-month usage. He also mentions that his speeds are reduced by 50%, which he obviously doesn't mind. To us, it's quite a big reduction, though. Let's see what the users on the Apple Store have to say:
The iOS/macOS user isn't very satisfied, as we can see. He says that the VPN constantly reconnects and redials the connection on every platform he uses. He proceeds by saying that there are tons of better VPNs on the market and ends a review by saying what it seems like he won't be using it unless the issues are fixed.
On the opposite side, the Android user we found also isn't very satisfied:

This user noticed what we also noticed, too. The provider doesn't have IPv6 leak protection, so it's leaking if you're using IPv6. On the brighter side, the provider responded by saying that they're planning to introduce this feature in the near future.
Finally, it's time to check Trustpilot:

The Trustpilot user isn't satisfied either. He says that speeds are to slow and that the VPN randomly disconnects. Interestingly, he says that FastestVPN has a questionable no-logs policy, which we don't agree with. But, this user, for some reason, have trust issues regarding this provider, which is why he gave it a one-star review.
Conclusion: Should You Take It?
At first glance, FastestVPN is really a solid provider. It has amazing device support, 24/7 live chat customer support, intuitive interface, and 'okay' speeds.
However, after reviewing FastestVPN for a week, we found that it's not very good. Speeds were decent only when using the servers close to us, we couldn't unblock Netflix, we couldn't use it in China, and with the small server network, we simply didn't have enough variety to bypass geo-blocks.
Sure, it's among the cheapest VPNs we've used but even then, it's not worth buying if you want a full-fledged experience. If the provider fixes the Netflix issue and adds a few hundreds of servers, we can think about changing our opinion.
For now, FastestVPN isn't worth buying.
To conclude our review, we recommend ExpressVPN instead, which offers a huge server network, fastest speeds, and rock-solid security. As we speak, it comes with a 49% discount and 3 months free for an annual subscription plan.