Kaspersky is perhaps the strongest antivirus brand out there, alongside Avast. However, the company decided to expand its business into the VPN territory with Kaspersky Secure Connection VPN. So far, not a single antivirus-based provider impressed us. Is Kaspersky Secure Connection going to be one of them? We suggest you stick with us until the end to find out. This is going to be our comprehensive review of this Kaspersky Secure Connection, so strap yourself tightly!
What is Kaspersky Secure Connection?
The VPN industry is an ever-growing one. This is evident due to the antivirus companies that started stepping into this field of work massively – Avast, Avira, Bitdefender, and now, Kaspersky. While the names we just mentioned are pretty good when it comes to virus and malware defense, owning a Virtual Private Network is a completely different game.
Kaspersky is based in Russia, which is a VERY bad location for this type of service. Why? Because Russia has some of the strictest anti-VPN and anti-privacy laws. This country is known for extensive government surveillance that isn't very kind to privacy lovers.
Russia forces all the providers who operate there to sign up a contract that would allow the government to collect data if needed. This way, they can extract data from any provider who operates in the country, jeopardizing your privacy.
Is Kaspersky some kind of hero who throws everything that we said in the water? Is it actually really good like its antivirus app? We shall see that in our Kaspersky Secure Connection review.
Compatible Devices and Ease of Use
Starting off our review, we'll talk about compatible devices. So far, we've seen plenty of VPNs from antivirus companies, and needless to say, they didn't impress us in terms of device support. Usually, they support either two or four platforms, depending on the date of release.
Malwarebytes VPN, for instance, didn't support Android upon its release. However, Kaspersky Secure Connection isn't that new, so we can expect all the major platforms here:

Kaspersky Secure Connection supports Windows, Mac, Android, and iOS. That's fair, but nothing impressive. You can't use this VPN on Roku or any other device for that matter. Such a shame!
Desktop applications
Let's review how the Kaspersky Secure Connection app behaves on computers. As we said, regarding computer platforms, the provider supports Windows and Mac. Our testing rig is a Windows-based PC, so we'll use it to test this provider out.
After buying the subscription, you'll be prompted to download the app. Do so, double-click on the setup file, and the initial installation screen will appear: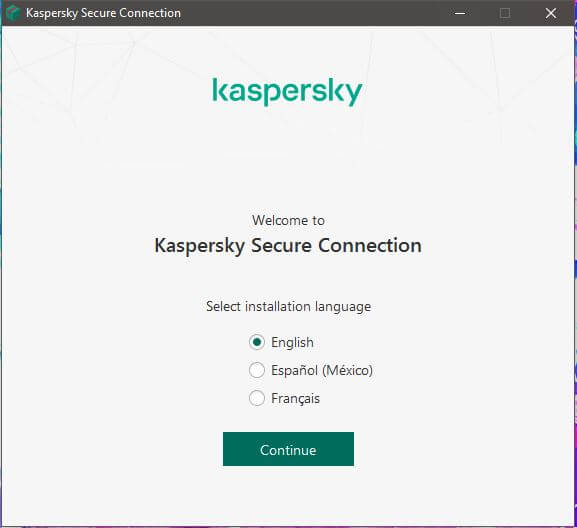 Choose the language of the installation and the app, click Continue, and proceed to the next step.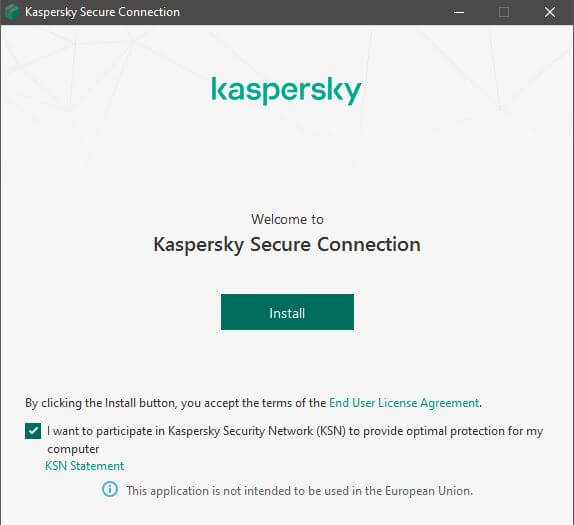 Here, you can accept this KSN program, but we didn't want to, so we just clicked Install.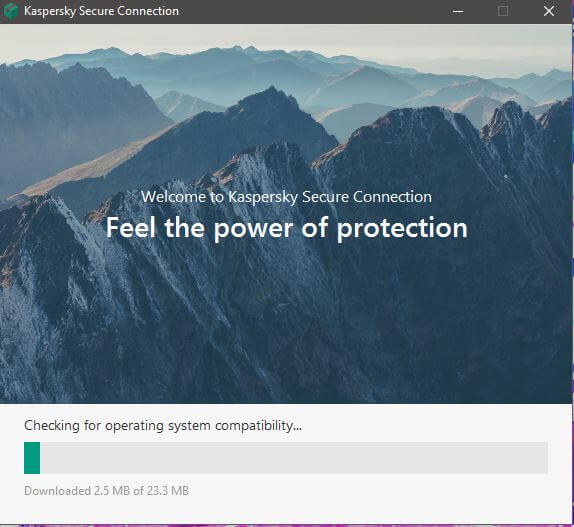 To install itself, the app first downloads the required files, and then, it installs them. Finally, you get to run the app.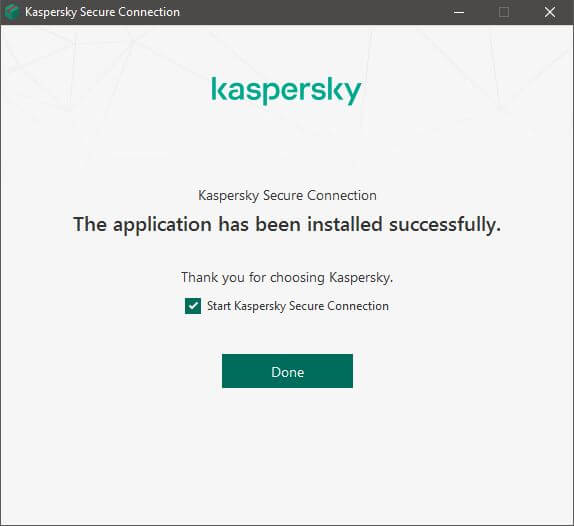 At first glance, the app offered by Kaspersky Secure Connection looks quite simple. It actually is, as it offers just the basic functionalities.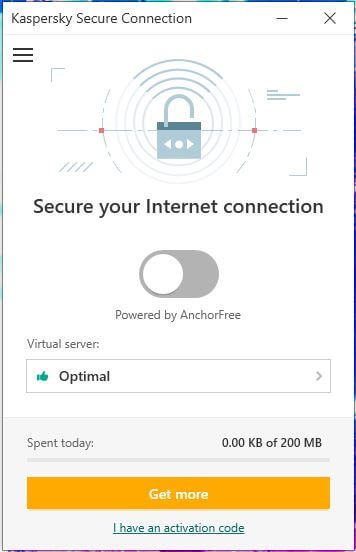 To change the server you want to use, you have to visit the server list. You can do so by clicking on the arrow pointing to the right, next to Optimal. In the upper-left corner, you can also open the Settings menu, but this is just a basic menu with minimal settings.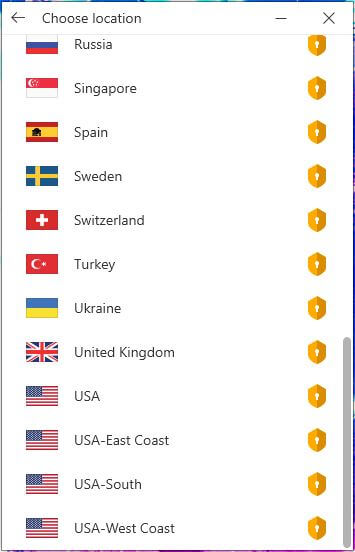 From the server list, choose the one you want and use the connection button to establish a connection. Here's how that looks: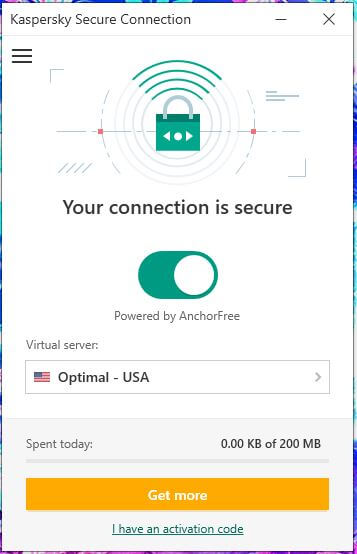 We connected to the USA server, which later used for the stream test, and so forth. Generally speaking, the app is very easy to use and you'll have no problems getting used to it.
Smartphones and Tablets
If you're gonna use a VPN on the smaller screen, Kaspersky Secure Connection won't leave you high and dry. Unlike Malwarebytes VPN, this one supports both iOS and Android, having native apps for both platforms.
While these aren't the most popular apps of this type on the phone, they still have a solid number of downloads. We're using an Android phone for this test and review of Kaspersky Secure Connection, so let's see how simple the app is to use on this device.
First off, visit the Google Play Store and download the app, as shown in image 1.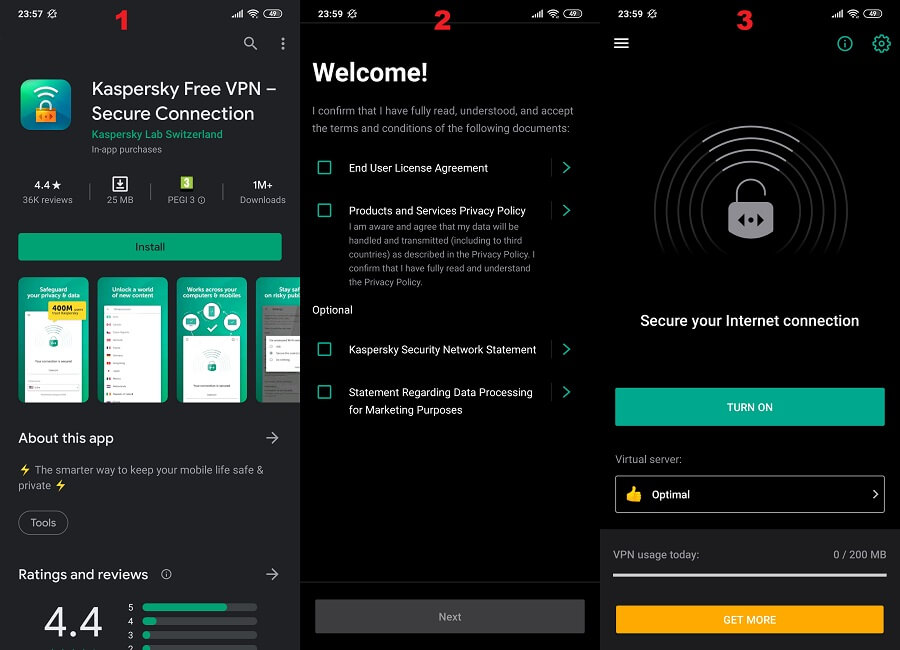 We can see that it has more than 1 million downloads and 4.4 stars, which is impressive. Nonetheless, open the app and accept the first two agreements (image 2). Once you do that, you'll be greeted by the home screen in image 3, which by the way, looks phenomenal.
This dark theme will definitely help you save your eyes from the constant strain. Also, the app is fairly similar to the one on the PC, in terms of functionality. To open the server list, do the as above.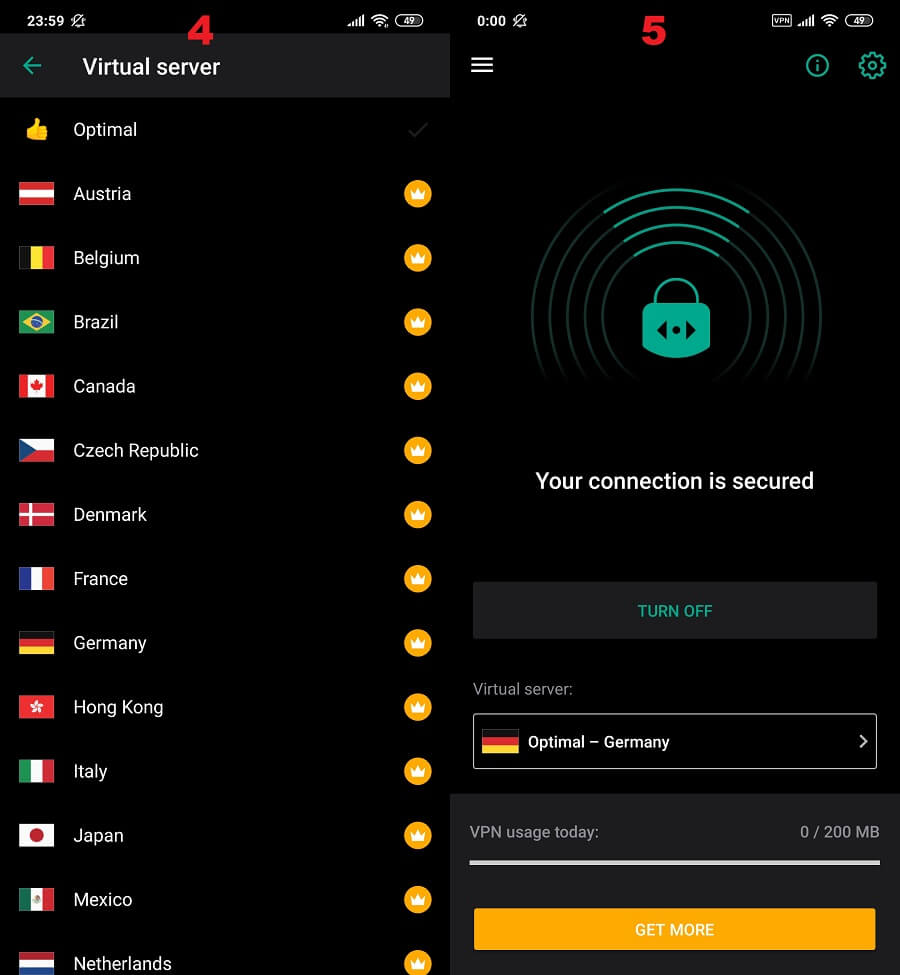 We can see how that looks in image 4. Now, to connect to the server, tap on the country you want, use the connection button shown in image 5, and the connection will be established. In short, Kaspersky Secure Connection is quite easy to use, making it suitable for less-demanding smartphone users.
Other Devices
Unfortunately, this is where the provider falls flat on its face. With no other devices under its belt, Kaspersky Secure Connection isn't a very good provider in this regard. We have to take into account that Kaspersky Secure Connection is dirt-cheap, but once again, some things must be fulfilled to get a good mark in our review.
Since the provider doesn't support routers, you can't protect anything else apart from your phone, tablet, laptop, and/or computer.
How Fast is Kaspersky Secure Connection? We Checked Its Speed!
It's time for the speed test in our review of Kaspersky Secure Connection. For us, this is the most thorough test we do, but also the most interesting, as we get to test the sheer performance of the providers. Before we delve deeper into the speed test, we have to mention a few things.
First and foremost, every provider will decrease your native internet speed to some extent. Some will do it by 10%, while others will go up to 80% or even 90%. The speed depends on numerous factors, such as server distance, server load, quality of the network, and so forth.
For that reason, it's important to see how we did our tests. We did 3 tests in the morning, 3 in the mid-day, and 3 in the evening, for 3 different locations. We also kept the best score and used the best location when that was possible.
Our physical location is in the United States (non-VPN test) and we used these 3 testing locations:
The United States
The United Kingdom
Australia
Without using a Virtual Private Network, our native internet speeds are:
Ping: 11 ms
Download Speed: 211.88 Mb/s
Upload Speed: 202.20 Mb/s
Now, when using Kaspersky Secure Connection for this review, our ping, download, and upload speeds respectively, for 3 testing locations, were:
US Server: 63 ms / 75.52 Mbps / 48.66 Mbps

UK Server: 167 ms / 37.95 Mbps / 26.03 Mbps

Australian Server: 560 ms / 10.22 Mbps / 6.21 Mbps

Right from the get-go, Kaspersky Secure Connection showed us what we're dealing with – a slow, poorly-performing VPN. Even when using the US server, our speeds were noticeably lower, despite still being serviceable.
As soon as we switched to the UK server, things started taking a turn for the worse. Finally, when using the Australian server, we couldn't even browse the internet properly. Not only did we wait much longer for the page to load, but we also couldn't watch YouTube or Netflix.
The provider is exceptionally bad when it comes to speeds. A much better solution is ExpressVPN, which is a much faster provider. Actually, it's the fastest on the market.
How Good is Kaspersky Secure Connection for Streaming?
For a provider to give a decent streaming experience, it must fulfill a few conditions. One is that it has very fast speeds, and the other one is that it has the ability to unblock popular streaming platforms. We already saw that it's very slow, which lays the ground for a mediocre or even straight-up bad streaming experience.
Will it unblock American TV channels abroad? Or perhaps, streaming platforms? Let's start with Netflix to get the answer: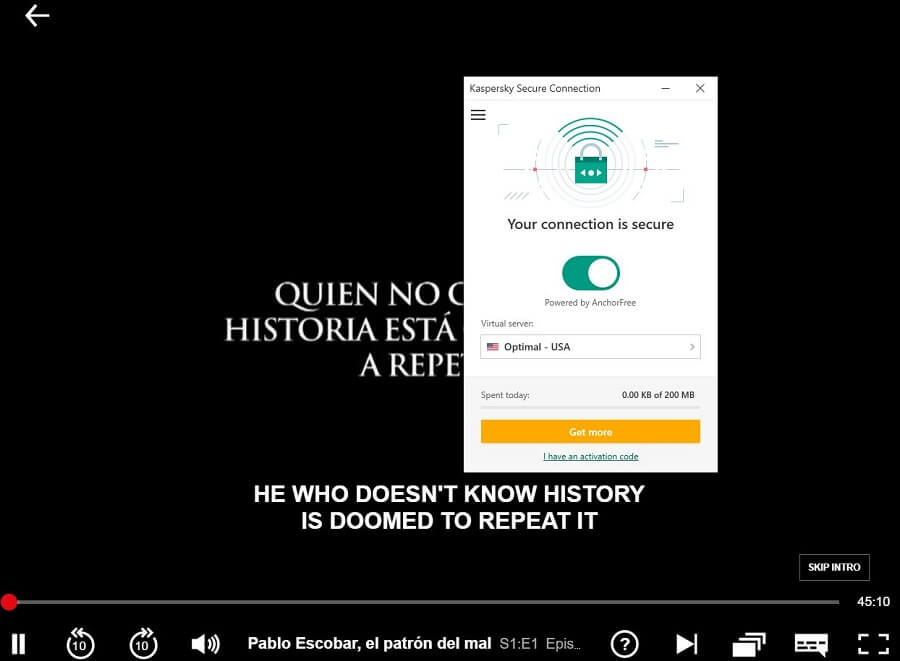 We managed to access the Pablo Escobar show and that's some good news, as Netflix didn't detect that we're using a VPN. The bad news is that this isn't Netflix US.
As Parks and Recreation isn't available, and that show is a US-exclusive, we can come to the conclusion that Kaspersky Secure Connection can't unblock US Netflix.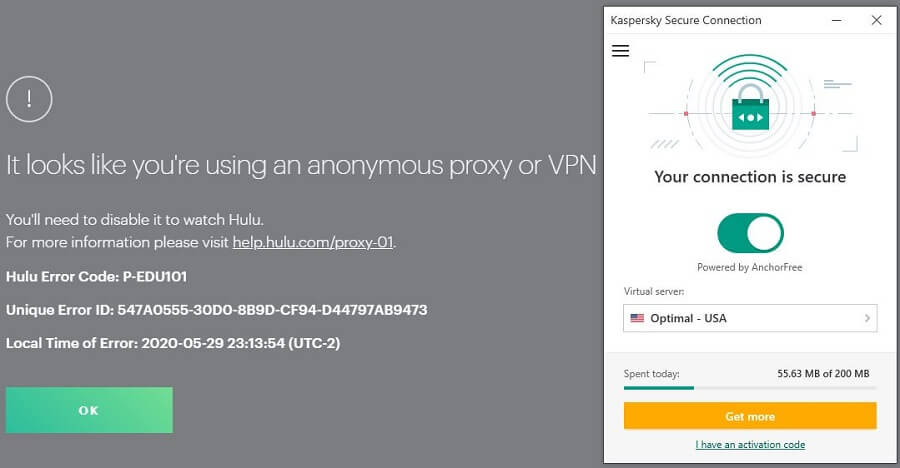 The situation is the same on Hulu. During our review of Kaspersky Secure Connection, we managed to access the site, but we couldn't initiate streaming due to it giving us a well-known proxy error.
As expected, Amazon Prime Video immediately detected that we're using an IP-altering service and didn't allow us to stream anything.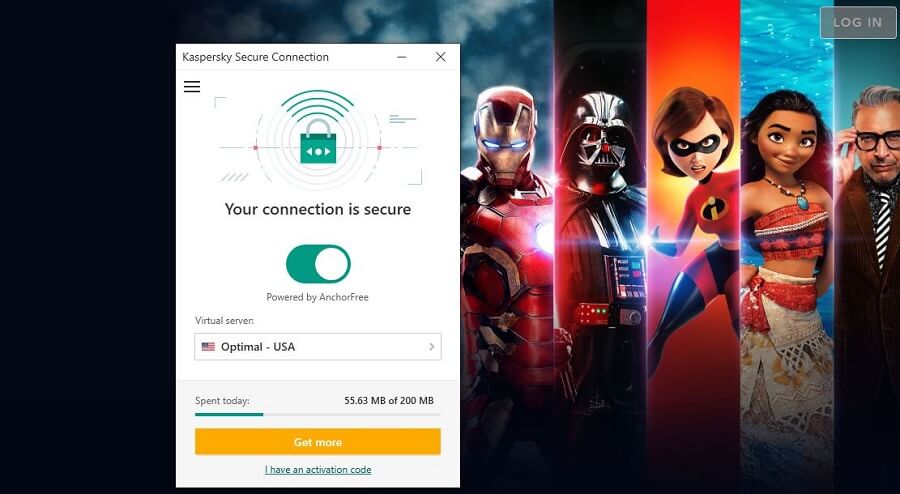 Kaspersky Secure Connection also failed miserably when it comes to Disney+. We couldn't unblock it. The login button didn't work, preventing us from logging in to our account.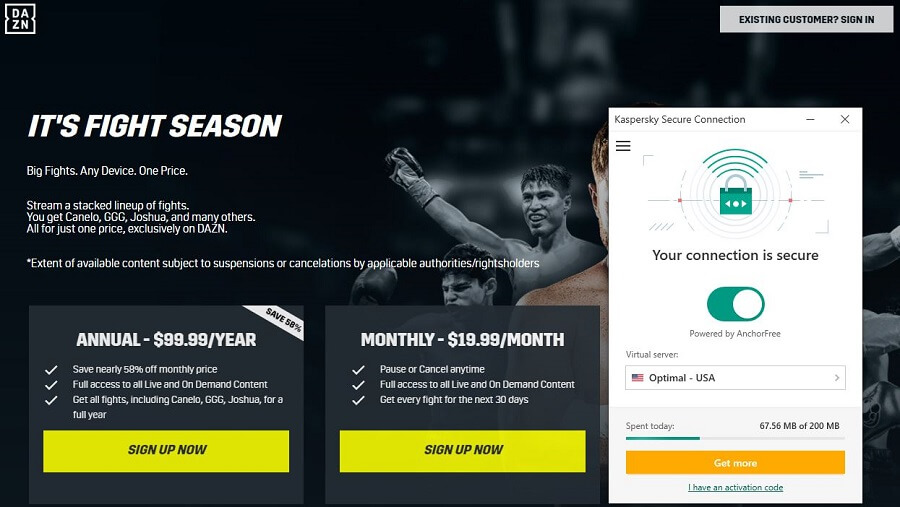 DAZN, as you can see, works.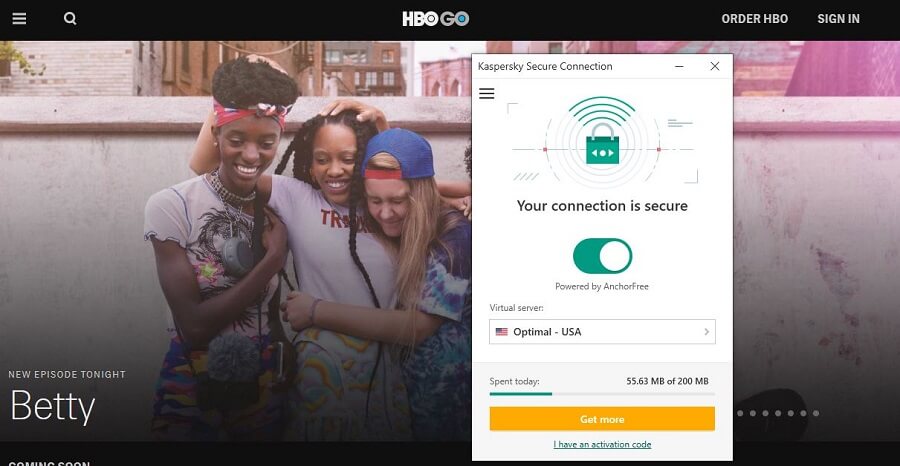 And thankfully, HBO GO works flawlessly.
We also tested a few more platforms, such as BBC iPlayer and Hotstar, and while Hotstar worked, BBC iPlayer didn't. So, to digress, the provider did a poor job of unblocking the popular streaming platforms.
With only 2 or 3 platforms unblocked, Kaspersky Secure Connection is exceptionally bad for streaming. Plus, if we count in very slow speeds, you really get a subpar experience. For streaming, every provider on our top-ten list will do a much better job!
Confidentiality, Security & Logs
Being from Russia, we couldn't wait to get our hands on the company's privacy policy. We expected to read a lot of interesting info there that will either justify our fears or dismiss it. Russia isn't the best place to stay private and secure, and even though Kaspersky is all about security, that's not the case here.
Let's first review the privacy policy of Kaspersky Secure Connection, and in a minute, we'll talk more about security in general.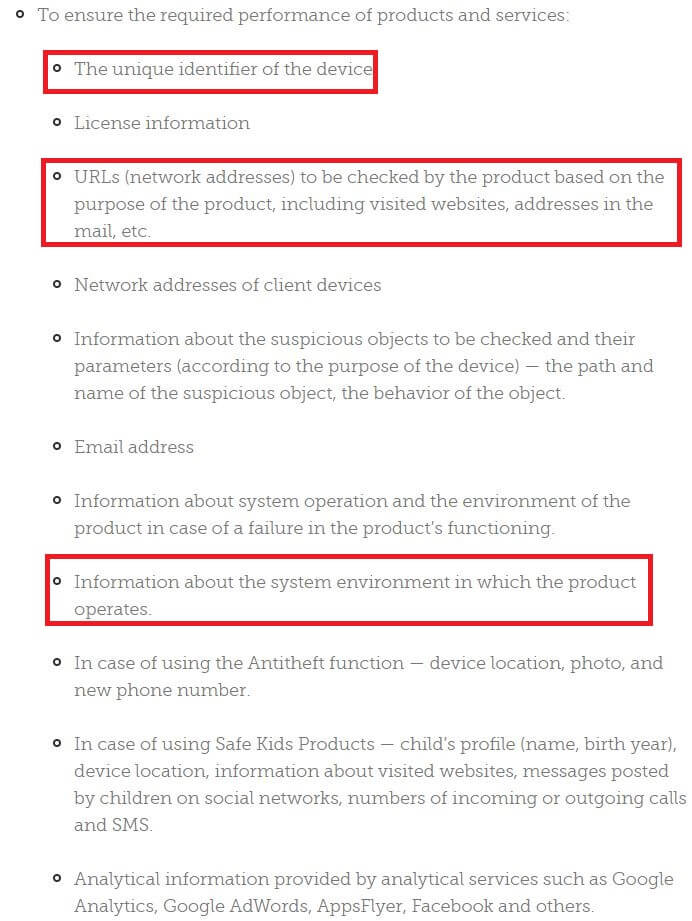 This paragraph is located at the beginning of the privacy policy and it was enough for us to give you a proper conclusion. Take a look at what they collect about you. The unique identifier of the device, URLs, visited websites, and even addresses in the mail! Whoa, that's too much!
And it's not over yet! Kaspersky will also log some information about the system environment in which its product operates, as well as use analytical information from services such as Google Analytics and Facebook.
Whenever Facebook is involved, you know that things aren't exactly private. Oh, we also want you to take a look at one more thing:
The provider shares your information with third parties. Which third parties? Well, we don't know exactly, as they never point it out. Bug, given the magnitude of the company, we probably talk about dozens of third-party companies.
We implore you to read the whole privacy policy if you can. It's all but trustworthy and safe. Because of that, our advice is to NOT buy this VPN if you care about your privacy and security. Speaking of security, let's check the IP leak test.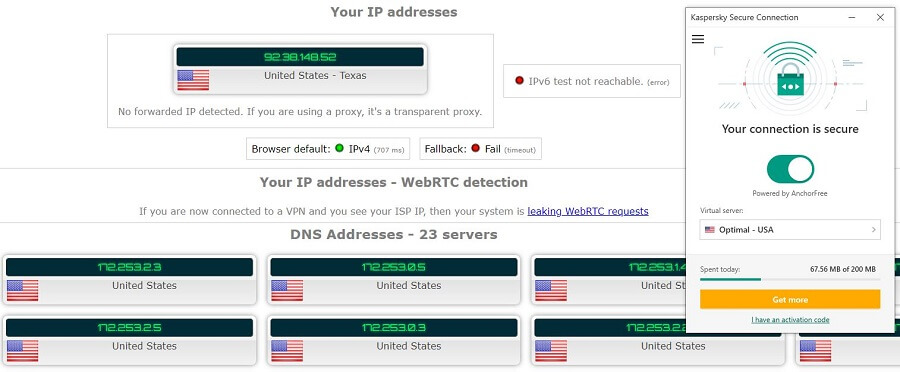 The IP leak test was negative i.e. it didn't show any IP or DNS leaks. Apart from that, the provider uses 256-bit AES encryption and offers protocols such as OpenVPN, IPSec, IKEv2, SSTP, and so forth. We were surprised at the lack of a kill switch, though!
Without a kill switch, this provider also isn't very secure, making it a pointless purchase.
Can I Do Torrenting Safely With Kaspersky Secure Connection?
If you want a quality torrenting experience with this service, there are, once again, two conditions to fulfill. A provider must have fast speeds and must not keep logs of your internet history. We saw that Kaspersky Secure Connection doesn't fulfill any of these.
It's not only very slow, but it also keeps logs, even regarding websites you visit and emails in your inbox. That's a bright red flag that will also have an impact on torrenting. Given its Russian jurisdiction, torrenting with this provider is just asking for trouble.
With that in mind, we still tested it and it simply didn't work. Downloading copyrighted material from torrent sites will not end well and Kaspersky will probably react by either forbidding you to use the service or reporting you to the authorities.
Do NOT use this provider for torrenting. Once again, a much better choice is ExpressVPN.
Can I Use Kaspersky Secure Connection to Bypass Censorship?
Failing the majority of our tests, it's hard to expect from the provider to bypass censorship. Even the country it resides in, Russia, is known for harsh censorship and government surveillance. The main focus of this part of our Kaspersky Secure Connection review, however, is China.
The Great Firewall of China is the strongest means of censorship that most VPNs today can't bypass. Only a few of them work, and these are mainly well-known providers, such as ExpressVPN, NordVPN, and Surfshark.
Unfortunately, Kaspersky Secure Connection can't bypass censorship in China and is not a viable option for similar countries. These include Russia, the UAE, Iran, Iraq, etc.
Pricing and Plan Options
What about pricing? Is Kaspersky Secure Connection a free provider? Well, sort of. It has a free plan, but mainly, it's a premium provider. That's already bad news, given how poor Kaspersky Secure Connection performed in this review. Let's see how much will this VPN cost you: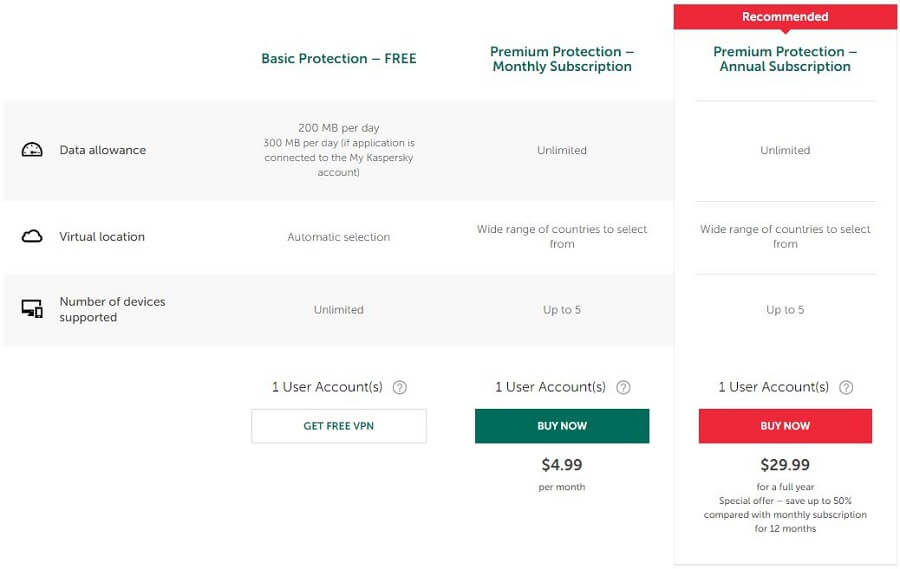 On the left, we have a free plan, in the middle, there's a monthly plan at $4.99 a month, and on the far right, an annual plan at $29.99 a year. The annual plan is actually quite cheap, costing approximately $2.5 on a monthly basis.
Heck, even the monthly plan is very cheap, as well. However, there's one problem – have you noticed it? The provider offers unlimited simultaneous connections for a free plan, while paid plans have up to 5 of them… why?!
We must admit that this is one of the cheapest VPNs we saw, but on the other hand, it still isn't worth the price. It's a bare-bones provider that is even worse than some of the free VPNs, such as Windscribe, for instance.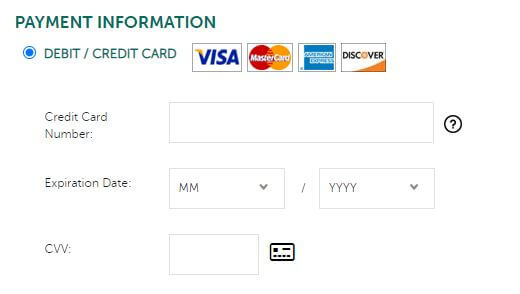 If you want to buy it still, you can use your debit/credit card to make a purchase, or checkout via PayPal. Your choice! Lastly, the provider offers a 30-day money-back guarantee, which is much needed in this case.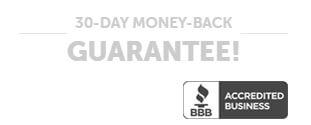 Should you screw yourself over and buy Kaspersky Secure Connection, you can easily get your money back – thank you!
How Can I Contact Kaspersky Secure Connection?
Wondering how to actually get a refund from Kaspersky? One and the only way of doing so is to contact the support team. Here, we must give props for the company, as it really gives you every means of contact you can get.

The thing is that the support them isn't available 24/7 always. You can use live chat to contact them, and as you can see, it's only for the basic questions. Furthermore, it's available 12 hours a day, from Monday to Sunday. So it's 12/7 and not 24/7.
If you want to submit a request for non-urgent issues, you can do so, and in that case, it'll take up to a whole day to get a response. It's also important to mention that it's available 24/7.
Finally, Kaspersky also offers a phone number that you can call for more urgent and complex issues. They haven't mentioned if the number is toll-free, but since there's no mention of it, it probably is. All in all, the support team does a pretty decent job here, albeit only when using live chat or a phone number.
Their email support is pretty poor, taking hours to respond.
The Special Functionalities
As we mentioned earlier in this review and test, Kaspersky Secure Connection is a bare-bones provider that offers nothing special to its users. We still decided to take a screenshot of the app's Settings menu to prove that.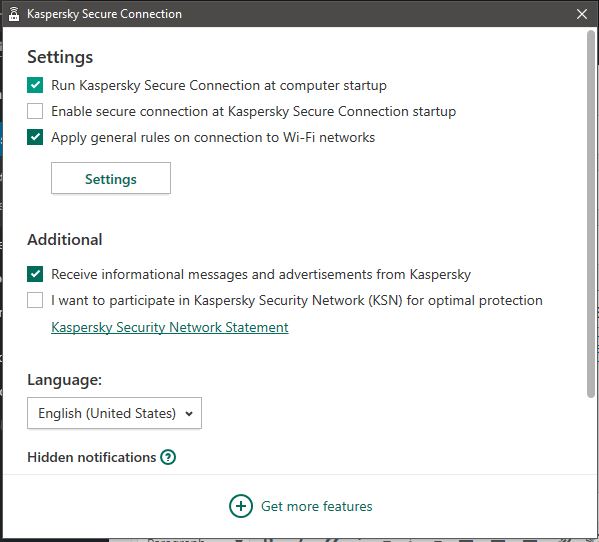 You can see that there are some basic settings here. These are mostly related to the app itself and not the connection. We also have Wi-Fi settings here. In these settings, you can manage Wi-Fi networks, add the trustworthy ones or untrustworthy networks, and apply some rules to them.
For instance, Kaspersky Secure Connection can warn you if the network is untrustworthy and automatically protect you. Or, if you want, you can disable it on trusted networks, and so forth. This is a feature we often see in many VPNs, so it's not considered special.
Other Things You Should Know about Kaspersky VPN
To make our review in-depth, we still need to talk about every single thing you need to know about Kaspersky Secure Connection. Here's what else you should know:
Number of Servers
Kaspersky Secure Connection doesn't state anywhere the number of servers. You can only see that they have "many" servers on their website, with no exact number. That's a major red flag – dishonesty. How can people trust you if you're not 100% honest with them?
Number of Countries
As for the number of countries, it's also unknown. But, what we did is count the countries from the app, and in total, we counted 24 countries. The number of servers could be slightly larger, as it has a couple of servers in the US.
Number of Simultaneous Connections
We mentioned this earlier but we'll mention it again. If you're a free user, you'll get unlimited simultaneous connections, while the paid users will get up to 5 of them. Logical, ain't it? Kaspersky said, "F You" to logic!
What Do Other Users Say About Kaspersky Secure Connection
Before wrapping up the review, it's time to see what other people think about Kaspersky Secure Connections. Let's start with Reddit first:

People on Reddit aren't generally sympathetic towards this provider. We found a comment of the user that doesn't trust Kaspersky with both antivirus or a VPN. He then continues the discussion about the other question that the previous user asked.

Interestingly, this Google Play user praises the provider's Windows 10 app. However, he says that the Android app is a waste of money, explaining that it doesn't work in Egypt, which is probably the reason for his dissatisfaction.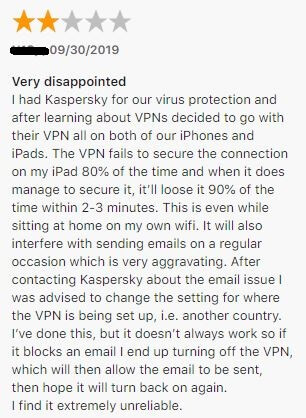 Another very disappointing review about Kaspersky Secure Connection comes from the Apple Store. The user mentions that the provider can't secure his connection 80% of the time, and even if it does succeed, it loses connection pretty fast.
The user asked Kaspersky for a fix and they gave him the simplest solution – change the server. We can see that the support team wasn't very helpful for him, which he also mentions. Finally, he ends the review by saying that it's extremely unreliable, to which we agree.

This is a brand-new review, posted more than a half an hour before writing this article. In short, Kaspersky gave this user a license only for a single device, rather than for 5 devices, even though he's a premium user. Obviously, a 1-star review says it all.
Conclusion: Should You Take It?
With all the amazing options on the market, it would be pointless to recommend Kaspersky Secure Connection. It's like a free VPN, disguised in a premium one. To conclude our review, we have nothing positive to say about it, except for its ease of use and means of contacting the support team.
Everything else is just not worth the price. So, should you buy this provider? No. Avoid it at all costs, as it's not secure, has slow speeds, and isn't good for streaming.
Our recommended alternative is ExpressVPN, the best provider your money can buy.