When shopping for a VPN, people often want to save as much money as they can. So much so, that many of them turn to free solutions, such as Opera VPN. However, if this is not your first time here, you know how much we "like" free providers. Free providers are quite limited in what they offer and chances are that you'll be disappointed after using them. Well, today, we have a textbook example of why free providers aren't good. Without spoiling the review of Opera VPN for you, let's jump right into it.
What is Opera VPN?
Opera VPN is a self-explanatory name. It's a VPN service made by the Opera company, the same one that has a well-known web browser. Given that this browser is pretty good, although not the most popular, you could assume that this service is also decent.
Furthermore, the company is from Norway, a country that has some of the most strict privacy laws, which, in theory, should be good news. However, before we start with the review of Opera VPN, we want to point out that this isn't a full-fledged Virtual Private Network. It serves more like a proxy, with a very small server network and limited possibilities.
Will it let you watch sports on foreign TV channels live? Or perhaps, will it let you enjoy Netflix and Hulu, even though it's a free provider? We shall see that in our comprehensive review of Opera VPN.
Compatible Devices and Ease of Use
As always, we'll start with the basics. We need to see which platforms does this provider support, and if that number is satisfactory, it'll get some positive points. But, we have bad news right from the get-go. Opera VPN is available only through the web browser, so you'll need a platform that supports it.
Right now, Opera works on Android, iOS, macOS, and Windows, so these are your supported platforms. Just know that a VPN feature isn't available on the iOS version. Logically, connecting it to your router is impossible, due to its proxy-oriented characteristics. Let's see how easy it is to use on the platforms that it supports.
Computers
The Opera browser is very popular on the Windows platform, especially for users with low-end computers. While Google Chrome "eats" a lot of RAM, Opera is RAM-friendly and lets you browse the web smoothly, even on weaker systems.
So, we'll start this part of our review with the Windows platform and see how easy it is to install and use Opera VPN. For the start, you'll have to download Opera, as this VPN is only a part of it. Do this from the official site, click on the setup file, and you'll get this screen: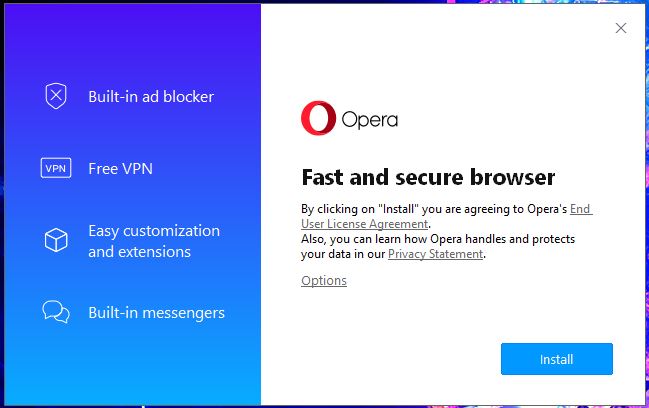 Before installing it, click on Options if you don't want it to become your default browser all of a sudden. We hate these sneaky tactics and, as you can see, they're already here, even though we didn't start the installation yet.
In case you want it to be your default browser, simply click Install and the setup will start: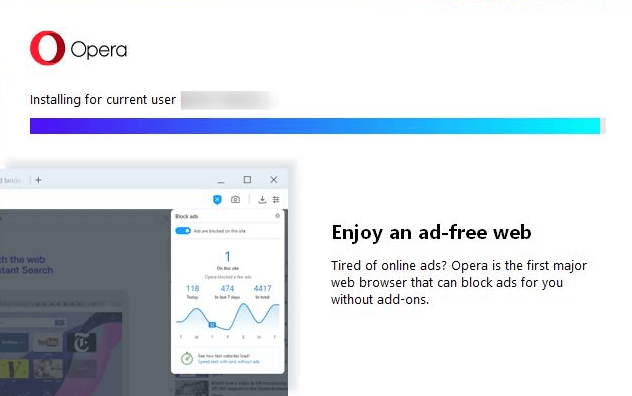 After it's done, the browser will automatically open: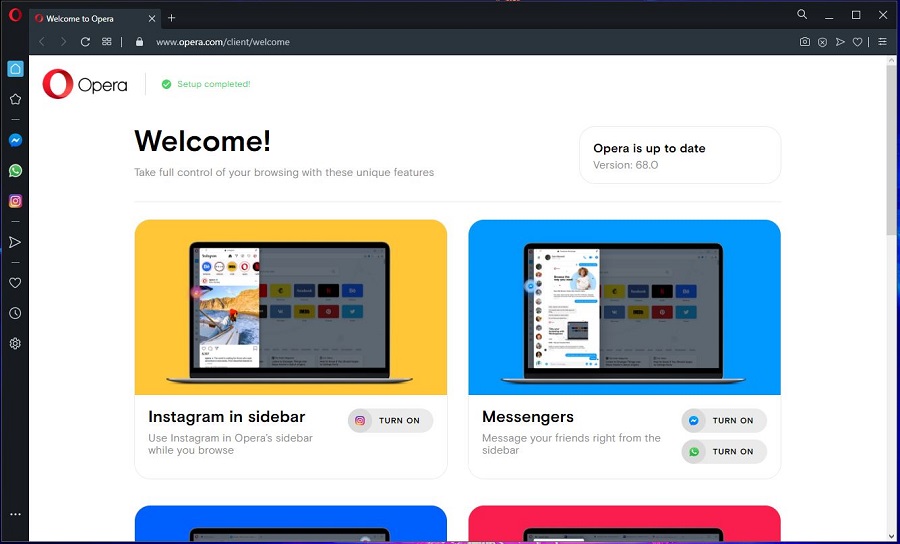 Now, to activate Opera VPN, access the Settings menu in the top-right corner of the screen, next to the Heart icon.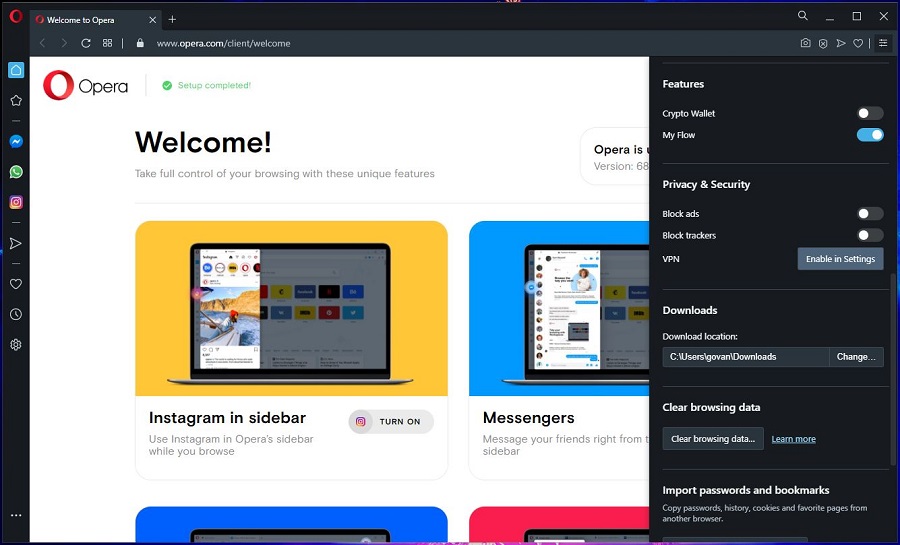 On the right, a new menu will open and you'll see the "VPN" setting. As you can see, you must enable it directly in the "other" Settings menu. Click on that option and you'll access that menu: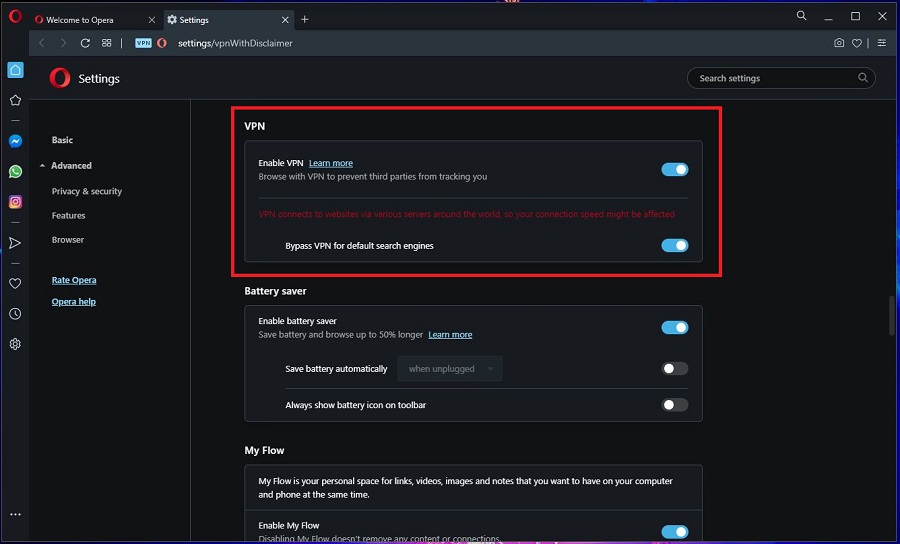 In the image above, we highlighted the option you need to choose. Just click on the slider and it will be enabled. You can also see that it's ON if you take a look to left, next to the search bar.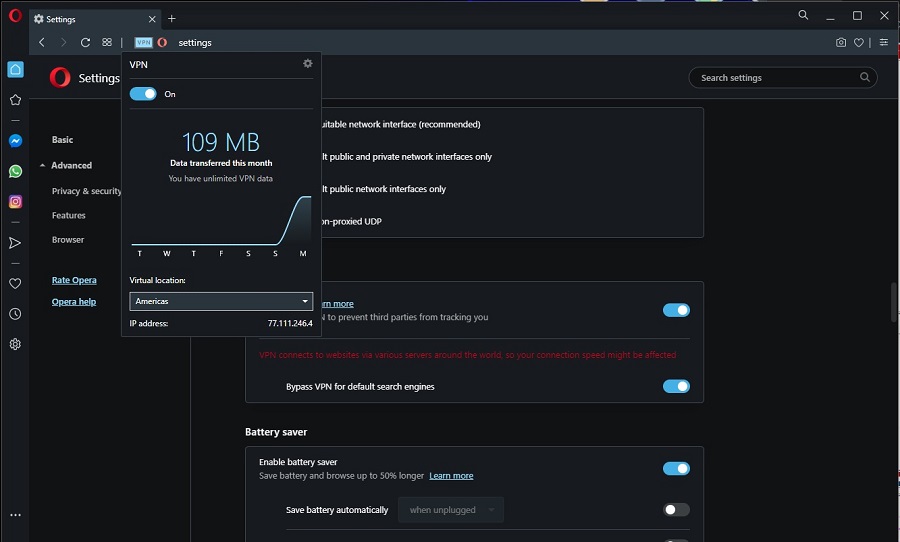 You can see that it assigned an American IP for us, so it's turned on. Since we talk about ease of use here, we must say that it's easy to use… for us. However, if you're not a tech-savvy person, you'll need some time to find it and enable it in the Settings menu.
Smartphones and Tablets
Thankfully, Opera is available even for smartphones, so we had the chance to test it on our Android device. Finding it on the Google Play Store is very easy. Just type "Opera VPN" and click on the first result. You can see how it looks in image 1: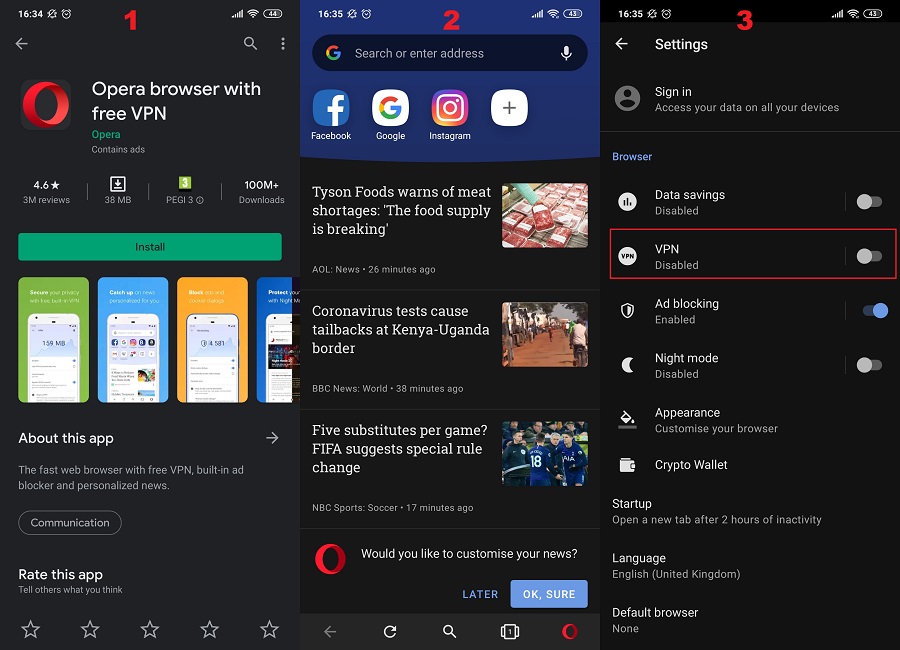 Now, open the browser and you'll see how it looks in image 2. Basically, it's a cut-down version of Chrome, with a few suggested sites above and some trending news below. To access the VPN, tap the red Opera icon below and you'll access the Settings menu. In image 3, we highlighted what you'll need to check out.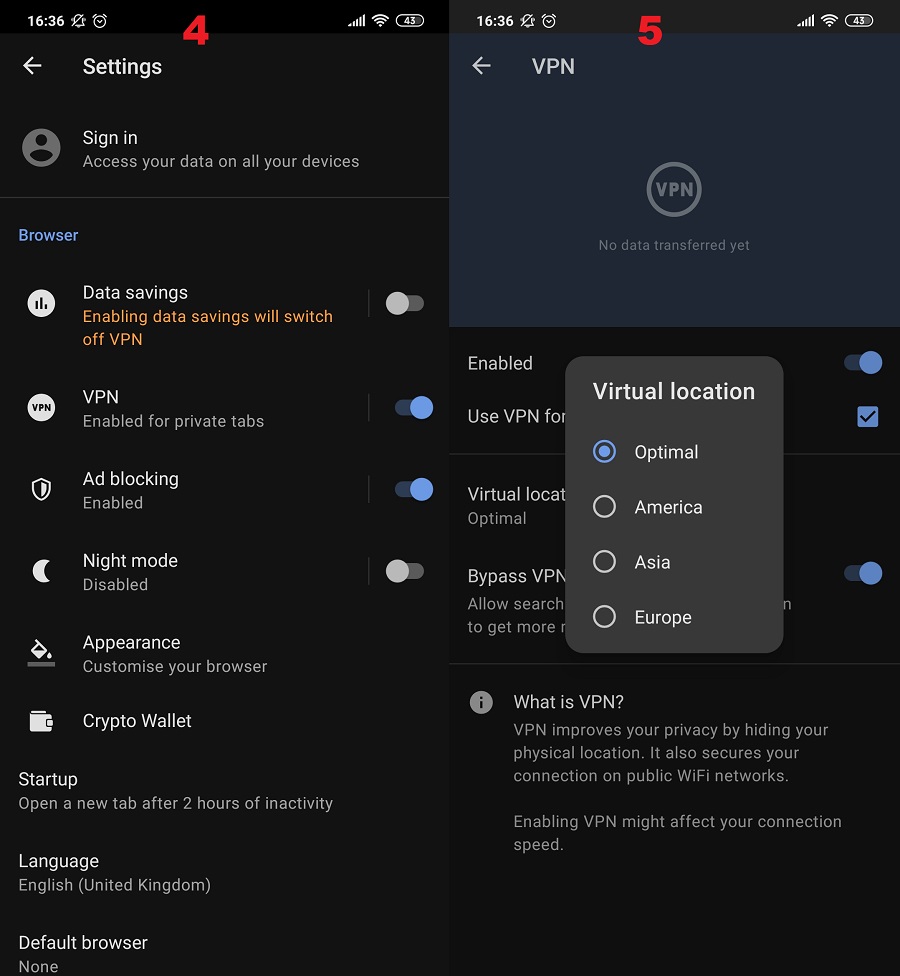 In image 4, you can see that we enabled it. You can also click on the feature and access some advanced settings, where you can see some of the locations it offers (image 5). Quite luxurious, isn't it? Nah, just kidding.
As for the ease of use, we can say what we said for the PC version, although it's a bit easier to get around here, as there are fewer settings.
Other Devices
Given that this service is integrated into the browser, expecting other devices is like expecting pigs to fly. You could say that Android TV is a supported device since it has an Android operating system, but then again, it's what we've seen on a phone already.
So, users who want a Virtual Private Network for Apple TV, Roku, Fire TV, or Chromecast can forget about Opera VPN. Avoid this VPN if you want to play video games, too, as it only works in-browser! Instead, you can get ExpressVPN, which offers supreme device support and fast speeds.
How Fast is Opera VPN? We Checked Its Speed!
Did someone mention speeds? Oh, sure – we did. Our speed test is the most exhausting one, accompanied by the streaming test. In this part of our Opera VPN review, we carefully test the provider, to make sure that we squeeze every bit of performance out of it.
Since this is a proxy more than a VPN, we can't expect some madly fast speeds. After all, speeds depend on many factors that are hard to control, so it's not strange that even some premium providers aren't impressive in this regard.
For that reason, it's important to see how we did our tests. We did 3 tests in the morning, 3 in the mid-day, and 3 in the evening, for 3 different locations. Also, we kept the best score and used the best location when that was possible.
Our physical location is in the USA (non-VPN test) and we used these 3 locations for testing:
The United States
The United Kingdom
Australia
Without using this service, our native internet speeds are:
Ping: 11 ms
Download Speed: 211.88 Mb/s
Upload Speed: 202.20 Mb/s
Now, when using Opera VPN, our ping, download, and upload speeds respectively, for 3 testing locations, are:
US Server: 69 ms / 42.36 Mbps / 59.17 Mbps

UK Server: 198 ms / 20.31 Mbps / 14.56 Mbps

Australian Server: 476 ms / 5.68 Mbps / 1.74 Mbps

Wasting on talking about speeds is pointless. Even when using the server in our country, we already saw a massive speed decrease, which made our internet browsing much worse. While the UK server showed pretty bad results, the Australian server was a final nail to the coffin.
Our upload speed here was just 1.74 Mb/s, which is 116 times lower than our native upload speed! Opera VPN is one of the slowest, if not the slowest provider we've tested. You might as well us the dial-up internet, as you'll get better speeds than with his snail, or a turtle, whatever.
How Good is Opera VPN for Streaming?
And now, let's test if Opera VPN is good for enjoying some shows on Netflix or Hulu. Given how slow it is, you must be very close to the country you're using for connection. If that's not the case, you can pretty much forget about streaming in general, just to warn you.
Starting with Netflix, we thought we had some good news on the way: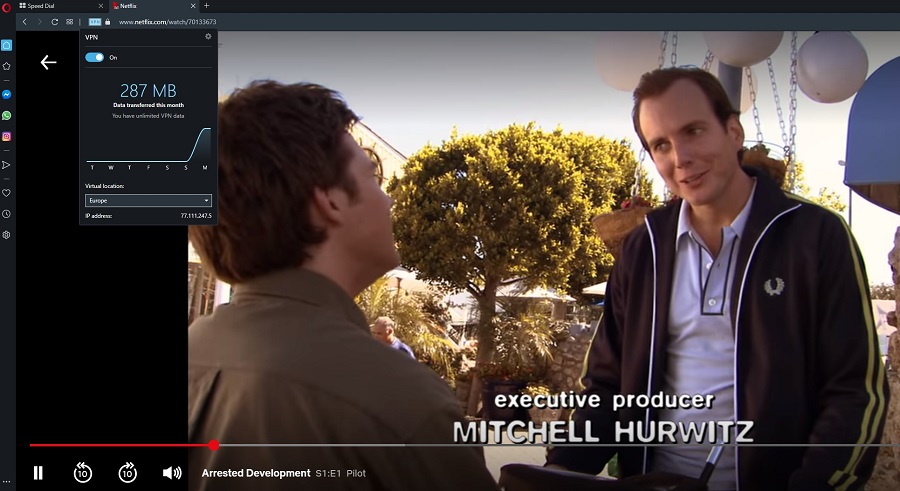 And we sure did, because we unblocked Netflix NL. Then, when we switched to an American server, we couldn't unblock it at all. So, if you want to unblock Netflix US, Opera can't do it, but at least, Netflix NL work, if that rings any bells.
Next up, we have Hulu, and surprisingly, the provider unblocked Hulu easily!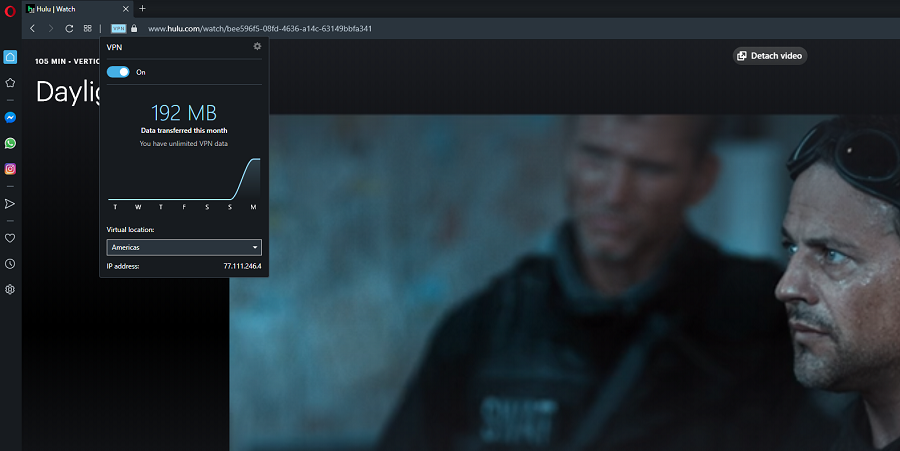 We're not lying, you can see it in the screenshot above. That's, for us, pretty damn odd! Nevertheless, let's check other platforms – HBO GO first:

The funny thing is that not many providers unblock Hulu but ever provider, more or less, unblocks HBO GO. This time, Opera VPN can't unblock HBO GO, but it unblocks Hulu. Next, we tested Disney+: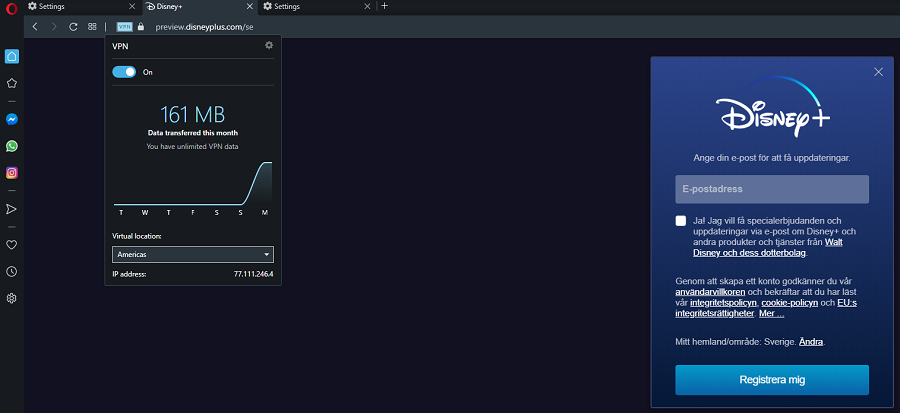 Despite using an American server, we accessed what it seems to be a Swedish version of Disney+. So, you can't exactly say that it unblocked the site properly. As expected, DAZN also didn't work: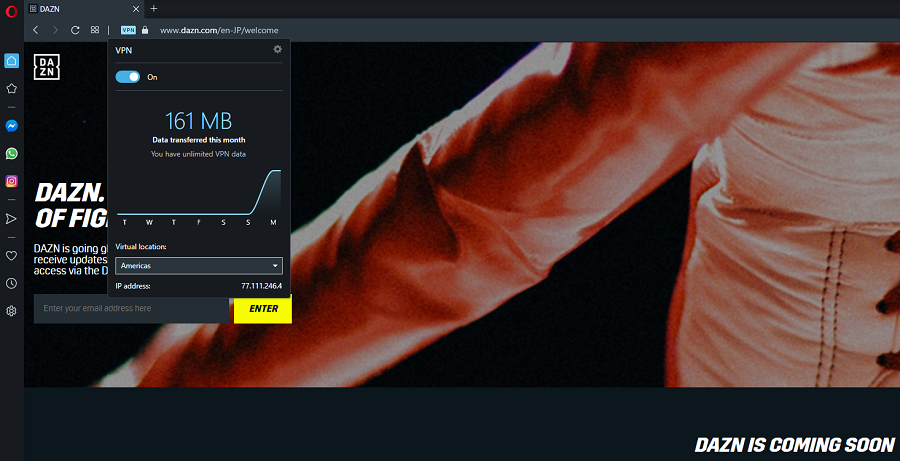 And of course, BBC iPlayer is also a no-go: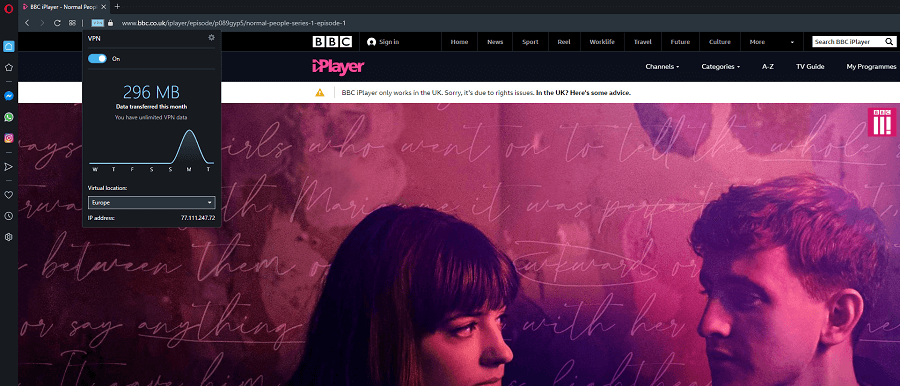 While Opera VPN did surprise us when it unblocked Hulu, other streaming platforms simply won't work, or won't work as intended. Even if you manage to unblock some of them, you can expect lackluster streaming speeds that will make the streaming a chore, rather than enjoyment.
In short, the provider is bad for streaming, despite unblocking Hulu and Netflix NL.
Confidentiality, Security & Logs
Web browsers are rarely, if ever private. Using Chrome or Mozilla and expecting them to have a zero-log policy is plain stupid. Here, that's not an exception. The Norwegian jurisdiction helps a lot when it comes to privacy and security, but here, it doesn't seem to make any difference. Here's why: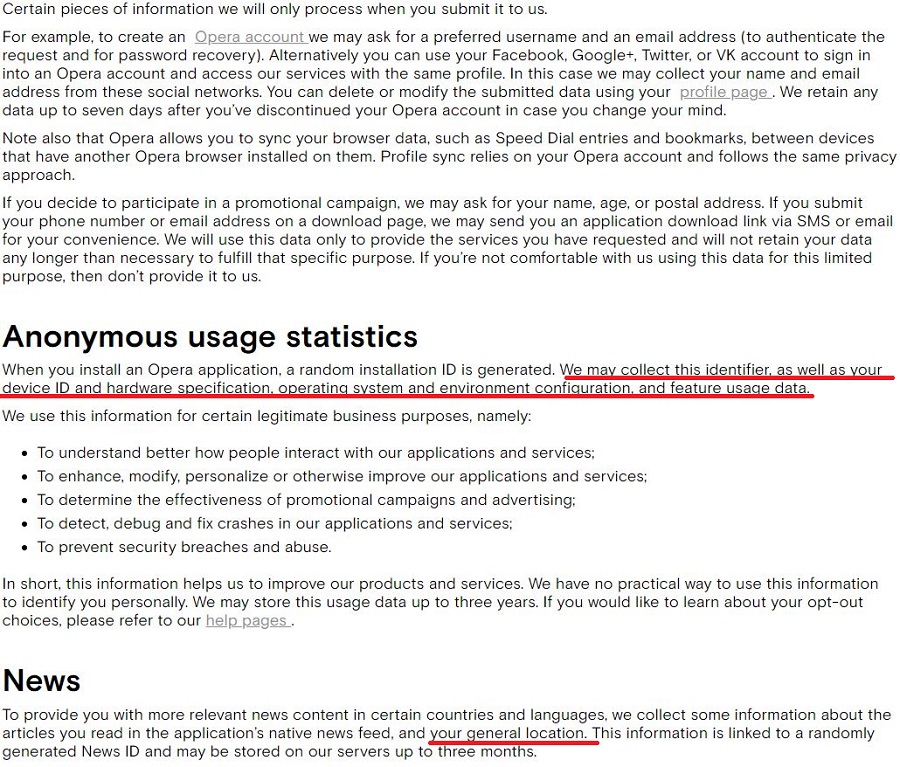 We pointed out the few most important things from the privacy policy. You can see that it stores your device ID, hardware specification, environment configuration, OS, general location, and so forth. That's not all – there's more!

What if your Opera browser crashes? Well, they'll have to collect a bunch of data to repair it. Once again, your OS, some memory data, IP Address, and so forth. Did you think that was all? No, it isn't, we've yet to put an icing on this disgusting cake:

Although we already discarded Opera VPN because it practically stores every bit of information, this is an instant turn-off. You can see that your data "may be" transferred to other countries, for whatever reason, and despite claiming that they protect it, that's unacceptable for us.
Protection is one thing and transferring data all around the world is another. Your data could now be accessible for people in the USA, Japan, Sweden, or whatever country they're working with. Before wrapping up this section of our Opera VPN review, let's check the IP leak test:

We encountered no IP and DNS leaks, which is at least something good. Oh, and one more thing – this is a proxy, so don't expect encryption here. Whereas VPNs have 256-bit encryption, this one has NONE.
Everything we said leads us to one conclusion – Opera VPN isn't safe and secure, so don't use it. Instead, buy ExpressVPN, as it has a zero-log policy and 256-bit encryption, which represents a far better option.
Can I Do Torrenting Safely With Opera VPN?
Living in the USA or Europe makes it hard to enjoy torrenting and P2P file-sharing in general. In the USA, you can get a DMCA notice, while in Europe, governments impose some hefty fines. For more info on avoiding DMCA when torrenting, check this link https://monkeyprivacy.com/avoid-dmca-torrenting/.
Now, will Opera VPN allow for torrenting? Of course not! It works only in the browser, making it impossible to use with a client such as BitTorrent or Vuze, for instance. As we said, look at this as a proxy server and not a Virtual Private Network service.
Can I Use Opera VPN to Bypass Censorship?
In this day and age, censorship is a pretty popular method of forbidding online content to a country or a certain group of people. Censored countries like Russia, China, and the UAE don't have enough online freedom, so they can't access certain sites, depending on the country.
Logically, bypassing censorship is pretty complex and Opera VPN can't do it. It's a free provider, so it's not meant for it. We tested it in China, too, and the Great Firewall of China immediately blocks it. So, if you're in a censored country, don't use Opera VPN.
Our recommendations for this situation are either ExpressVPN or NordVPN with its obfuscated servers.
Pricing and Plan Options
Being a free provider, you won't have to pay anything for it. A few years ago, Opera VPN was a standalone provider, split from the browser, so it would make more sense for it to be premium. However, being only a small part of the browser, the company doesn't offer a premium version of it.
And the truth be told, even if offered a premium version, we doubt it would even be worth purchasing.
How Can I Contact Opera VPN?
One thing we didn't like about Opera VPN during our review and test is support. Sure, you can contact them using a simple contact form, but the issue is that they're not responsive.
At least, filling out this contact form is easy and you don't have to enter a whole bunch of info. In our experience, it took a whole day for the support team to answer, which is unacceptable, especially if this is your only means of contact.
The Special Functionalities
Being a proxy service instead of a Virtual Private Network, Opera can't come up with many special features like split tunneling, special protocols, and so forth. There's only one special feature there and essentially, it's a useful one: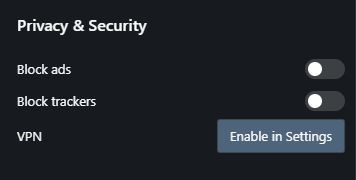 As you can see, it's an ad-blocker accompanied by the ability to block trackers. The good thing is that it works well, but we found that AdBlock Plus for Chrome works significantly better, so it's not exactly very special.
We appreciate the effort from Opera VPN and those who use it will be generally pleased with the feature. Of course, if they're not very demanding, as we are.
Other Things You Should Know
Let's talk about a few more things we didn't mention in this review of Opera VPN:
Number of Servers
The provider has a very small server network. "How small?" – you may ask. Well, here's your answer: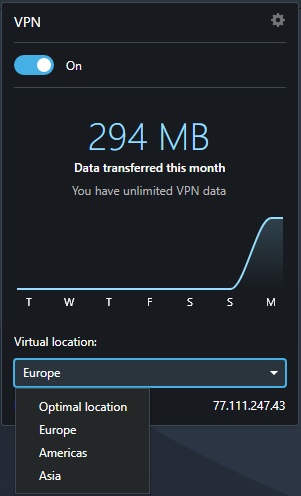 It has servers in Europe, America, and Asia. Interestingly, reviewers online mention different server numbers, so it's hard to pinpoint how many servers are there, given that Opera itself doesn't talk about it. In our approximation, it's not higher than 10.
We managed to connect only to the Netherlands, France, and the USA, despite choosing Asia on one occasion.
Number of Countries
The number of countries is also vague here. But, given that we constantly get connected to the same servers over and over again, it's also not higher than 10.
Number of Simultaneous Connections
As for the simultaneous connections, Opera VPN allows for an unlimited number. You just need to install the Opera browser on the device and you can use it, even without signing up.
What Do Other Users Say About Opera VPN
Before wrapping up our review, let's see what users have to say about Opera VPN. We'll start with Reddit:
This user says something that confirms our speed test. He says that it's very slow, mentioning the 90s. Furthermore, he says that it's unusable for anything except browsing text and image, and claims that they sell your data anonymized, which can definitely be the case, as they share it with other countries.
Now, let's check the Google Play Store:

Long story short, this user complains about the browser being unreliable and buggy. Albeit, he gave it two stars, which could imply that he was probably satisfied at some point. Now, we usually go over to the Apple Store but since Opera Touch Web Browser doesn't include a VPN, we'll move to Trustpilot:

This is a short review from the user that claims that it doesn't load the pages properly in 80% of the cases. Which, if you're using this proxy, could very well be the case.
Conclusion: Should You Take It?
People will now say "well, it's a free provider, what could it possibly cost you to use it?" Apart from compromising privacy and security, nothing more. You see, it's not all about money here. If you're going to use something, at least know what you're using.
And since Opera VPN masks its PROXY service in a VPN's clothing, it's clear that this is a shady business tactic. Plus, you don't get tunneling and encryption, leaving yourself exposed to the prying eyes of your ISP or the government.
Apart from unblocking Hulu, Netflix NL, and being free, we couldn't find anything that was likable about this provider. So, the conclusion of our review is clear – you should not get Opera VPN.
Our suggestion is ExpressVPN, as it's the best provider on the market.