The land down under offers a great deal. It is home to some of the most stunning beaches, natural scenery and landmarks. However, one thing that it does not have is access to TV channels from the United Kingdom as they are blocked.  This might leave you disappointed if after a busy day of sightseeing, you want to chill out and catch up on your favourite shows. Luckily, there is a trick to unblock and watch British TV in Australia and we are going to reveal it.
The secret to being able to access British Television abroad is to use a VPN, aka Virtual Private Network. This method works with all streaming channels, including ITV Hub, BBC iPlayer, 5 On Demand and many more.
Are you wondering what is exactly a VPN? We provide you with all the answers you need and more, so read on.
How does a VPN help you to access UK TV?
Unblocking TV channels from the United Kingdom is not the only benefit of a VPN, but it is among the many benefits.
Blocks are put into place outside of the United Kingdom due to copyright laws. TV channels do not want people outside of the country streaming content, as the content is not licensed for showing in other countries.
The streaming service knows where you are located due to your IP address, as all countries have a specific range. If it shows as being outside of the country geo-restrictions apply. This means instead of being able to stream content you see a message telling you it is not available in your country.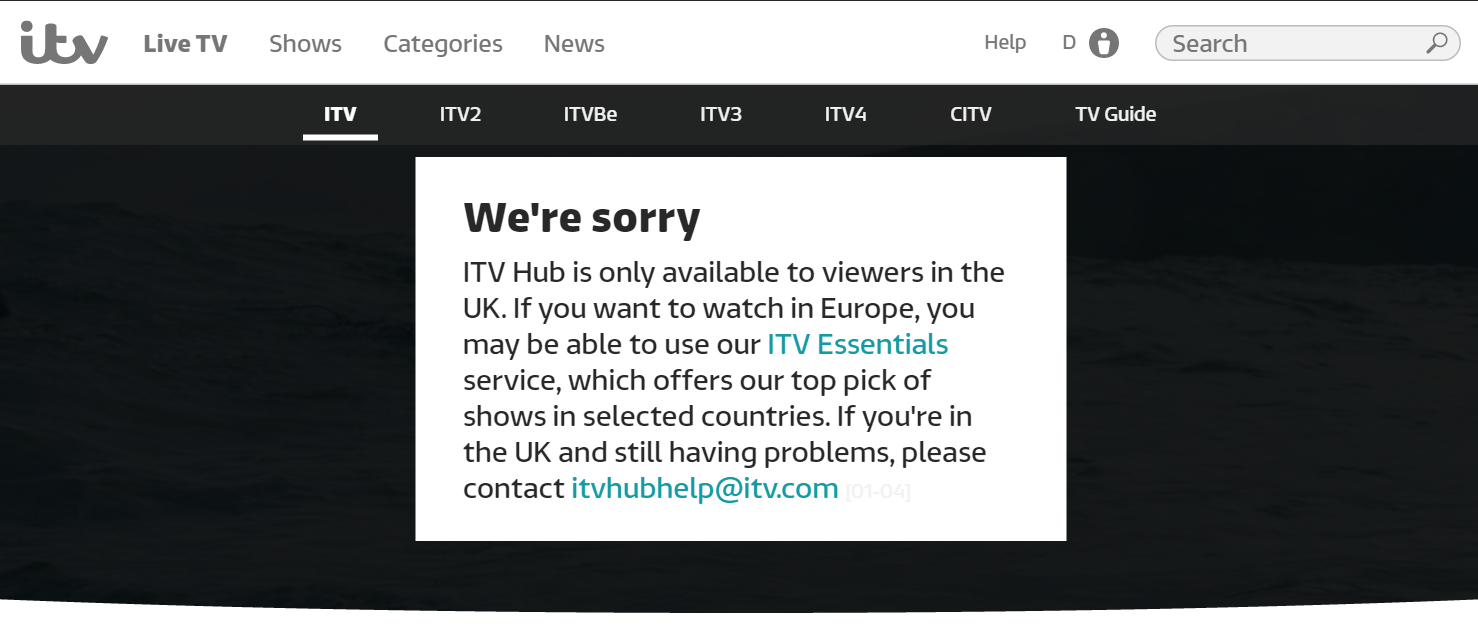 A VPN helps you to get around restrictions to watch free British Television online. It makes it possible as it masks your Australian IP address and provides you with one from the United Kingdom.
By doing so, it fools the streaming service, such as BBC iPlayer, ITV Hub, My5 or 40D into thinking you are located in the United Kingdom.
Steps required to unblock and watch British TV in Australia
We are making it easy for you as we are now going to explain the trick to unblock and watch British TV step-by-step.
Step One – Pick a VPN provider
The first step to view TV from the UK while in Australia is to pick a Virtual Private Network.
Not all VPNs can overcome geo-restrictions, so with this in mind we highly recommend ExpressVPN, NordVPN or CyberGhost.
So, choose your provider and a plan to suit your needs.
Premium provider ExpressVPN offers three plans with different payment choices. However, the best deal is on a one-year plan. This plan offers 49% savings when you sign up for the year, and to sweeten the deal it also offers an additional three-months.
Step Three – Choose and install apps
Providers offer standalone apps for a wide choice of devices that you can use to get access to Television from Britain.
For instance, you can use a Windows PC or laptop; use it on Mac computers, Android and iOS to stream any of your favourite British TV channels in Australia.
Providers do not limit the amount of apps you can install, so go ahead and download any that you need. Interestingly, providers also allow you to use simultaneous connections up to a limit. This means other family members can use the same plan.
Once downloaded, go through the setup process to install the app on your device.
Step Four – Launch the app and pick a server
The app is where all the magic happens to change your IP address and establish an encrypted tunnel.
Using the app is easy. After you have installed it, simply find the icon left by the installation and click on it to open up the dashboard.
While other settings are available in the main app, it is the dashboard you are going to be using the most as this is where you choose a server.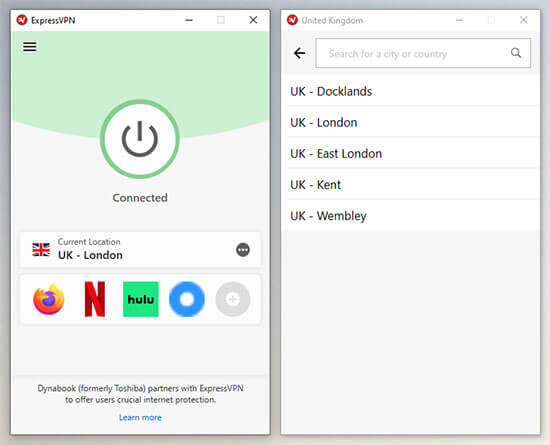 The dashboard from above is the one offered by ExpressVPN but other providers should offer something similar.
Using it choose a server in the United Kingdom and click on "connect" to make a connection.
Step Five – Browse UK content and stream
Finally, you should be able to visit your favourite streaming service. This includes ITV Hub or BBC iPlayer, that you will be able to watch.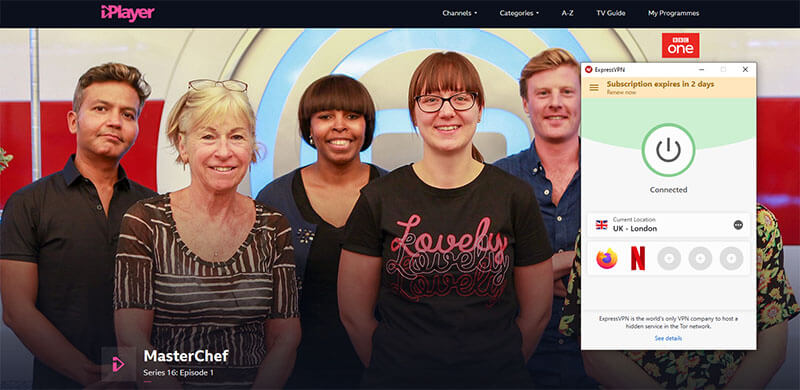 Additional benefits of a VPN
You now know the trick to unblock and watch British TV in Australia using a Virtual Private Network. However, a plan offers many additional benefits.
Remain anonymous
Thanks to the change of IP address and AES 256-bit encryption, you can remain anonymous when browsing the internet.
No one will be able to find your true location or read information, including hackers, cyber criminals and even your own ISP.
Security
The VPN provides you with security as no one can see what you do online. The encrypted tunnel ensures no one can read the information you send over the internet.
This includes such as usernames, passwords, banking information or even websites you want to visit.
Stream UK, USA Netflix and more
Along with being able to stream some of the most popular UK TV channels while abroad, you can also access UK and USA Netflix and more.
Stream UK TV abroad with ExpressVPN >
Of course, you can also use a VPN in order to watch Australian TV while remaining anonymous and secure and enjoying all the other benefits offered.
Torrent without the ISP finding out
If you like to torrent, a VPN comes in very handy. Thanks to the encryption, you can stop the ISP from finding out what you are downloading.
In summary
As you might have seen, you can use the VPN trick to unblock and watch British TV in Australia along with enjoying many more benefits.
ExpressVPN is our choice of provider but you could also consider NordVPN or CyberGhost.
Sign up with a provider, download an app, sign in, choose a server in the United Kingdom and you can get access to any UK streaming services.