VPN Unlimited isn't a very popular option on the market. It's greatly overshadowed by the likes of ExpressVPN and NordVPN, and given how good these options are, the provider doesn't have many chances to show its performance. However, we decided to give him a chance today and see what are its benefits and shortcomings. This is an in-depth review of VPN Unlimited, so stay tuned to see if it's worth your cash and time.
What is VPN Unlimited?
As its name implies, VPN Unlimited is a provider that seemingly gives you its services… well, in unlimited amounts. Sure enough, you'll get unlimited bandwidth and lots of features that we've come to expect from such a service but there's one caveat – it's from the United States. Furthermore, it's owned by KeepSolid, a company that is allegedly all about safety and security online.
Later in the review of VPN Unlimited, we'll see that it isn't exactly like that. The 14 Eyes jurisdiction takes a full swing here and those who know about it, also know that it's all but great news for the provider. Nevertheless, we've yet to see if this provider performs like a true champ or not.
Below is our comprehensive review of this provider, so don't be afraid – scroll down and see how good it is! By the way, if you use the button below, you'll get some discounts in case you decide to buy it.
Compatible Devices and Ease of Use
The first thing is, like always, device compatibility and ease of use. This is very important for a Virtual Private Network because this software is meant to be simple, yet effective. But, before we do that, let's see what devices the provider supports.

As seen in the image above, these are some rich offerings. We have Windows, macOS, Linux, iOS, Android, and even Windows Phones… does anyone even use them in 2021?! Furthermore, there are browser extensions for Chrome, Firefox, Opera, and Edge, as well as a plethora of streaming platforms, such as Kodi, Roku, Apple TV, and so forth.
You see everything in the image, so we don't need to paraphrase it. In short, device compatibility is more than sublime. Which is a good start to this VPN Unlimited review and test!
Computers
Let's see how good VPN Unlimited behaves on a computer. It supports all the major platforms, Windows, Linux, and macOS, and as we always do, we'll test Windows to see how easy it is to install and use.
After getting a subscription, the provider offers you to download apps. Download one for the Windows platform, open the setup file, and you'll see this screen: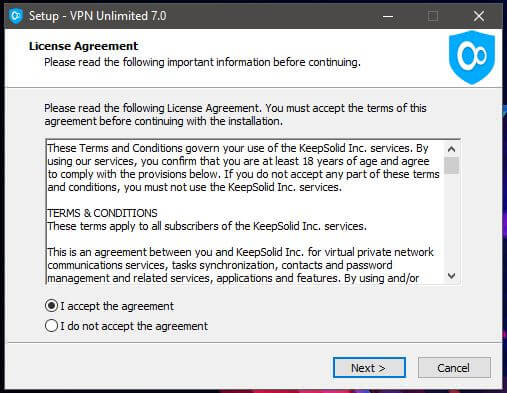 Accept the agreement, choose where to install it, and so forth. The app will begin installing: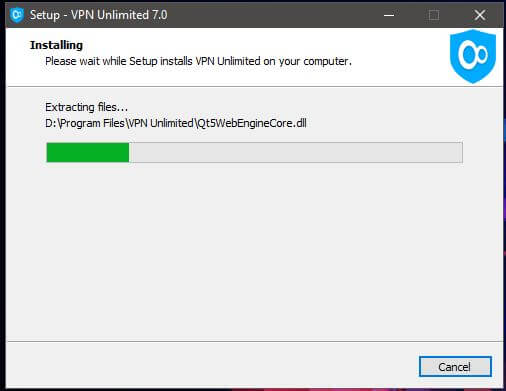 Before installation, the app gave us the warning to disable antivirus in case it prevents the VPN from installing. We've never seen that before and it's definitely a suspicious warning. Nevertheless, we installed the app and ran it: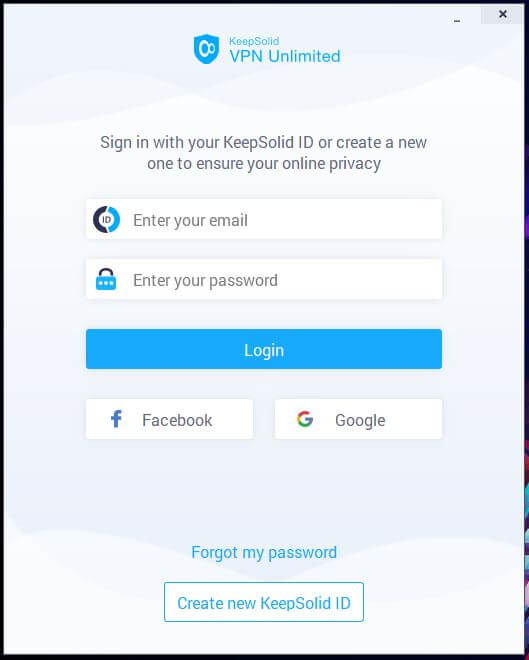 As you can see, VPN Unlimited lets you sign in with your Google or Facebook account. How does this make you anonymous? Well… it doesn't! We already have an account, so we just typed in our credentials and arrived at the home screen: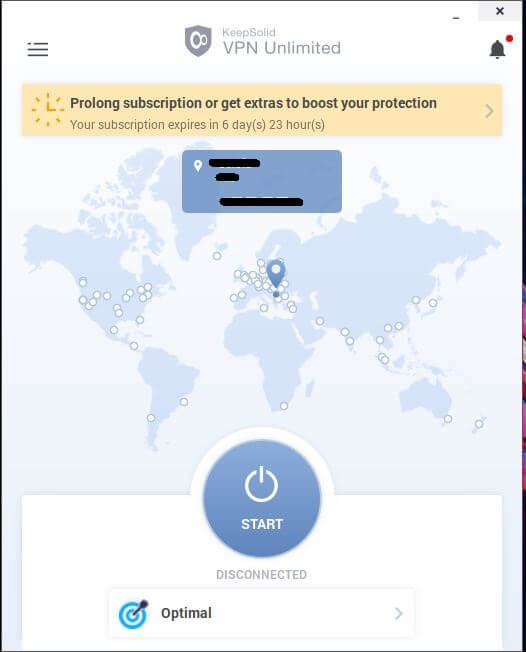 You can use the Optimal option to automatically establish a connection. Alternatively, you can open the server list on the arrow pointing to the right: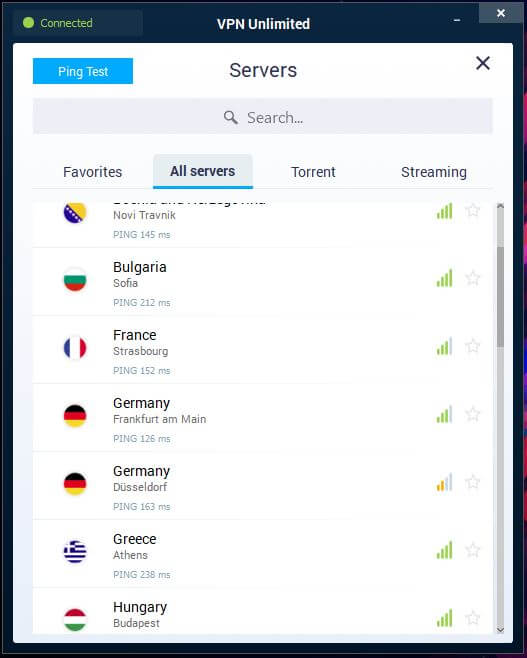 Choose the server you want from a very small server network and the connection will be established in a few seconds: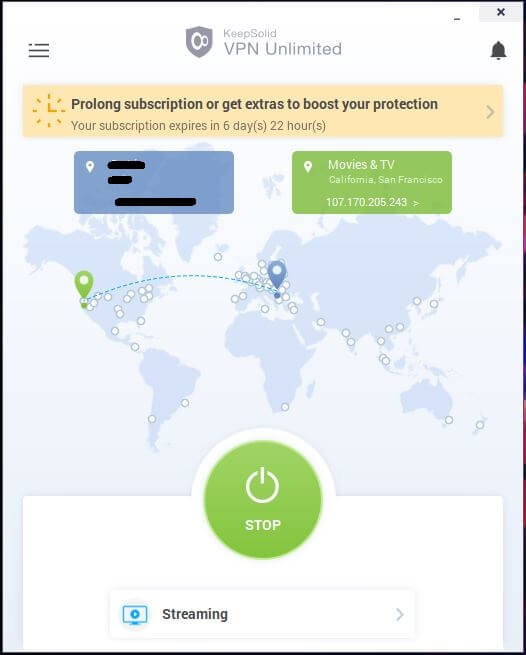 This is how VPN Unlimited looks. So, all in all, the app is easy to use, it's easy to install, and doesn't have any bugs and glitches.
Smartphones and Tablets
Now, what about smartphones and tablets? As you saw before in our review, it supports Android, iOS, and Windows Phones. We'll use our Android device to test it out and see how easy it is to use on this platform. The first step is to download the app from the Google Play Store, as shown in image 1.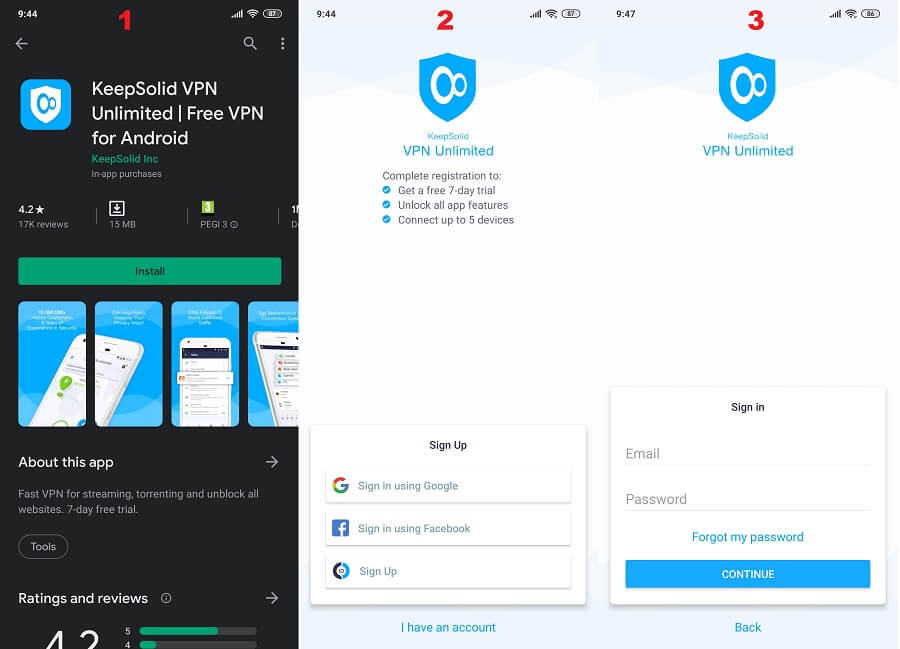 Run the app and you'll get the screen in image 2. Again, you can use your Google or Facebook account to sign in but since we already have an account, we tapped Sign Up. Image 3 shows a login screen, where you need to type in your credentials and tap Continue.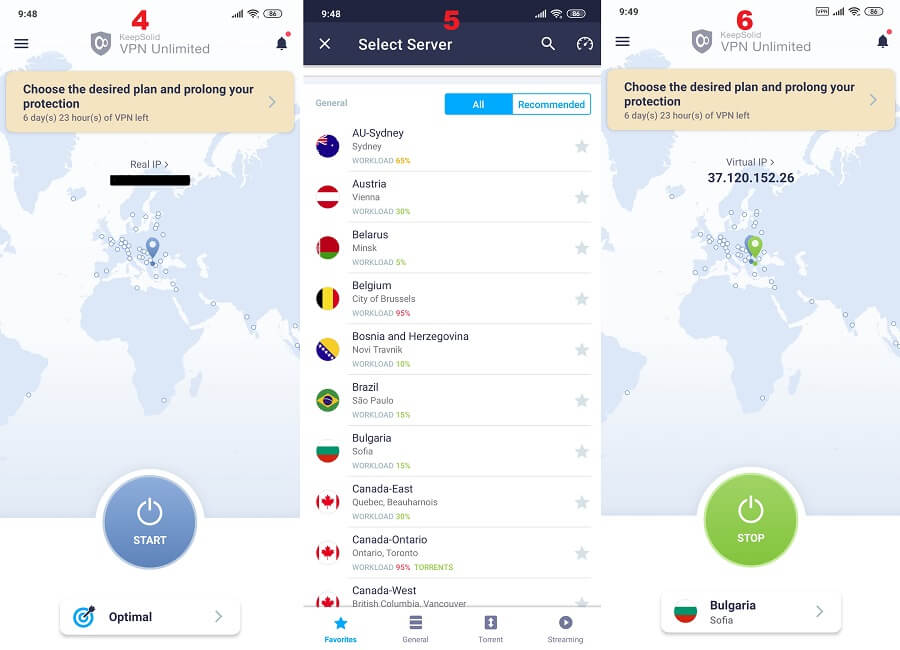 In image 4, we can see that the app looks, more or less, like the one on the computer. To open the server list, click on the arrow pointing to the right, next to Optimal, and it'll appear, as shown in image 5. Choose the server you want, tap once on it, and the connection will be established, which you can see in image 6.
Is it the best VPN to use on your Android device? Probably not. Is it very easy to use? Sure. What we said for the PC version also applies here – easy, intuitive, and responsive.
Other Devices
Smartphones and computers aren't the only devices that support VPN Unlimited. There are other devices such as routers, Roku, Apple TV, Amazon Fire Stick, and so forth. The provider supports routers, which is a huge plus.

Given that it can protect up to 16 or 32 devices in your home, that's definitely a nice addition. Needless to say, every device that connects to it is protected. This means that you can protect your gaming consoles, smart TV, and other devices in your home.
If you're interested in a full roster of supported devices, scroll back up in our review, where we mentioned the device compatibility. It's quite an extensive one, making VPN Unlimited a versatile provider in this regard.
How Fast is VPN Unlimited? We Checked Its Speed!
Ladies and gents, this is our speed test of VPN Unlimited. Are you excited? You should be! Only the best providers on the market managed to impress us with the speeds, which tells us how important this is. But, we need to mention that every provider will decrease your internet speed to some extent.
The difference between 10% and 80% reduction is a huge one. In the first case, you'll get great performance, whereas in the second case, you'll get a lackluster browsing experience. Where does this provider stand? We've got to see that yet.
Speeds depend on factors such as the quality of the network, server load, level of encryption, and so forth. That's why it's important to see how we did our tests.
We did 3 tests in the morning, 3 in the mid-day, and 3 in the evening, for 3 different locations. We kept the best score and used the best location when the option was available.
Our physical location is in the USA (non-VPN test) and we used these 3 testing locations:
The United States
The United Kingdom
Australia
Without using a VPN, our internet speeds are:
Ping: 11 ms
Download Speed: 211.88 Mb/s
Upload Speed: 202.20 Mb/s
Now, when using VPN Unlimited for this review, our ping, download, and upload speeds respectively, for 3 testing locations, were:
US Server: 54 ms / 155.39 Mb/ps / 98.27 Mbps

UK Server: 115 ms / 84.10 Mbps / 42.94 Mbps

Australian Server: 352 ms / 25.84 Mbps / 36.75 Mbps

The provider definitely has slower speeds but it's not the worst we've seen. It's faster than VeePN but when compared to top providers, it's turtle-like. For instance, we had decent speeds in the USA and they were enough for streaming Netflix.
While the UK server showed unsatisfactory results, the Australian server was even worse. With our speeds reduced a couple of times and ping of 352 ms, browsing and streaming were all but enjoyable. To conclude, VPN Unlimited has slow but serviceable speeds.
How Good is VPN Unlimited for Streaming?
Let's see if this provider is really unlimited as it claims. Since it's from the USA, we expect it to at least unblock Netflix. Thankfully, it did. Netflix US worked flawlessly, as well as a few more Netflix catalogs, such as the UK and Australian catalogs.
As much as it is a very popular platform, some people still prefer other streaming platforms, which is why we conduct an in-depth test. Let's start this part of our review of VPN Unlimited with HBO GO: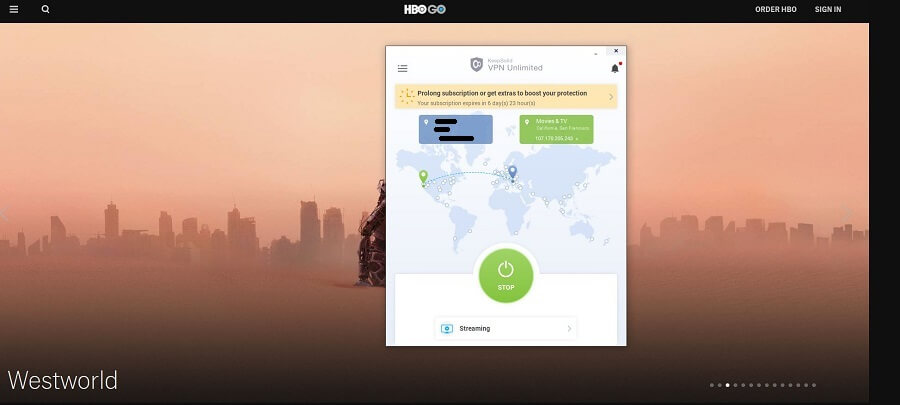 HBO GO worked decently with this provider. Since HBO GO is easy to unblock, let's test more complex platforms, such as Disney+:
Surprisingly, Disney+ worked. When we got to the login screen, there wasn't an annoying unlimited loading screen. So far, so good! Let's check DAZN now: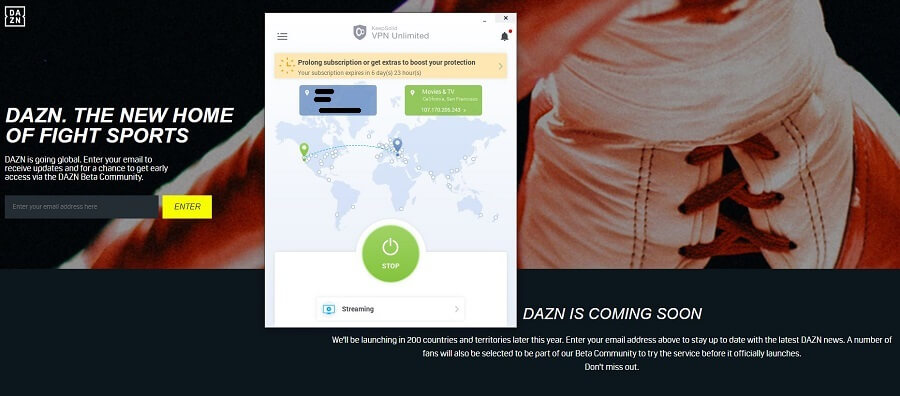 DAZN didn't work, despite using the dedicated streaming server. Finally, we have to check BBC iPlayer: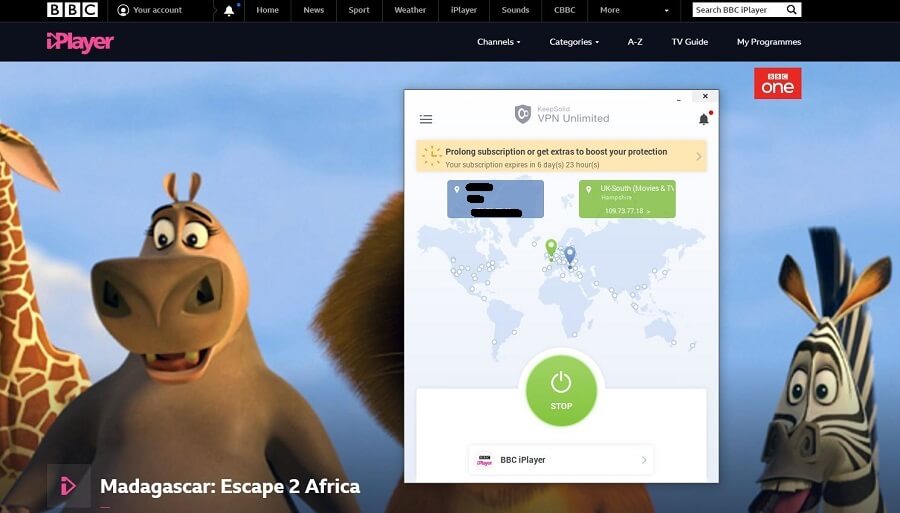 BBC iPlayer worked during our test, which is a bit of a surprise.
So, let's digress. VPN Unlimited unblocked Netflix, HBO GO, Disney+, and BBC iPlayer, while it couldn't unblock DAZN. It also unblocks Hulu and Amazon Prime Video, which is great news. While speeds are not that great, they're serviceable for HD streaming, making the provider a good, albeit not the best option for streaming.
Confidentiality, Security & Logs
Our safety and security test is of the utmost importance since we're very rigorous and harsh. Many providers passed it with flying colors but on the other side, many of them also got an instant discard immediately after it.
If you're keen on buying VPN Unlimited, we recommend you to read this section of our 2021 review CAREFULLY. Let's go into the provider's privacy policy and see what's up: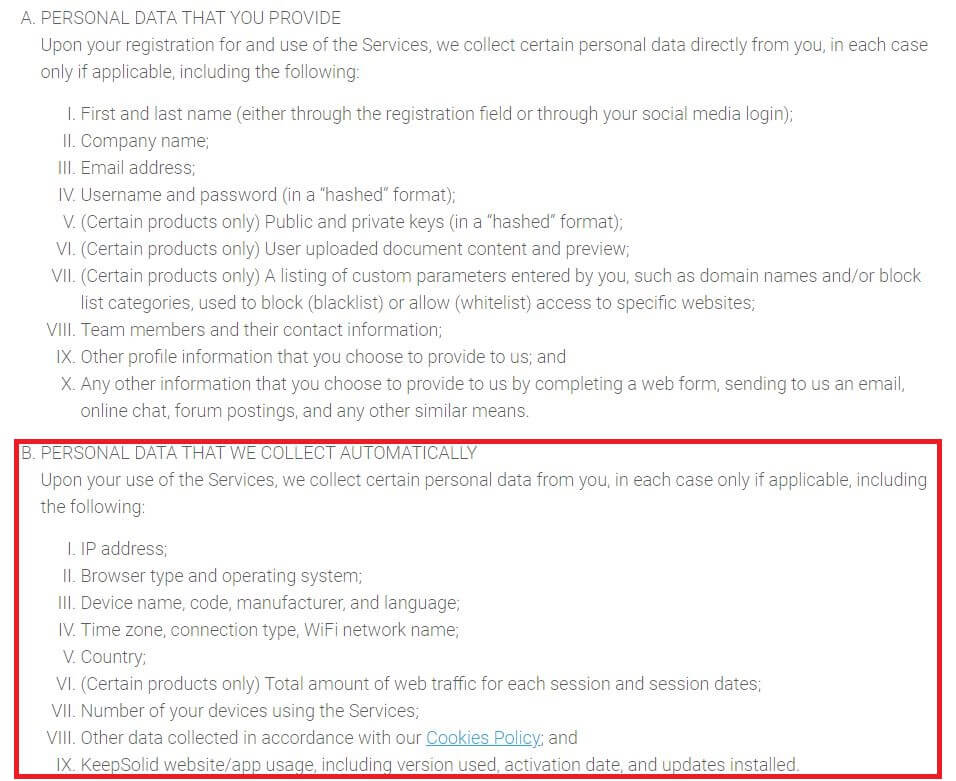 Here's the first part of the policy. The upper portion isn't very interesting. They collect your name, company name, email address, and all of the required info to make your account. However, the bottom portion is where things start to go in a different direction.
This is the personal data that they automatically collect. It contains your IP address, browser type and operating system, device name, time zone, country, amount of traffic for each session, and so forth. What caught our attention is that they collect your Wi-Fi network name. Are you guys crazy?! That's already too much for comfort. But, let's proceed.

Take a look at the highlighted part of the text. They NEED to share your personal data with their affiliates and third-party service providers – another huge minus! And then, they say this:

As you can see, they boldly claim that they don't share your data with third parties or monitor your internet activities? VPN Unlimited, how do you explain everything else you wrote in your privacy policy so far, huh?
We hate lying more than anything else and when you try to do that to your loyal user base, you're just pathetic. We must admit – we expected some logging here and there, given the 14 Eyes jurisdiction but this caught us off guard. You're literally better off without a VPN than with this one – it's almost the same in terms of privacy and anonymity!
Let's do the IP leak test, at least: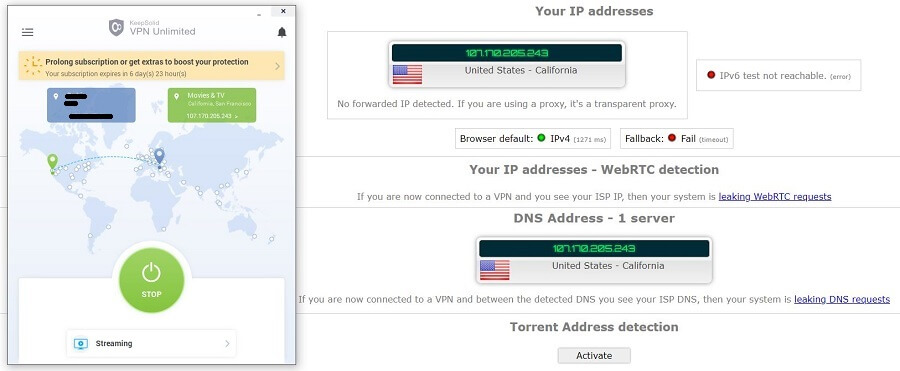 The IP leak test shows no IP and DNS leaks – thank God! VPN Unlimited also has 256-bit encryption, OpenVPN support, and in terms of security, it's really a great provider. However, if you came here expecting to remain 100% anonymous online, that's not gonna happen.
Remember what we said in the beginning of this review? VPN Unlimited lets you sign in with your Google and Facebook accounts, which is already a giveaway.
We can comfortably conclude our review here for those who don't want to read anymore. With all this logging, your privacy will easily be put in jeopardy and because of that, we do not recommend buying VPN Unlimited.
Stay away from this provider at all costs!
Can I Do Torrenting Safely With VPN Unlimited?
If you're still here, you're in for another treat. Ready? Okay. This provider is sort of a partner with DMCA from the United States, a company that works on preventing copyright infringements and punishes those who do it.
That's already som bad news, which we quickly confirmed:

They even have a full DMCA policy on the site and this is how it begins. Simply put, they'll do everything to prevent you from violating copyright, so if you're torrenting a lot, don't expect them to go easy on you.

This is a part of their Fair Use policy that says the same. They forbid violating copyright, which in other words means that they forbid torrenting, too. We didn't dare to try downloading anything using BitTorrent, not even royalty-free stuff.
Getting a DMCA notice isn't what we like and VPN Unlimited didn't pass our test regarding torrenting purposes. All things considered, this provider doesn't allow torrenting.
Can I Use VPN Unlimited to Bypass Censorship?
If you live in China or Russia, your primary concern is if the provider you just bought can bypass harsh censorship in these countries. The Great Firewall of China remains a NO.1 threat to VPNs on the market and very few of them can really bypass it every time. Here's what the provider's support has to say regarding that problem:

Basically, they mention that there are technical limitations set by the Chinese government, so they provide only 6 regions for Chinese users. They also recommend using KeepSolid Wise protocols to bypass censorship, which is the company's proprietary protocol.
So, does the provider work in China? Yes and no. This protocol, although providing maximum security, isn't always a viable option for this country. Some users reported that it works, while some struggle to set it up.
We can't say it won't bypass censorship but as it stands, it's definitely not the best option. ExpressVPN, on the other hand, is, so get it if you're from China.
Pricing and Plan Options
In terms of pricing, VPN Unlimited offers tons of plans that come with different prices:

At the top, you can see that this pricing is applied to 5 devices e.g. 5 simultaneous connections. Starting from the left, we have a monthly plan at $9.99 a month, which isn't very expensive. Next, we have an annual plan at $5 a month and there's also a 3-year plan at $2.78 a month. The annual plan is $59.99 yearly, while the 3-year one is $99.99 every 3 years.
Finally, there's a lifetime plan that costs $199.99, which we don't recommend. What about 10 devices? Well, you can get it, albeit for a higher price:

You see the prices in the image above and they're all but cheap. A monthly plan of $14.99 is simply pointless to buy, as well as an annual plan at $7.50, especially since you can get ExpressVPN for $6.67. The 3-year plan is $4.17 a month, which is very, very expensive for the quality of service you get here.
If you want a provider that offers up to 7 simultaneous connections and costs a bit less than this one, go for CyberGhost. It costs $2.75 or a 3-year plan and even gives you 2 months free! Alternatively, Surfshark is a really good option at $1.99 for a 2-year plan.
Aside from these plans, the provider offers a 7-day free trial, with no credit card needed.
Those who are still going to buy it can expect these payment options: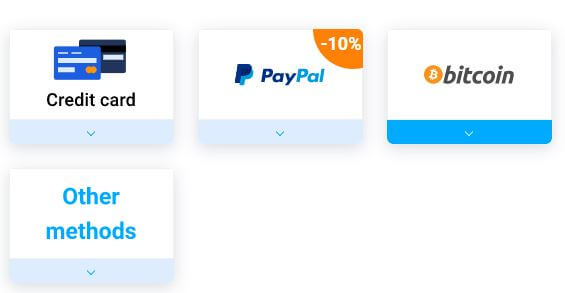 Bitcoin is here but it won't help you stay anonymous. In case you want a refund, there's a 7-day money-back period which we couldn't find anywhere on the website – not even in their policies! We contacted support during our in-depth review and got this answer: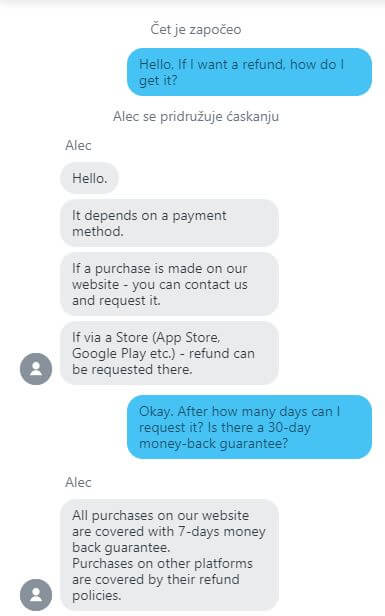 Alec explained everything we needed to know, so for us, the customer support experience was decent. Speaking of that, let's see what are the contact methods offered by VPN Unlimited.
How Can I Contact VPN Unlimited?
The provider offers a couple of contact methods, including the live chat, which is definitely appreciated.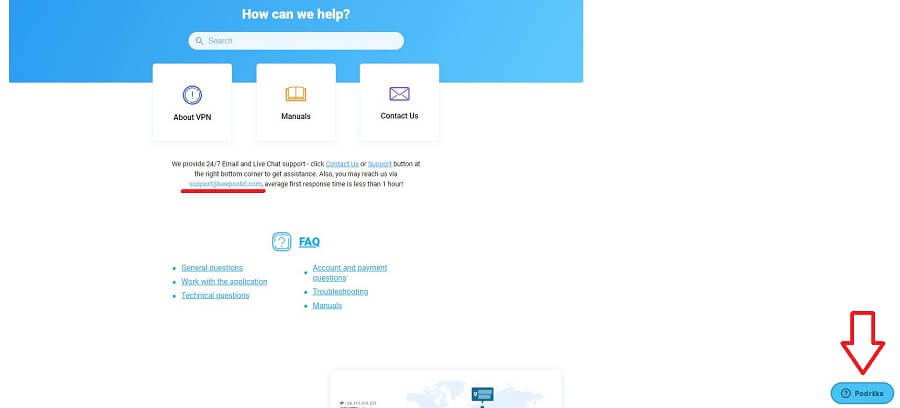 As you can see, aside from the live chat, they also offer a support email, which you can use if your issues aren't urgent. Of course, there's the FAQ section which sports some of the frequently asked questions.
The Special Functionalities
A Virtual Private Network isn't complete without some decent special functionalities. Let's see what VPN Unlimited has to offer in this compartment:
Dedicated Servers
The provider, much like CyberGhost, offers dedicated servers for streaming and torrenting.

Although there are servers for torrenting, we don't recommend using them because of the issues we mentioned above. As for streaming servers, the provider offers a galore of them. You get servers for Hulu, Netflix, BBC iPlayer, Disney+, Hotstar, and so forth.
WireGuard and KeepSolid Wise Protocols
VPN Unlimited has two special protocol designed to keep you safe and secure online: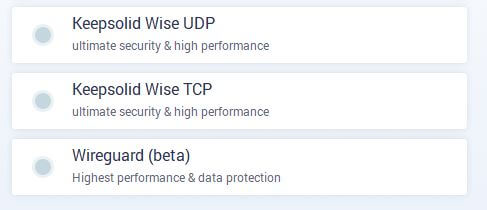 There's KeepSolid Wise UDP and TCP, and it's as a proprietary protocol for maximum security and performance. Although they recommend it for bypassing the Great Firewall of China, we don't think that its primary purpose is to bypass DPI.
Furthermore, there's WireGuard, which is still in Beta. We saw it in Mullvad but since it's a relatively new protocol, not many providers use it. It's here to boost your connection speed up to 5 times and deliver impeccable security.
DNS Firewall
DNS Firewall serves as a malware-blocker.

It's here to keep you safe from malicious websites and surprisingly, works decently.
Other Things You Should Know
Let's talk about other things you should know about VPN Unlimited.
Number of Servers
The provider is with us since 2013 and with its 7 years of existence, it didn't manage to amass a whole lot of servers under its governorship. As we speak, they have 400+ servers worldwide:

For the price they ask, that's very little to work with, making it even less worth your money.
Number of Countries
There are 80 locations around the globe to choose from, which is okay considering the server number. When you look at the server list in the app, it doesn't look like they offer 80 locations, though. You'll quickly get to the bottom of it, making us question this statement.
Number of Simultaneous Connections
We mention this above but let's do it again. You can buy a subscription plan that has 5 or 10 simultaneous connections, so that's the number you can expect. It's not much and for the price, we expected much more.
What Do Other Users Say About VPN Unlimited?
Before we wrap it up, let's see what other users have to say about this provider, starting with Reddit:

This user detected some unwanted software using Malwarebytes, which is rather peculiar. We tested it and found nothing. Long story short, he deleted the app because of the spying habits this provider has. Let's check the Apple Store for more feedbacks and reviews about VPN Unlimited: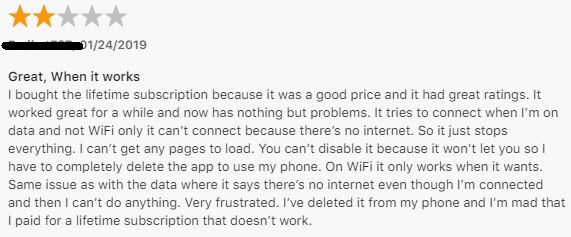 The iOS/macOS user complains about the bad usability of the app. In his words, it's good when it works but most of the time, it doesn't work. The app is buggy and the user has severe connection problems, even worse, he bought a lifetime subscription. That's why we said that we don't recommend this type of subscription.
Now, let's glance over to the Google Play Store: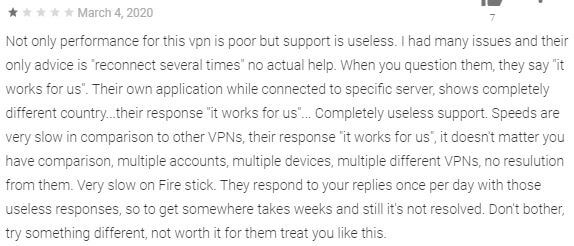 Another infuriated user. This time, he complains about slow speeds and useless support. Interestingly, when connected to a server in a particular country, it shows a completely different one, in his words.
The user proceeds by saying that it's a lot slower than other VPNs, especially when using it on Fire Stick. Obviously, he ends the review by recommending any other provider and not VPN Unlimited. Finally, let's see what users on Trustpilot have to say: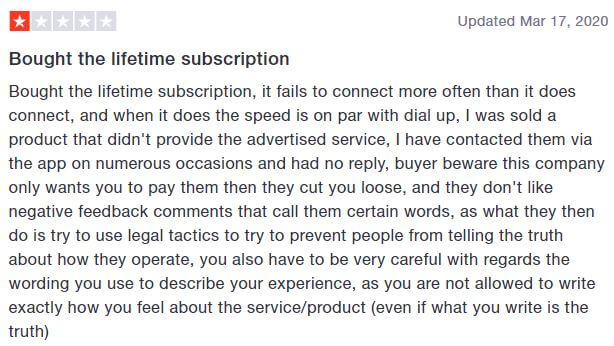 The Trustpilot user complains, more or less, about the same issues as the previous users. Slow speeds, unstable connections, and bad customer support. He also mentions that they don't allow you to tell the truth about your experience, which implies that they censor the users who aren't satisfied with the service.
Conclusion: Should You Take It?
No, you shouldn't buy VPN Unlimited.
The reasons for that are quite obvious but there's one main reason – the lack of a no-log policy. Given how much information they store about you, you're all but anonymous when using this VPN. Even worse, they share your info with third parties, further jeopardizing your online identity.
Not to mention that they don't allow P2P, don't work reliably in China, have hefty prices, and a small server network. Once again, avoid this provider at all costs and instead, buy ExpressVPN. It currently offers a 49% discount and 3 months free for a 12-month plan, making it the best offer on the market.