With the plethora of VPNs offering their services, choosing a worthy one is not an easy thing to do. In this article, we will be going through what is good and what is bad about the Bulgarian-based VPNArea. Also, we will check some great and relevant alternatives to VPNArea. Let's get right to it!
What is VPNArea?
VPNArea is a service that was developed back in 2012 by Offshore Security EOOD. As the parent company is situated in Bulgaria, we are quite confident that it is where the VPN's jurisdiction is set as well.
Frankly, while not as popular as alternatives like ExpressVPN, NordVPN, CyberGhost, or Surfshark, VPNArea does have a couple of great features.
What you are looking at is industry-standard encryption that comes in the form of 256-bit AES. Along with that, a set of instruments that should ensure there is no leakage risk such as Anti-DNS leak are included. This means that VPNArea is pretty good security wise, so you can rest assured.
Not only that, but you also get a kill switch feature that should protect your real IP address. Additionally, you can set an Auto IP Changer to ensure optimal protection. How does this work?
Well, the algorithm will be changing your IP address every couple of hours, and thus make it much harder for the ISP operators to keep a record. Also, VPNArea is quite easy to use and does feature a reliable customer service.
From this point of view, it does look like the aforementioned VPN is one you can completely trust. However, there is a couple of twists to this which is why we will present to you some great alternatives to VPNArea later on.
Downsides of VPNArea
Seemingly, VPNArea does offer exquisite performance both when it comes to the security aspect, as well as the ability to bypass geo-restrictions.
Still, after a couple of test sessions, we did find that it severely lacks in a couple of aspects. Let's take a look.
Slow Servers
One of the main issues that we have with this service is the fact that it is incredibly slow. While any kind of encryption and tunneling will affect your internet connection, certain providers such as ExpressVPN (which is for us the best alternative to VPNArea in 2021) can ensure good speeds.
However, this is not the case with VPNArea. Given the fact that this provider does cover more than just the US, we did our best to be as objective as possible and test servers at different continents.
First and foremost, we connected to the London location. Keep in mind that our benchmark download speed was set at 100 Mbps and upload at 50 Mbps. The fact that both were decreased by 80% is quite staggering.
We tried streaming and playing a couple of online games with this connection only to find it is completely unusable. This was also due to the huge ping spike that was set at 180 ms.
As we are located in the US, we did expect better results for the American servers. We were not that satisfied in this aspect, either. The download speed dropped to 35 Mbps while our upload was at 15 Mbps.
Last but not least, we connected to a Hong Kong server with the idea of bypassing the censored content in China. The results we got were quite dramatic, with the download speed dropping by 90% and upload by 80%. Also, the ping was at a high 300ms.
Below Average Server Park
You will want a VPN provider to feature more than a few hundred locations for a couple of reasons. First and foremost, global coverage will allow you to do much more than streaming your favorite TV shows in the US and Europe.
Also, the more servers there are, the less there is a chance of one getting overcrowded. It is for this reason that we think 230 servers in 70 countries that VPNArea offers is not ideal.
This is pretty low compared to what better alternatives like NordVPN and CyberGhost have to offer – over 5000+ servers throughout all known continents (except Antarctica).
Not Ideal for Torrenting
While VPNArea doesn't put a restriction on this activity, we didn't find that it offers optimal performance for it either. Additionally, it is not compatible with TOR which can increase overall protection.
As we have mentioned above, the servers are quite slow, and in some cases, unstable (Asia, some US locations). This increases the risk of DMCA sanctions and is the reason why you should look at a better alternative to VPNArea for P2P transferring.
Our Favorite Alternatives to VPNArea
We did our best to discuss VPNArea service, highlighting both its pros and cons. Yes, it may be good when it comes to the security features, but not the best for bypassing censorship.
Here are a few great alternatives that will offer you reliable and stress-free performance.
1) ExpressVPN
ExpressVPN stands as THE BEST alternative to VPNArea, given its big server park of over 3,000 servers and fantastic speed. This will be beneficial if you like to play video games.
One of the main reasons why we consider it to be a leading provider is because ExpressVPN unblocks content in China. The ability to bypass the Great Chinese Firewall is not common for most VPNs.
This is due to the reliable Hong Kong server that it offers. Additionally, you will not have to worry about the reliability of the internet connection. In fact, the highest drop that we experienced was set at around 25 to 35%.
Lastly, this provider offers a no-log policy, a set of tunneling protocols, and great customer service to handle any possible issue.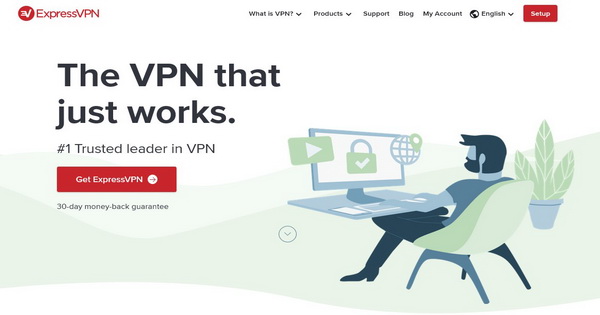 Why choose ExpressVPN over VPNArea?
ExpressVPN is considered to be premium mostly for its ability to keep your internet connection quite fast. The most important thing is that you stay anonymous and that there is no leak or malware risk during your browsing activity.
Why is ExpressVPN better than VPNArea?
You are sure to enjoy the faster overall performance, and it runs almost perfectly with any given device. Additionally, the overall usability of their service is user-friendly. Plus, you shouldn't have any issues related to installation or server choice.
Get a subscription at ExpressVPN.com >
2) NordVPN
Chances are, you will read about NordVPN in almost any article that is related to internet privacy and anonymous browsing. It has been around for quite some time and has stood as a leader since the beginning.
The first highlight of this service is its global coverage that offers 5,500 servers in more than 50 countries. Considering this, you can be sure that NordVPN will allow you to unblock content all across the world.
One of the main reasons NordVPN is so successful and one of the best alternative to VPNArea is because this VPN can unblock over 150 streaming sites without any issue. This includes Netflix, Hulu, Amazon Prime, BBC iPlayer, as well as several other popular names.
Keep in mind that you can benefit from UEFA CL streams for free by subscribing to this provider. Also, there is nothing to worry about in terms of privacy or security, given their no-log policy and great encryption (256-bit AES).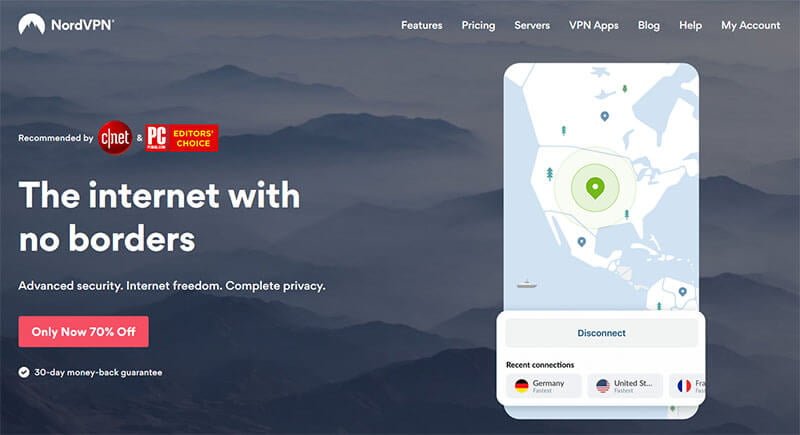 Why choose NordVPN over VPNArea?
The main reason is because of its exceptional ability to unblock content. We did a couple of tests and found that it works in the US, South America, Canada, Europe, Asia, the Middle East, and Australia with no issues whatsoever.
Not only this but, like VPNArea, NordVPN is based outside of the 5-Eyes alliance. With its headquarters set in Panama, you have absolutely nothing to worry about.
Why is NordVPN better than VPNArea?
Apart from the reasons mentioned above related to unblocking ability and jurisdiction, NordVPN also comes at a great price.
Looking at a couple of options offered, we found that $3.49 per month (for its 3-year plan) is quite affordable considering what you are getting!
Get a subscription at NordVPN.com >
CyberGhost
This article presenting you the best alternatives to VPNArea wouldn't be any good if we forgot to mention CyberGhost. This is the VPN that is considered not only to be the most affordable but also most user-friendly on the market.
It is based in Romania and features more than 6,000 different servers, which means it has one of the largest server parks out of all VPN options.
CyberGhost is known for its ability to unblock sites all across the globe, whether we are talking about bank accounts or streaming platforms.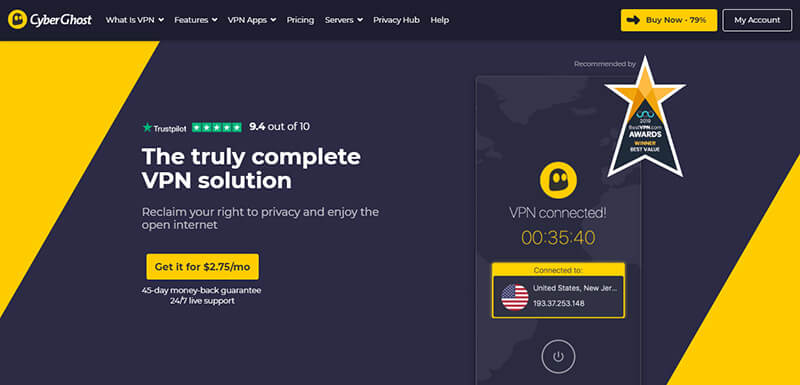 Why choose CyberGhost over VPNArea?
First and foremost, it comes at a great price and offers a free trial. Not only that, but the refund policy that is for the subscription options of six months and above is 45 days, which is much more than VPNArea which only offers 7 days).
While not as fast as ExpressVPN, it is still highlighted by reliable device compatibility and stable connectivity.
Get a subscription at CyberGhost.com >
The Best Free Alternative to VPNArea
NordVPN and CyberGhost are quite affordable compared to most other options. Still, we do understand that there is a number of you not being able to pay a subscription fee whatsoever.
For this purpose, we want to highlight Windscribe as one of the most reliable free alternative to VPNArea out there.
Windscribe
While we will leave its paid plan for some other time, Windscribe does offer a fair, free subscription option. While limited by a 10GB data transfer per month as well as 14 server locations, you can still enjoy anonymous browsing and even reliable unblocking ability.
We did find that Windscribe does quite well when it comes to accessing Netflix and ensuring reliable torrenting. It also features a reliable customer service, that can settle any connection issue within hours.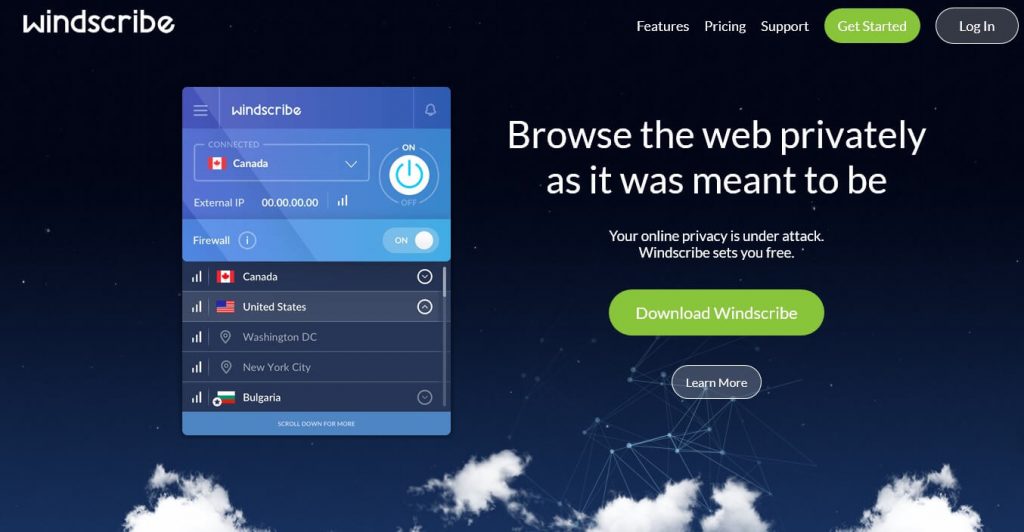 Why choose Windscribe over VPNArea?
You are going to get almost the same performance in terms of bypassing ability and speed, while not having to pay a single dollar. Isn't that a proof that it is a great free alternative to VPNArea?
Why is Windscibe better than VPNArea?
We can say with confidence that the ability of this VPN to unblock Hulu, BBC iPlayer, and Amazon Prime is more effective than with VPNArea!
Wrap Up
Would we recommend VPNArea? Not really. Yes, it does offer reliable protection and good security features, but that is about it.
When it comes to global coverage or good speeds, VPNArea can't really be proud. On the other hand, alternatives such as ExpressVPN, NordVPN, and CyberGhost are all trustworthy VPNs that you will not regret!