Sky Go is a popular online TV service that is available to customers of Sky. It allows those who have an account to download an app in order to watch their favourite shows on laptops and smartphones. This is fine while in the United Kingdom but venture abroad and you cannot access your account. This brings about the question of how to unblock and watch Sky Go outside the UK and we have the solution.
The Sky Go app can be downloaded via the Google PlayStore or iOS App store. However, in order to be able to use it outside the United Kingdom you need a VPN. Here we are going to look into how you can use a Virtual Private Network to get around the geo-restrictions that apply when abroad.
Why you can't access your Sky Go account abroad?
If you travel outside of the EU, you cannot use your account from the UK as geo-restrictions apply. This is usually down to copyright or licensing restrictions in other countries.
This means when you open the app and try to watch something you find yourself met with an error message telling you Sky Go is not available.
The app, streaming services and ISPs know your location based on the IP address that you use to connect to the internet. To get around this you can use a VPN.
How a VPN beats geo-restrictions?
By using a VPN, you can fool Sky Go into thinking you are still in the United Kingdom even though you might be many thousands of miles away.
This is possible as you can mask your IP address and get one from the UK by connecting to a server located in the country.
Below are the steps required for you to be able to get access to not only your favourite content on Sky, as you can use this trick for any British TV Channels. This includes content on BBC iPlayer, ITV Hub, 5OD, All 4 and many more.
Get a British IP address with ExpressVPN >
How to unblock and watch Sky Go outside the UK?
To get around the blocks and watch Sky Go abroad simply follow the information below and you will be able to stream wherever you are in the world.
1. Get a plan with a VPN provider
The first thing you need to do is get a plan with a provider. Three of the best are ExpressVPN, NordVPN and CyberGhost.
All three providers have what is needed for you to be able to beat geo-restrictions. The providers offer servers based in the United Kingdom and they are reliable. The servers offered by ExpressVPN are the best as they are blazing-fast which makes it a perfect choice for streaming in HD.
ExpressVPN offers a yearly plan that comes with three-months free and savings of 49%. Alternative plans are a pay month-by-month and a six-month one, but neither come with the huge savings offered by the yearly-plan.
So, choose your plan, then go ahead and sign up.
2. Choose the apps to download to devices
The next step is to decide which apps you need to download. Sky Go is available for Android and iOS devices such as smartphones and tablets. VPN apps are also available for these devices.
However, you can use a Virtual Private Network for more than just streaming. It also comes in handy for security, anonymity and more, when using your computer or laptop on Windows and iOS.
Therefore, you might want to download and install apps on these devices too. Providers also offer router installation for devices such as games consoles and SmartTVs.
So, download apps and install them, then move to the next step to mask your IP address.
3. Mask your IP address
The final step is to launch the app on your device by clicking on the icon left by the installation. This launches the dashboard, which is where you will choose a server in the United Kingdom.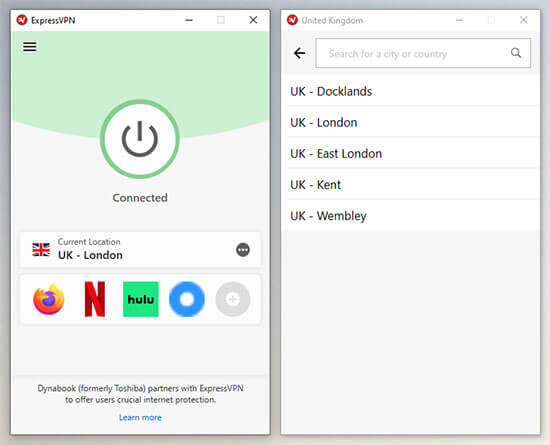 By choosing a server from the country and connecting to it, you mask your current IP from the country you are located in and fool the streaming service into thinking you are in the UK. This means you avoid the error message and can stream your favourite content on Sky GO,even if you are abroad.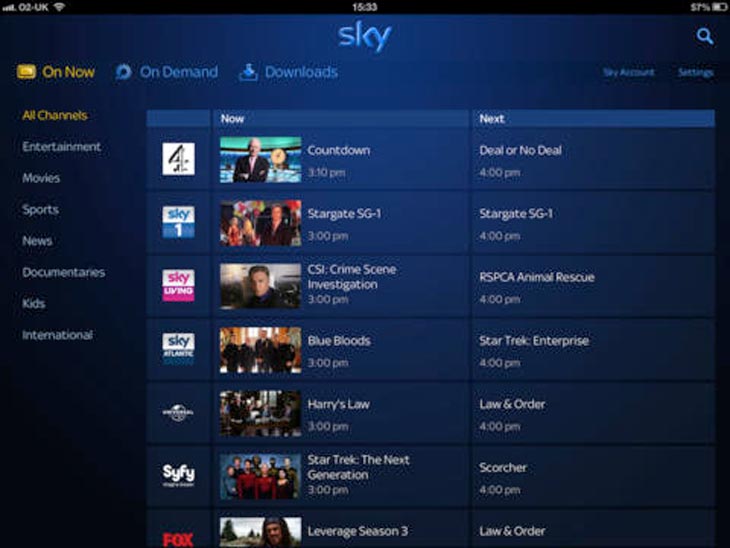 Security, anonymity, savings and more
A Virtual Private Network is the solution when wondering how to unblock and watch Sky Go outside the UK but it is by no means the only use.
Your VPN offers you security and safety when browsing the internet whether abroad or at home. This means no one can find out your true location. Nor can anyone gain access to your personal information as you are behind an encrypted tunnel.
The encrypted tunnel and change of IP address also ensures that you remain anonymous online.
Remain anonymous with ExpressVPN >
It comes in handy if you like to torrent using P2P file sharing. With the encrypted tunnel and change of IP address, youe ISP will not find out what you download.
Finally, you can mask your own IP and take one on from a region with a lower cost of living than your own. This helps when using a comparison website to get the best savings on hotel rooms, flights and car hire.