Lebanon is a multicultural country in the Middle West known for its diverse content online. Although it's not strict like other countries from the Middle West, you can still expect a mild lack of internet freedom. As always, a Virtual Private Network is here to help you fix potential issues. Because of that, we are going to give you a couple of good VPN that you could use in Lebanon. Whether you're a Lebanese resident or planning a vacation there, we suggest you stay with us.
Why You Should Use a VPN in Lebanon?
If you're planning to make the best out of your time in this country, securing your internet connection should be among the top priorities. Here's why it's a good idea to use this kind of service here:
Bypassing Censorship
The freedom of speech in this country is a double-edged sword. While the government allegedly gives you freedom, you can get arrested for saying something you shouldn't. If you're talking bad about the government, religion or military online, your ISP will not hesitate to report you to the officials.
Furthermore, the country regularly blocks sites that violate copyrights, escort services, gambling, porn, and LGBT sites. This can include some torrent sites, as well as popular porn sites like PornHub, RedTube, XNXX, and so forth.
Sure, the punishments here aren't very harsh but why risk it? Preserving your privacy and freedom of speech should be your priority when going online. Thankfully, this service will encrypt your connection, making it impossible for your ISP and the government to track you.
Avoiding ISP Throttling
Those who came here expecting neck-breaking internet speeds will be disappointed. Lebanon has a very poor internet infrastructure, resulting in slow speeds and unstable connections. However, Internet Service Providers also play a huge role, as we managed to dig out.
For some reason, they slow down the internet, making it hard to enjoy mundane activities, like streaming, for instance. So, if you try to access Lebanese Netflix, chances are that you'll encounter ISP throttling when you initiate the stream.

The same applies to sports on DAZN or any other streaming site. Speaking of sports, the F1 season is about to start in a few days, so you might want to check this article on how to stream it for free: https://monkeyprivacy.com/f1-streaming/.
Accessing Geo-Restricted Sites
Since we mentioned Netflix, it's important to talk about geo-restrictions here. Lebanese Netflix is nothing compared to the US version. And if you want to access Hulu, HBO Go or BBC iPlayer, you must be from the USA or the UK respectively.
For that purpose, you can use a VPN in Lebanon to change your online location and access the sites as if you were from the respective country.
What if you're abroad and want to access local Lebanese content? No worries, you can also do that with this service. In the next section, you'll see which providers are the best.
Best VPNs with Servers in Lebanon
Fans of LBC, TL or MTV will like to have access to these platforms even from abroad. A Virtual Private Network lets you do that but only if it has servers located in this country. Unfortunately, not many providers have their servers here.
HideMyAss, a provider from the UK, has 2 servers in Beirut. We don't know if these are physical servers but as it stands, they are great for accessing local content effortlessly. Beware that this isn't our favorite provider, so use it strictly for this purpose.
Best VPNs for Lebanon
If you live in Lebanon and don't travel abroad a lot, you might want a VPN that doesn't necessarily have servers in your homeland. Here are the best VPN choices for Lebanon in 2021:
1. ExpressVPN

As many of you know, ExpressVPN is the best provider on the market. Of course, if you're a perfectionist, you'll immediately go for this one since it's very fast and offers rock-solid security. It even has an extension for Google Chrome and supports routers, so you can protect up to 16 or 32 devices in your home.
Security-wise, ExpressVPN comes with a transparent zero-log policy that's one of the best in the business.
Aside from that, you get 256-bit AES encryption, kill switch, and DNS and IP leak protection. There's even split tunneling, allowing you to route certain parts of traffic through your VPN IP and through your native IP.
For our Lebanese readers, ExpressVPN made sure to deliver on its promises, which are, by the way, very high. If you want to use the best provider on the market, you can get it for a 49% discount on an annual plan, including 3 months free and 30-day money-back period.
Get ExpressVPN at a Discount >
2. NordVPN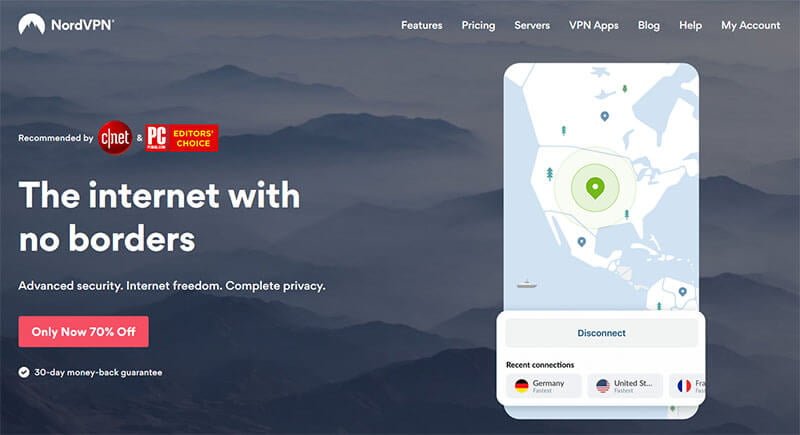 NordVPN is praised a lot on Reddit and it isn't without a reason. This provider racked up 5,600+ servers in 61 countries worldwide, making it among the largest in the game. It's a cheap provider that doesn't cut any corners, even when talking about speed.
Sure, it's a bit slower than ExpressVPN but that's still very fast. Those who need to bypass censorship or watch Netflix will be happy that NordVPN can do both. And if you're a security maniac, know that this provider will keep you tucked in like a baby.
You even get Tor Over VPN for using it with Tor, and also a no-log policy, which plays an important role. There's CyberSec, an effective ad-blocked, and finally, Double VPN, for even stronger security. With its 24/7 customer support and some big discounts, NordVPN is a force to be reckoned with!
3. CyberGhost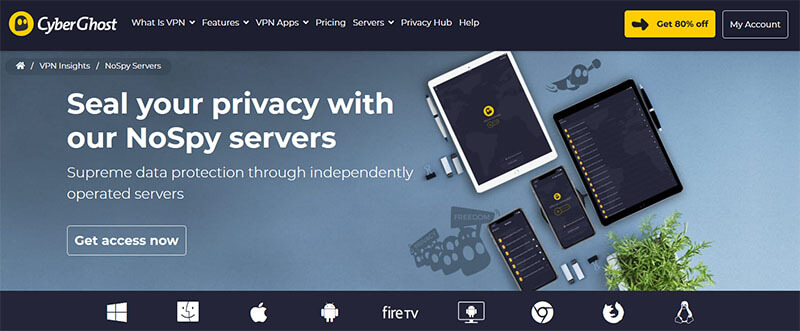 Saving some cash on the side is a good idea and CyberGhost is here to make that possible. This cheap, yet relentless provider is here to give you an experience of your life. It's among the very top providers that offer some great features, such as dedicated servers.
These servers are for torrenting or streaming, greatly enhancing your experience when performing one of these activities. Furthermore, you get 6,200+ servers in 91 countries, marking the company as the largest one on the Virtual Private Network market.
Since it's from Romania, you can expect tight security. A no-log policy, kill switch, 256-bit encryption, and DNS and IP leak protection are some of the security features. Of course, there's OpenVPN, IKeV2, and other security protocols.
Its 3-year plan is dead cheap at the moment, so if you need a long-term solution, consider CyberGhost among your top choices.
Why You Should Avoid Free VPNs?
Free VPNs are a good deal at first. You pay 0 dollars and you save money. If it was like that, premium providers would probably bankrupt at some point. But, free VPN providers are very limited,whether you are in Lebanon or elsewhere! You get slow speeds, limited bandwidth, and the lack of some crucial security features.
One of these is a no-log policy, which allows the providers to store some important info about you. They can later sell this info to third parties, leaving your privacy in jeopardy. We suggest not to play this game because you're never gonna win, trust us 😉
Instead, avoid free providers and buy a premium one for all your needs.
Summary
So, can you enjoy your internet freedom in the Middle East somehow? Sure, in Lebanon, you can! If you couple in a VPN, you'll see how easy it is to unblock all the blocked stuff on the internet. We suggest ExpressVPN for this country if you don't want any compromises.
It is not the cheapest solution but quality costs. Otherwise, you can get NordVPN, which costs less but is an inferior service.