If you enjoy streaming popular TV shows and movies, you know what Netflix is all about. This is the largest database of movies and shows that millions of users worldwide enjoy. But, did you know that this platform isn't equally priced? The price heavily depends on the region you're in, and thankfully, you can get it for a much cheaper price wherever you are. Let's see how to do this in our comprehensive guide.
Which Country Has the Cheapest Netflix Subscription?
As we speak, this streaming platform is available in pretty much every country in the world, except for China and a few other countries. The trick is that not every country pays equally for the subscription. For example, European users pay in Euros, while US users pay in American Dollars.
Since there's conversion rate, European and US users might not pay the same price, depending on the country. Moreover, South-American countries have their own currencies such as Pesos, for instance. Once again, there's the conversion rate for that as well.
We did thorough research and found out that the cheapest Netflix subscription can be found in Argentina. Let's do some math: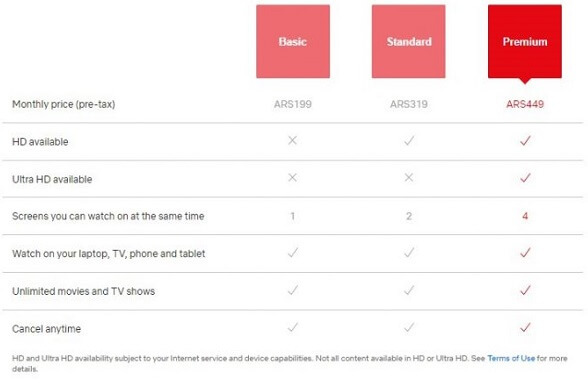 In the image above, we can see the subscriptions and their prices. The prices are in Argentinean Pesos. If you're located in the US, the prices of these subscriptions will be the following:
Basic: $8.99 a month
Standard: $12.99 a month
Premium: $15.99 a month
Now, let's convert the prices from the image above into Dollars, and compare them with the US prices. We'll use the Google Currency Converter:
Basic: $2.80 a month ($6.19 savings per month)
Standard: $4.48 a month ($8.51 savings per month)
Premium: $6.31 a month ($9.68 savings per month)
As you can see, our trick will allow you to save up to ~$10 a month or $120 a year, however you choose to look at it. Basically, if you're from Argentina, you can get a Premium plan for a price lower than the Basic plan in the US. You now know where to look at to get the cheapest Netflix subscription in 2021!
How do I Save Up to $10 a month on My Netflix Subscription?
The question is, now, how can YOU save money on a Netflix subscription. Well, that's a very easy task but only if you follow our in-depth guide below.
1. Subscribe to a VPN that Works With Netflix
If you're not planning a trip to this country, the best thing you can do is get a Virtual Private Network for Argentina. The best choice for this purpose is ExpressVPN, with lots of servers in this country, as well as the ability to unblock this streaming platform.
For those who don't know, a VPN allows you to change your online location and access geo-restricted sites and platforms. While doing so, it encrypts your connection using military-grade encryption, allowing you to browse the web anonymously.
Get ExpressVPN to Save Big Money On Netflix >
2. Get an Argentinean Phone Number
The streaming platform is on the market for much longer than we care to admit. Therefore, Netflix is not going to allow you to save money easily on its subscription. What we mean by that is that once you register, it will require a phone number from the country you're in.
In this case, your virtual location will be Argentina, so it'll require a phone number from this country. The way we recommend tackling this issue is by visiting the website smscodes.io. 
Register there and visit your Dashboard. From there, click Services, and the screen above will appear. In the Service Name field, type Netflix and below, choose the phone number country. The price of the confirmation SMS will be $0.75, which isn't a lot, and you're still in the money-saving area.
Once you do so, the phone number you need to enter will appear. When subscribing, you need to paste it, get a confirmation email, and the account will work. Beware that smscodes.io offers only two payment options – Bitcoin and Neosurf. We recommend Bitcoin since it allows you to deposit as low as $1.
If you use Neosurf, the minimum deposit will be $10. Even in that case, you're saving a lot of money on an annual basis, though.
3. Sign Up for a Netflix Subscription
Now that you got your number, you need to subscribe to Netflix while staying CONNECTED to the Argentinean server from your VPN provider (ExpressVPN in our case).
First, we'll connect to the VPN server. To do so when using ExpressVPN, click on the country underneath the connection button. The server list will open, where you have to click on Argentina and choose the server from that country. Then, use the connection button to establish a connection.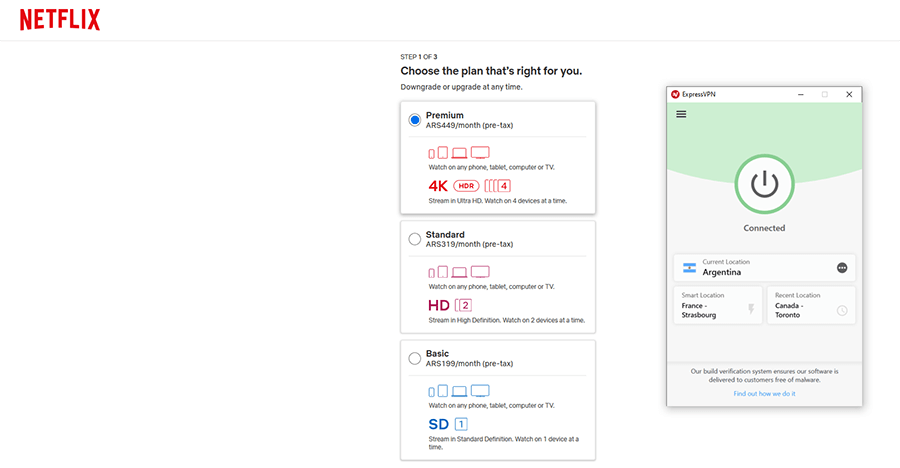 It's time to visit the Netflix website and make an account. That's pretty straightforward so we won't delve deeper into it. Just when the site requires a phone number, enter the one you got from smscodes.io.
4. Enjoy Netflix for the CHEAPEST Price!
Once the subscription is active, you can enjoy this platform from anywhere in the world, even if you're not connected to the Argentinean server. The best thing is that the price will always be the exact same one, without verifying your account further.
What is the Best VPN to Save Money on Netflix?
A VPN is a pretty powerful tool that allows you to enjoy streaming favorite shows and movies abroad, as well as stay anonymous online. The best choice you can get now is ExpressVPN.
There are many reasons why ExpressVPN is characterized as the best. First of all, it has the fastest speeds on the market, vastly out-performing even the top contenders like CyberGhost and NordVPN.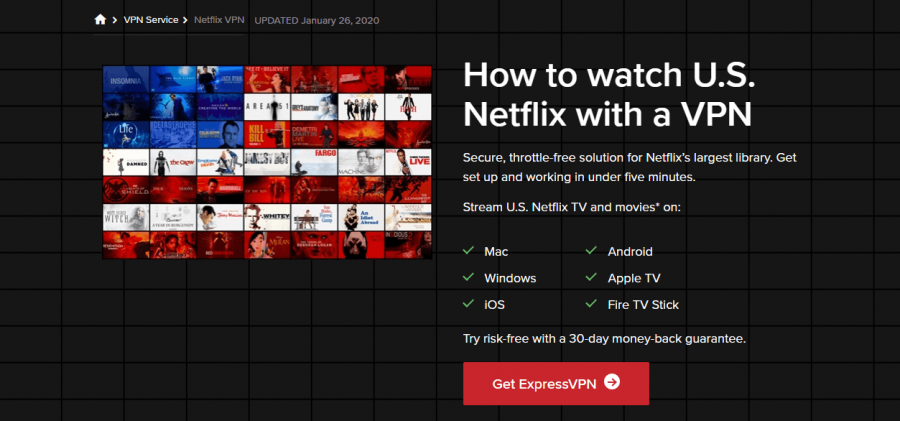 Furthermore, the provider has an external audit for privacy and security, which makes it a trustworthy company. ExpressVPN uses 256-bit AES encryption and an automatic kill switch to make you safe and secure online.
For Netflix and bypassing geo-blocks in general, there's no better provider. You can unblock almost all Netflix catalogs but also platforms like Hulu, HBO GO, DAZN, Disney+, and many more.
Lastly, if you get a Premium subscription on Netflix, it'll be useful to watch movies and shows simultaneously. You get 5 simultaneous connections on the same account and unlimited bandwidth for binge-watching favorite content.
The provider has a 49% discount and 3 months free for a 12-month plan, as well, making it more affordable than ever!
Get Netflix Cheaper With ExpressVPN >
FAQ
Before we wrap things up, let's answer some of the frequently asked questions related to getting a very cheap subscription on Netflix:
? Can I watch non-Argentinean Netflix catalogs with this trick?
Yes, you can. The trick is that you only BUY a cheap subscription to Netflix with an Argentinean IP address. When the subscription is yours, you pay the same price for it each time, no matter what catalog you're accessing or where you're located. And with a VPN like ExpressVPN (which is the best for Netflix), you can easily access all the catalogs around the world (US, UK, Canada, France, Germany, Australia…).
? How much does the cheapest Netflix subscription cost?
With our trick, the cheapest subscription you can get costs just $2.80 a month. When compared to the usual price of $8.99 a month, you can save a lot of money on an annual basis. We recommend the Premium one if you've applied our price-reduction trick. In that case, it'll be just $6.31 a month (instead of $15.99), which is in the realm of affordability for pretty much everyone.
⚠️ Is getting Netflix for a cheaper price legal?
Yes, it is. We don't promote or condone illegal activities on our website, so you can rest assured knowing that it's completely legal. Using a VPN like ExpressVPN for "officially" illegal activities is going to get you into trouble, though. But as long as you're not going to distribute child pornography or sell drugs, you have nothing to worry about.
✅  Is Netflix free for 30 days?
Yes, Netflix offers a 30-day free trial for any new subscription. But be aware that to take advantage of it, you will need to enter your payment information. And if you were to be dissatisfied with the streaming platform, you can stop your subscription unconditionally.