SecureVPN claims to be the most secure VPN on the market. That's quite a bold statement, considering that every provider out there is "most secure". But, we kinda understand it. Security and privacy are two things users value the most, and only with these two words, it's easy to reel in new users. Is SecureVPN going to keep the users around? Well, that's the question we need to think about. Let's review SecureVPN and see if it's worth your cash.
What is SecureVPN?
Explaining what SecureVPN is isn't an easy thing to do, mainly because the company doesn't properly introduce itself. After searching deeply into the privacy policy, we managed to dig out that the provider is based in the United States, Texas, which is a red flag straight-up. The USA is a part of the 5 Eyes and countries from this alliance are known for excessive government surveillance.
In the review title, we mentioned that you shouldn't buy SecureVPN. That's for multiple reasons we're going to discuss in the review. Overall, SecureVPN seems like a sloppy provider, with little to no effort to improve its lackluster service. If you're thinking about buying this provider, we strongly suggest that you read this analysis first.
We'll tell you why you should NOT buy it and see how well it fares in our tests. Without further ado, let's delve deeper and see what SecureVPN is all about.
Compatible Devices and Ease of Use
As always, we talk about devices first. A VPN should support as many devices as it can, and that's an ideal case. For example, you can use your VPN on Kodi if we're talking about ExpressVPN or NordVPN. Cheap providers might not always give you that possibility, as they support only the basic platforms.
SecureVPN isn't a very cheap provider, yet it fails in this department. Here are the devices you can use this VPN on: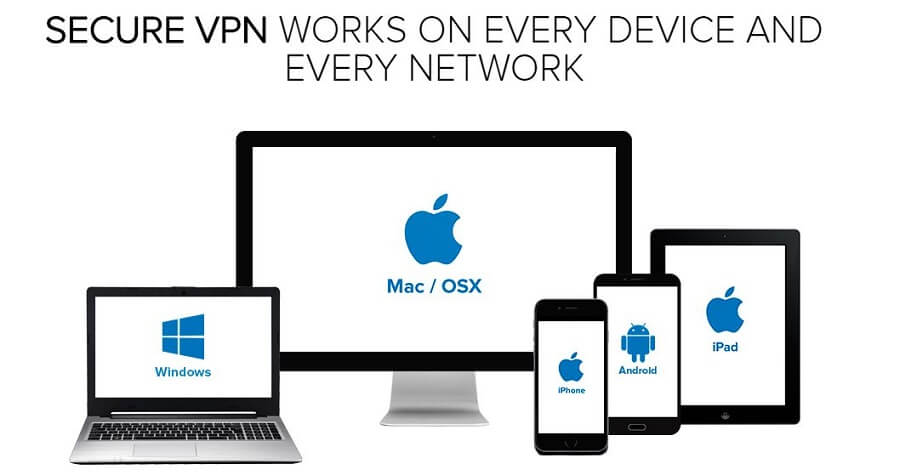 The provider says that the service works on every device and every network… okay. So, where is Linux then? Or perhaps Amazon Fire TV? You didn't think about these devices, did you? SecureVPN only supports Windows, Mac, iOS, and Android. The image above makes it look a lot, but there are basically 4 systems that it supports.
iPad and iPhone use the same operating system – iOS. If you remove the iPad or iPhone from the image, you get four devices, which is the exact number. Now that we rectified the image, let's talk about individual devices.
Computers
Using a Virtual Private Network on a computer yields fantastic results. You get privacy, anonymity, and you can even access the Darknet safely. Not with SecureVPN, though! More about that later in our 2021 review. For now, let's see how easy the app is to install and use. Upon downloading the setup, double-click on it and the setup will initiate: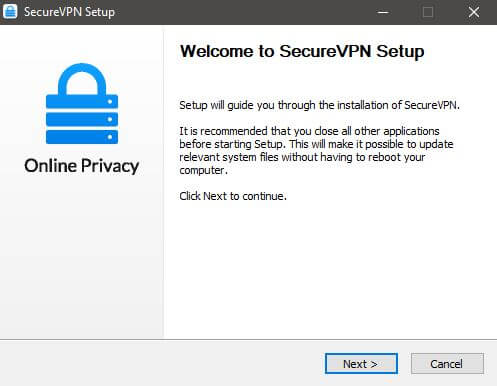 This one's simple. Click Next to proceed to the next step: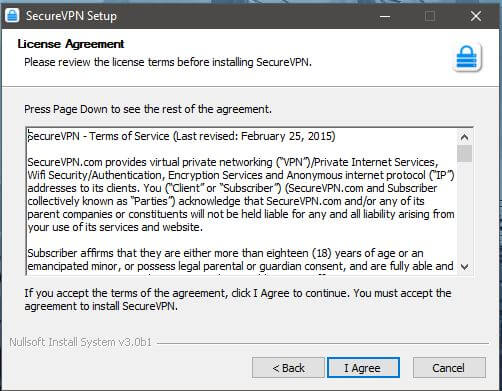 If you want, you can read the license agreement, but who does it anyway? Just slap that 'I Agree' button and proceed to the installation. The app will install in less than 5 seconds and you're good to go.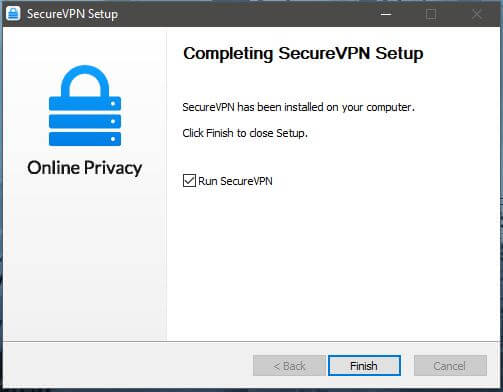 All you have to do now is run the app by ticking the box and clicking Finish. How does it look? Well, you be the judge: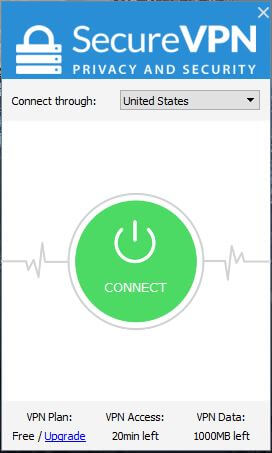 Exciting? We wouldn't say so. The app is very simple. You have one connection button and the server list which you can open by clicking on the drop-down menu above.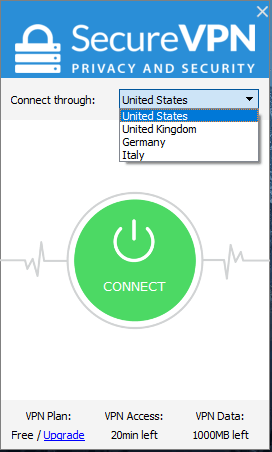 Oh, boy, look at how rich the server list is! Rich like a homeless person, and that's an insult to homeless people – sorry! Nevertheless, click on the country you want and use the connection button to connect to the server. Now, the app will look like this: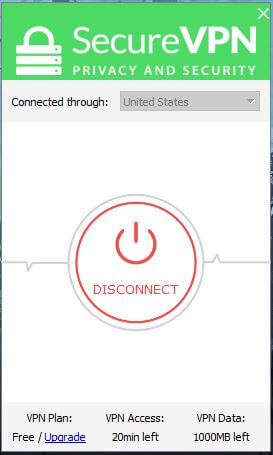 The button becomes red and you can't switch servers until you've disconnected from the one you're using.
What do we think about the app? Honestly, it's very good. The installation is simple and even if you're a newbie, using it will be a piece of cake.
Smartphones and Tablets
On smartphones, the apps tend to be even simpler, and since we all have smartphones, we know how to operate them properly. Given its sloppiness which you'll see later, it's strange that SecureVPN has an app for smartphones. iOS and Android are both supported, and in this test, we used an Android device to display the app.
The first step is to download the app from the Google Play Store, as shown in image 1:
Interestingly, the app has whopping 5 million downloads and a 4.4-star review on Google Play. It seems like users enjoy it a lot, given that it has a free version, as well. Once you run the app, you get to choose your plan, as we see in image 2. Choose the one you want and the home screen will appear in image 3. It's a bit different on a smartphone but equally simplistic.
To connect, tap on the arrow next to the United States.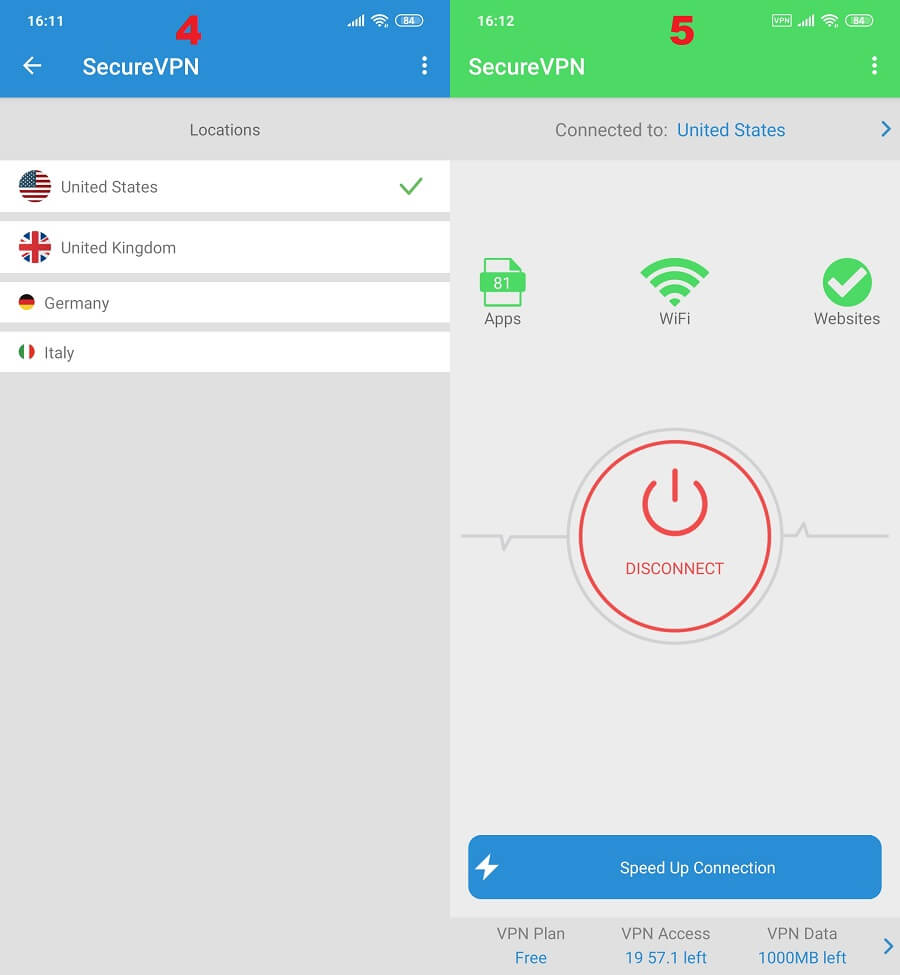 The server list will open (image 4), where you can choose the country to connect to. When you do so, just use the connection button and the connection will be established in a few seconds. We can see how the app looks in image 5 – practically the same, except for the red connection button.
What we said for a PC app also applies here – simple and easy to use.
Other Devices
Earlier in the review, we saw that SecureVPN isn't going to support a whole basket of devices.
Instead, you get four basic entries – Windows, iOS, Mac, and Android. Apart from that, you can't connect SecureVPN with any other device, as it doesn't support routers, Apple TV, Roku, Kodi, etc, etc. We saw this coming immediately after visiting its site – such a shame!
How Fast is SecureVPN? We Checked Its Speed!
The speed test along with the streaming test is one of the most important things we do here. We all hate slow internet speeds, hence we all hate slow VPNs – simple as that! Usually, the fastest VPNs are also the best. Prime examples of that would be NordVPN, ExpressVPN, and CyberGhost. SecureVPN is a whole another ballgame when compared to these three.
It's a less-known provider and doesn't have the same user base. Before we go into the speed test, we need to mention that all of the (mentioned) providers reduce your speed to some extent when connected. That's a really small price to pay for rock-solid security. For some providers, though, this price isn't small since they reduce your speeds quite a lot.
The speed depends on many factors, so it's important to see how we did our tests. We did 3 tests in the morning, 3 in the mid-day, and 3 in the evening, for 3 different locations. We kept the best score and used the best location when that was possible. Our physical location is in the United States (non-VPN test) and we used these locations for testing:
The United States
The United Kingdom
Australia
Without using a Virtual Private Network, our native internet speeds are:
Ping: 11 ms
Download Speed: 211.88 Mb/s
Upload Speed: 202.20 Mb/s
Now, when using SecureVPN, our ping, download, and upload speeds respectively, for 3 testing locations, are:
US Server: 52 ms / 83.69 Mbps / 60.92 Mbps

UK Server: 167 ms / 37.11 Mbps / 18.86 Mbps

Australian Server: 374 ms / 20.30 Mbps / 10.74 Mbps
Right from the start, SecureVPN shows exceptionally bad results. When using the server in our country, our speeds are, in one word – atrocious. Our internet is pretty fast, yet it reduces to the subpar one. Needless to say, the UK and Australian servers were a disaster.
We couldn't stream on Netflix or YouTube, nor play games or browse the internet properly. All in all, SecureVPN is among the slowest providers we tested.
How Good is SecureVPN for Streaming?
Will the provider allow you to enjoy Netflix or watch Hotstar from abroad? There are two conditions it needs to fulfill – have fast speeds and the ability to unblock geo-restricted platforms. We already saw that SecureVPN is fast as a turtle, but can it unblock platforms?
Stay tuned for that answer – some surprises are inbound!
Let's start this part of our review with Netflix first. We tested Netflix US and The Witcher worked well, but…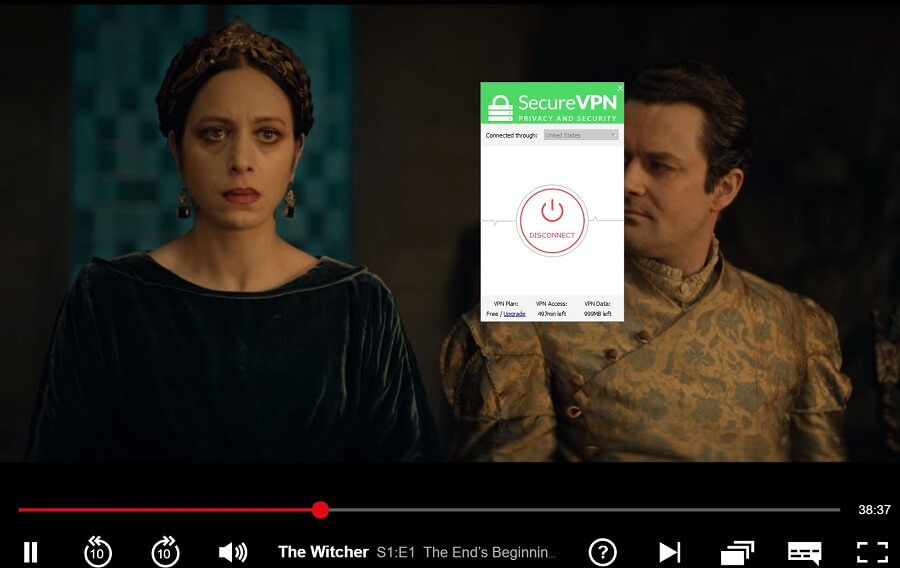 The problem is that The Witcher is available pretty much worldwide, so it's not a US-exclusive show. One of these shows is Parks and Recreation, which we couldn't find, meaning that SecureVPN can't unblock Netflix US.
Can you unblock and watch HBO GO abroad, then?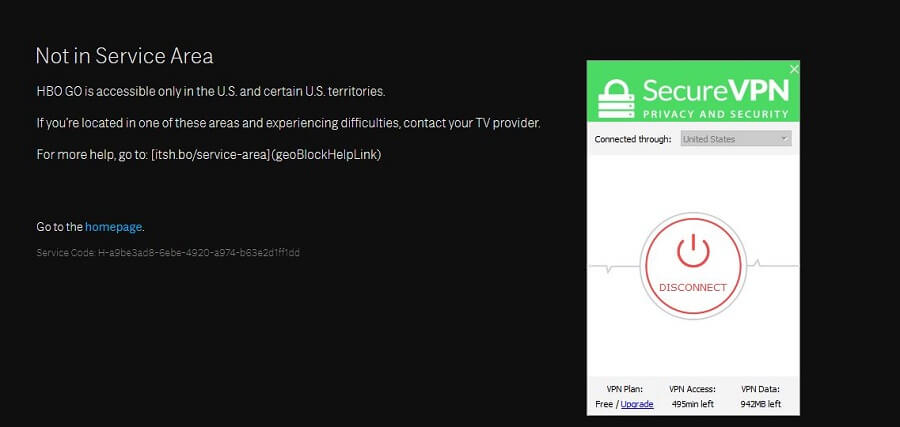 Nope, you can't unblock HBO GO with SecureVPN. This is very strange, given that it unblocks Amazon Prime Video. Yes, you've read that well – it can unblock Prime Video!

So far, we've seen very little providers that can unblock this platform. And out of nowhere, SecureVPN appears, fails to unblock HBO GO but unblocks Amazon Prime Video. What a crazy situation that is. Moving on we have to check Disney+: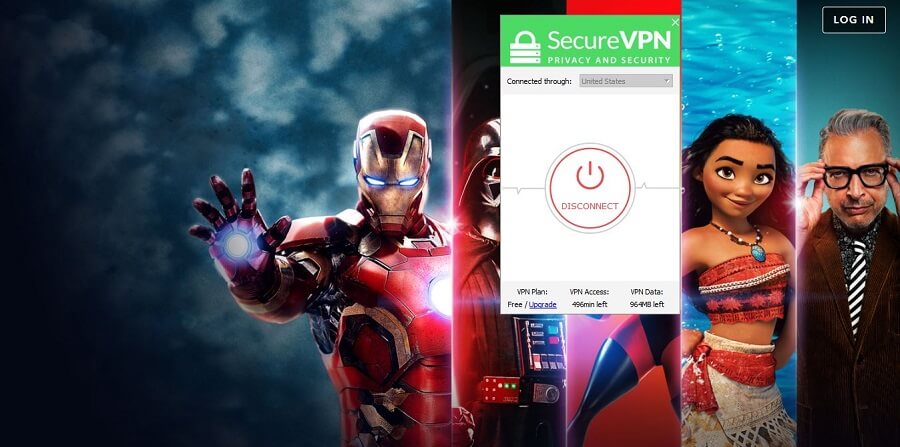 Disney+ didn't work, as you can see. We can't get past the welcome screen. Oh, and Hulu didn't work, too.
The same can be said for DAZN, which restricted our access right away: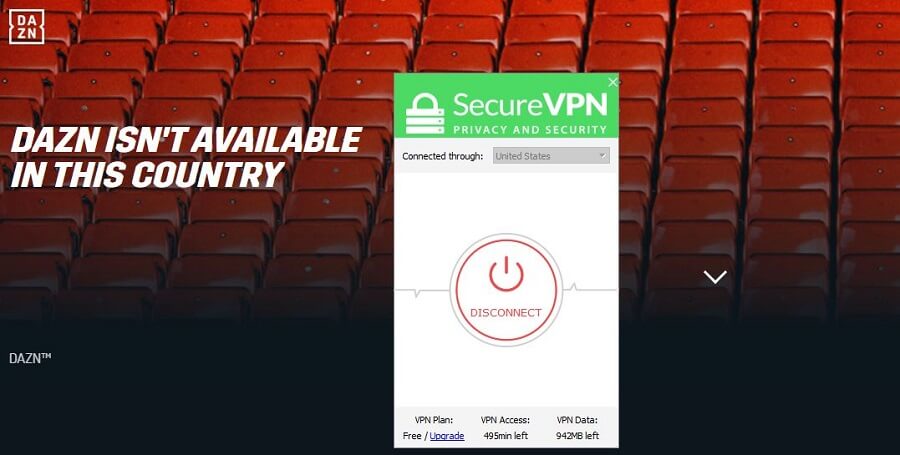 Lastly, we have BBC iPlayer, a UK streaming platform. Thankfully, SecureVPN unblocked it successfully: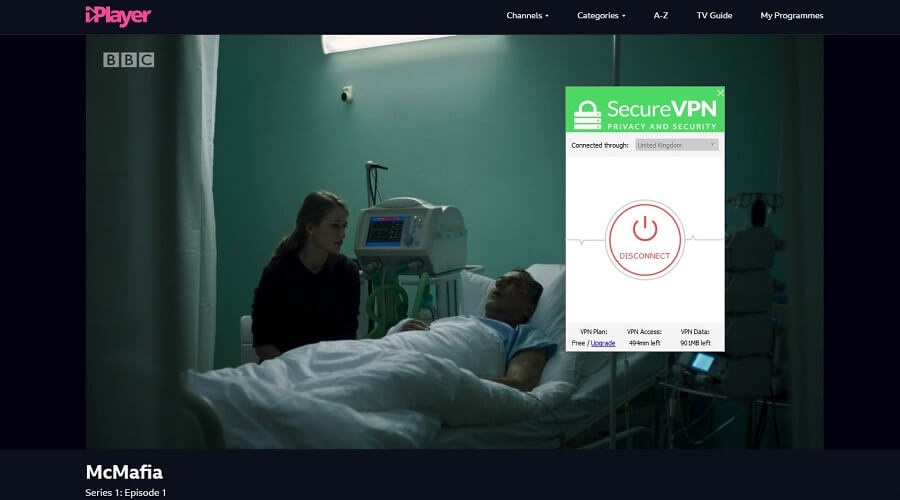 To summarize, SecureVPN unblocks these platforms:
Amazon Prime Video
BBC iPlayer
All the other platforms from our test and review didn't work with SecureVPN. Not only can't it unblock Netflix and many other platforms, but it also gives a choppy streaming experience. It's very slow, thus preventing you from enjoying your favorite shows at high resolutions. For streaming, you'll be better off with ExpressVPN instead.
Confidentiality, Security & Logs
A Virtual Private Network should be… well, private! To this word, we can also add two crucial words – safe and secure. SecureVPN, as its name implies, is a secure provider. But, the question is, does it justifies its name? It's time to put SecureVPN to the test by reading its privacy policy.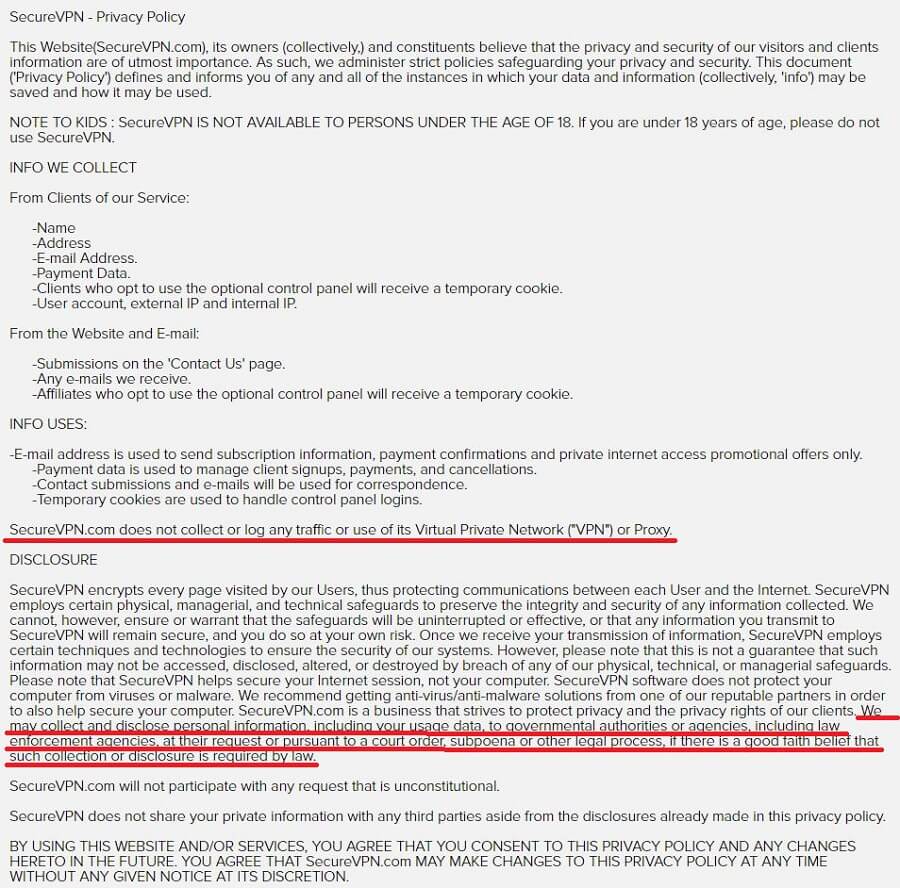 The privacy policy is quite short. This image basically shows the entire policy, where the provider explains that it's a zero-log company. They collect some info, and a part of that info isn't very good. For example, your external and internal IP addresses.
Shortly below, they also mention that they don't store any traffic use, giving us some hope.
Before you know it, they contradict themselves in the following paragraph. Take a look at the highlighted part in the bottom part of the image. They collect and DISCLOSE personal info to government authorities and agencies if "there is a good faith belief that such collection or disclosure is required by law."
We have two questions.
One – how can you disclose our usage data, when you just mentioned that you DO NOT collect it?
Two – when will you stop being sloppy and take a look at the grammar? It's not "faith belief" but "faith AND belief."

In terms of service, we also found another mistake, as you can see in the image above. How can you trust someone who is from Texas, yet doesn't know to speak or write English properly? Who the hell are these guys?!
Before publishing terms of service or your website goes live, make sure that your sentences and text looks decent, at least.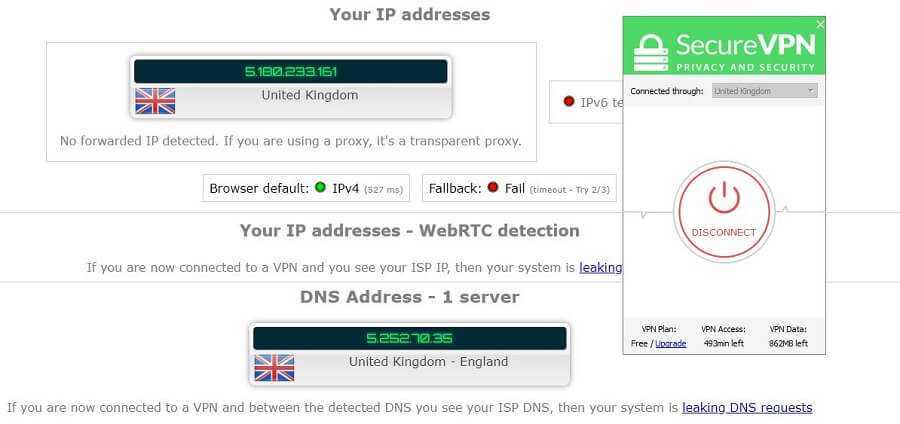 Our IP leak test showed no IP or DNS leaks, but that's not a reason to celebrate. You'll see why in the next section. When it comes to security, SecureVPN is literally a shell – an empty shell. The provider uses OpenVPN and that's the only protocol, you can't switch things up. There's no kill switch or any other security method.

On the website, they mention that they use military-grade encryption. But then again, how can we trust you? Do you even know what military-grade encryption is? If you're using 128-bit one, that's not AES, but SSL encryption and it's a weaker security measure.
What can we say about SecureVPN except that it's not trustworthy? The privacy policy is full of contradictions, no meaningful security features are there, and the provider isn't putting any effort into making the site look okay.
Can I Do Torrenting Safely With SecureVPN?
Being from the United States, Texas, SecureVPN isn't keen on letting download torrents. Nonetheless, our review wouldn't be complete without this test, so we decided to visit 1337x.to and download a movie. What we saw surprised us. Take a look: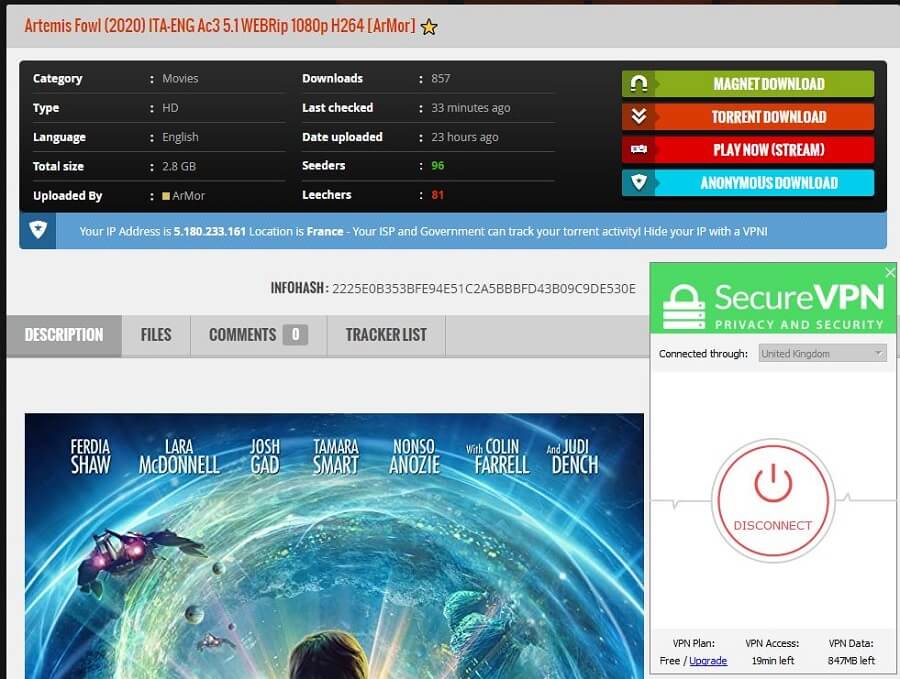 It's Artemis Fowl, a decent movie, but do you see something wrong? We're connected to the UK server and the site says that our locations France. Yet, the IP leak test showed that we're located in the UK. It seems that SecureVPN leaks IP or DNS after all, but that's not for sure since our location is the US.
Why did this happen, we don't know.
One thing is sure – SecureVPN won't properly obfuscate your IP address, making it unsafe for browsing the internet, let alone downloading torrents.
Can I Use SecureVPN to Bypass Censorship?
If you want a short answer to this question, we'll not waste your time.
SecureVPN can't bypass censorship and we think that you saw this coming. Providers like NordVPN and Surfshark have obfuscated servers and NoBorders mode respectively, so they have some special features to make bypassing censorship easier.
They even let you switch protocols, so you can experiment and see what works for you. SecureVPN doesn't have anything of that. It's not good for bypassing the Great Firewall of China or working reliably in countries like Iran, Iraq, the UAE, Russia, and Turkmenistan.
A good option for this purpose is ExpressVPN. It works in China and bypasses censorship with ease.
Pricing and Plan Options
SecureVPN is, first and foremost, a free provider. However, it also has a premium plan that isn't exactly the cheapest on the market. Here are the two plans that the provider offers: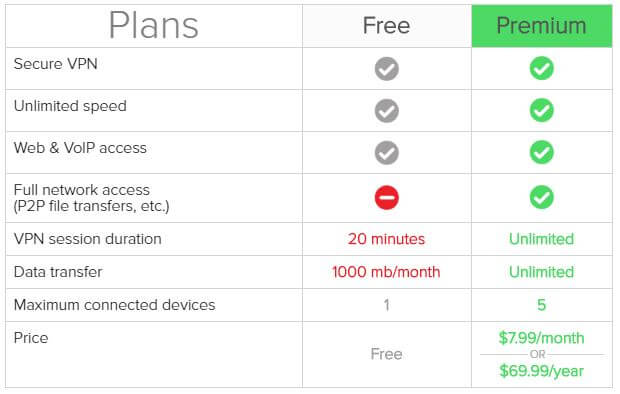 The free plan is on the left, while the premium one is highlighted in green. It costs $7.99 a month of $69.99 a year. Even this monthly plan is quite expensive for what the provider offers. WeVPN, for example, costs much less, yet it's a better provider overall.
As for the annual plan, it's all but cheap. If we divide $69.99 with $12, we get around $5.8 a month. If you opt for an annual plan, both CyberGhost and Surfshark cost $5.99 per month, which is basically the same price. And if you want a top-grade provider, ExpressVPN can be yours for $6.67 a month and 3 months free for an annual plan.
The provider is obviously delusional since it values its lackluster service that much. A bit more realism would be good, that's for sure!

As for a refund, SecureVPN is, once again, vague. It mentions that if it ceases its operations, you won't be eligible for a refund. Why would you mention shutting down your service at all? Something's very suspicious about this company and with every consecutive examination, it falls deeper in our eyes.
There are not many payment methods here, that's important to mention. The provider supports VISA and PayPal, but we don't recommend giving them your payment info. Just avoid it and get a premium provider.
How Can I Contact SecureVPN?
Did you think that was the end of our SecureVPN roasting? Well, you'd be dead wrong for thinking like that. On the home page, at the bottom of the page, the provider states that its support is available 24/7: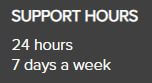 That's okay, right? Well, if you visit any other page of the website, you'll see this:

Tell us – is it 9-to-5 support or a 24-hour one? Were they unable to organize their support? What happens in this strange company? First, they claim to be there for you always, then they do something like this. And guess what? When you try to contact the company, you get a simple email form:
To make matters worse, the support team is literally unresponsive. They don't give a flying F about your VPN-related issues. After two emails, we got a response to the single one in about 14 hours! We're sorry to say this SecureVPN, but that's not how you earn a good reputation in our review.
The Special Functionalities
Expecting any special functionalities from this VPN is pointless. SecureVPN isn't a decent provider even when it comes to the basic functions, and special functions would make it a complete mess, as they probably wouldn't work properly. We won't waste time on this section of the review. The provider offers nothing in this regard, so skip it if that's a problem for you.
Other Things You Should Know
As we're approaching near the end of our analysis, it's time to talk about some of the things we haven't mentioned so far in this review of SecureVPN.
Number of Servers
Interested in how many servers the provider has? Here you go:

Do you see it? We neither. SecureVPN has only 5 servers, which is unacceptable, given that it charges you $69.99 a year for the service. We won't rant about it but we literally have a physical reaction when we see it. Oh, and did we mention the FAQ section? You can't find out anything about the provider in here: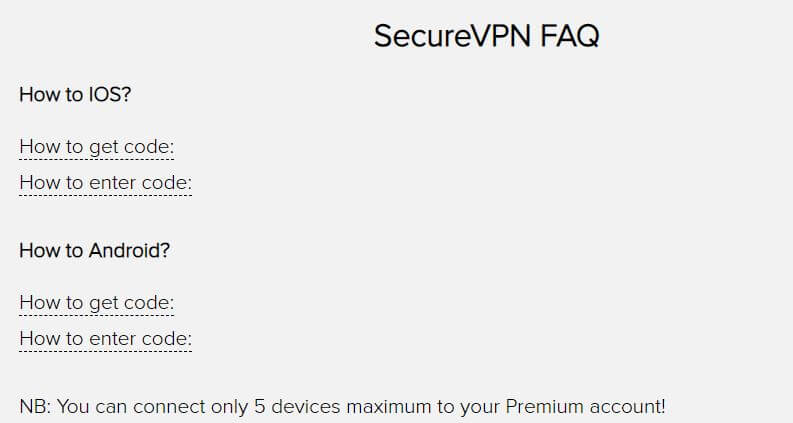 And if you ask the support team about the servers, you'll wait for God knows how long to get a response.
Number of Countries
At the beginning of the review, we saw that SecureVPN has only 4 countries – the US, the UK, Germany, and Italy. Once again, unacceptable.
Number of Simultaneous Connections
For a free plan, the provider offers one simultaneous connection, while premium users get up to 5 of them. That's acceptable.
What Do Other Users Say About SecureVPN?
Before wrapping up the review, let's see what other users think about SecureVPN. We tried to dig something about this provider on Reddit, but with no avail. Users there keep mentioning SecureVPN.to, while this one is with the domain ".com", so we're not talking about the same provider. That being said, we'll take a look at reviews from Apple Store and Google Play.
Let's start with a review of SecureVPN coming from the Apple Store:

This user left 2-star feedback, implying that the provider works, but he also can't cancel a subscription. Similarly to what we experienced, the support team didn't respond to him, so they just kept billing him, despite not using the service.

Does this sound familiar? The user complains about the VPN putting him in France only. We experienced it when we tried to download a movie from a torrent site, even though the French server wasn't on the list.
SecureVPN is nowhere to be found at Trustpilot either. That leaves us with two reviews that aren't the most heart-warming. In short, SecureVPN is a pretty much unknown provider and on top of that, it's not very good.
Conclusion: Should You Take It?
If you've read this review of SecureVPN thoroughly and now you're here, you already know what will the epilogue be.
SecureVPN, apart from its intuitive apps, doesn't offer literally anything. Its speeds are disappointing, it's bad for streaming, has unresponsive customer support, and lastly – it's not safe and secure.
Every VPN from our top-ten list would be a good alternative to this one. But, we still recommend ExpressVPN. It's the best provider on the market!